Iain's Leisure Reading







I saw an omnibus of the first three books of the DCI Jack Logan series by J D Kirk, knew nothing of the author nor the character, but decided "why not give it a go ?"

I usually start these write ups with a little about the author, but once again I have been unable to discover all that much, and couldn't even find consistency in the number of books he has written. Let's say over 150, give or take some - he has been a prolific writer and from an early age.

J D Kirk is the pen name Barry Hutchison uses when he writes crime fiction. He has also written screenplays, a 30 episode TV series, an animated series for Dreamworks, numerous children's books, and many graphic novels - and he says his proudest professional achievement is writing "The Bash Street Kids" for the Beano. He seems to be able to write books very quickly - eg there are 5 books in 2020 in the above list - and no doubt in 2020 he did other work too. It's quite remarkable, really. He self publishes his books, which often appear first as ebooks, before later in print. He also tours giving lectures on the art of writing, talks about how to self publish, and career talks to children about the life of an author.

Barry Hutchison is a multi award-winning Scottish author who lives in Fort William in the Highlands with his wife Fiona, their two children Kyle and Mia, and their golden retreiver dog Quinn. Barry was born on Jan 6th, 1978, and educated at Lochaber High School. He always wanted to be an author, started with children's books, wrote his first book at the age of ten, and the first book for which he got paid at the age of 17. He became a full time author in 2008 at the age of 30.

He has said he has aphantasia which means he is unable to form mental images in his head, and thinks exclusively in words. I looked up aphantasia and discovered that it's found in about 2% of the population. One alleged test for aphantasia is to close your eyes, and imagine the image of an apple. If you can conjure up even a rough shape you are part of the 98% rest of the population. I could not see an apple image, but so what.

Here we are concerned with the Glasgow based detective DCI Jack Logan, and there was a nice story behind "A Litter of Bones", the first book in the seties. Out for a walk on a secluded Forestry Commission track with his daughter Mia, their dog Quinn ran off into some woods. Telling Mia to stay where she was on the path, he went off to get Quinn, but when he returned he was horrified to find that Mia was not there. Happily Quinn soon found a giggling Mia hiding in some bushes, but driving back home in the car he started to wonder what if he hadn't been able to find Mia...... And so Book 1 of the Jack Logan series opens on the same path in the Highlands, where Duncan Reid is out for a walk with his 7 year old son Connor, goes into the woods to retrieve his dog, but returns to find Connor has really vanished.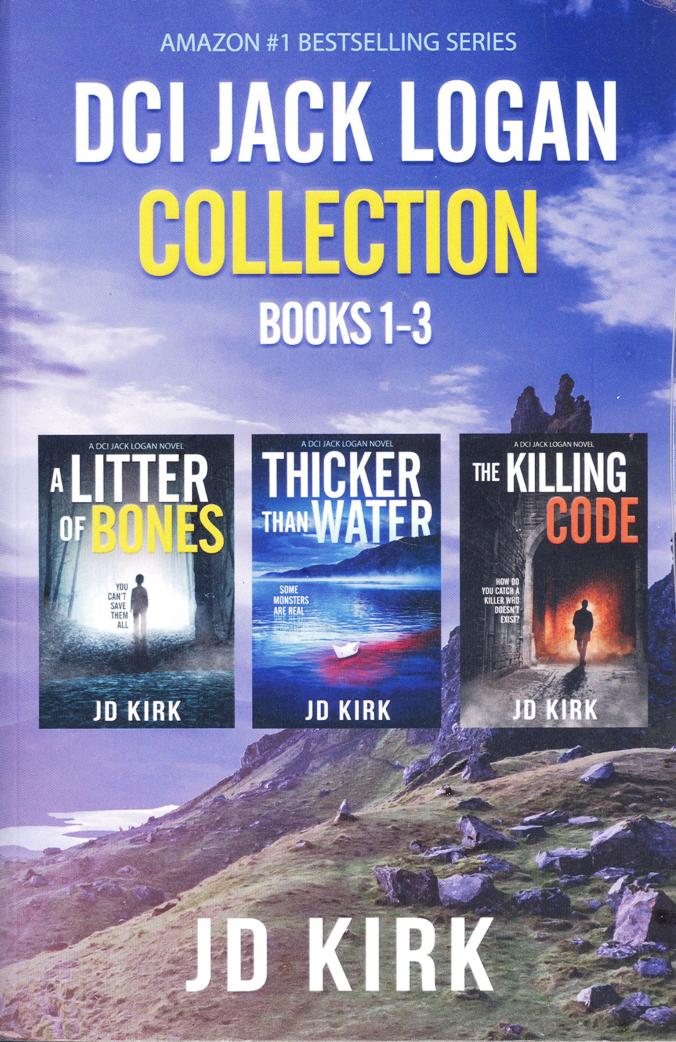 I read this book in July, 2022.
I know I am reading too many different series at the same time, but I do like to start reading a new series - to meet new characters, a new location, and see if I like them and their stories. This is book 1 in the Glasgow based DCI Jack Logan series, but we are not told all that much about Logan's private life, other than he has a grown up daughter but apparently he is not in touch with her. He is in his late 40s, I think, hates journalists, and there are hints that he may have good reasons for this. There are also hints about some murky past - no doubt more will emerge as the series proceeds. He seems to be a big man, who walks with a slight stoop perhaps to disguise his height. He is a no nonsense, tough cop, focused, and determined to get results, even if this means bending a few rules. But his heart is in the right place, and you would want his help if you were in trouble.
The book opens on a path on remote Forestry Commission land in the Scottish Highlands near Fort William where Duncan Reid and his seven year old son Connor are taking a stroll - see the author write up above for what inspired this story. Meg their dog goes missing in some woods, Duncan tells Connor to stay there and goes after Meg, but when he returns Connor has gone. We now switch to DCI Jack Logan visiting an Owen Petrie held in Carstairs High Security psychiatric hospital - it's Sunday, he usually goes there on his days off. Dr Ramesh thinks these repeat visits are harassment, and threatens to report Logan to the Chief Constable with whom he plays golf. Fine, says Logan, but goes off to interview Petrie. Owen Petrie, Mister Whisper, abducted, abused and killed three young boys - Lewis Briggs, Matthew Henderson, and Dylan Muir - and sent a teddy bear and photos of the terrified boys. Lewis and Matthew's remains have been returned to their families, but Dylan's body has never been found (and, as we will find out, there are good reasons for this). Logan said he would do his utmost to get the boys back, and so this is unfinished businesss, even after 20 years. Logan is convinced Petrie's mental incapacity is just an act - hence his so called "harassment".
Ten minutes later, Logan gets a phone call - he is called in to see his boss in Glasgow, D Super Gordon McKenzie (the Gozer), told there is a missing boy case (Connor), and he is being sent to Fort William to help. Why me, protests Logan, we are a Major Crime unit - because local police have received a teddy bear and photos of the terrified young boy. Is it a copycat killing as Logan thinks, or did they get the wrong man ? Logan meets the local detective team in Fort William - DI Ben Forde, an old friend, DS Caitlyn McQuarrie, ex Orkney, DC Hamza Khalid, ex Aberdeen and DC Tyler Neish. Straight away Tyler asks Logan what happened on Petrie's roof top arrest. He jumped, says Logan. Logan says he will meet the parents, and visit the site where Connor disappeared. It seems a man hid in the woods, grabbed Connor, and made off with him in some vehicle parked on the other side of the wood. A local PC, Sinead Bell, sort of rescues Logan from some sheep. She is young, is local, and knows the parents, Catriona and Duncan Reid. He gets her on to the team, and takes her with him most of the time - but sends her away when he breaks a few rules. Sinead's mum and dad were killed in a road accident some 18 months ago, and she is bringing up her young brother Harris. Sadly Harris becomes becomes involved in the climax but his baton wielding sister and Logan are there to help.
And so the story unfolds - will they rescue Connor in time, is it Petrie, or a copycat ? It's well written, page turning stuff. Although I don't really care to read about crimes involving children nor torture to animals (cats in this case), it's handled well. I'll leave you to read the story, but be careful, there is a wonderful, and very clever misdirection that had me completely fooled. Well done J D, or Barry ! I will mention some highlights : -
Some DNA is found on the teddy sent to the police, and later identification is a further puzzle. Just who is next door neighbour Ed Baker who has a police record, is he Connor's grandad - no, but you will never guess who he is. The courier who handed in the teddy and photos is traced, but drugs have fuddled his brain, and he can't recall who handed him the package to deliver. A local art teacher is asked to sit with him, to try to do a sketch, as the nearest police sketch artist is too far away in Inverness. Then the poor man is asked to age the photo of a young boy by 20 years. Some task - he deserves his £40, but Logan doesn't care, and Ben Forde pays up. Logan hates the press - he would happily drown them all. In particular he hates Ken Henderson, a freelance, who has closely followed the Petrie case, and has turned up in Fort William. Threatened by Logan in a cupboard in the police station, he says he got his latest leads on the case from a young reporter, Tom Fisher, who says he heard it when interviewing a local woman, three of whose cats had gone missing. Logan pricks up his ears - tortured cats featured in the earlier Petrie cases. Logan accepts he is at fault when DC Khalid gets into danger without back up. Logan says we either all sit around blaming me, myself included, or we jump into action and find Connor and Khalid's attacker. Everyone jumps into action. As I always say, I don't want to write a spolier, so I had better leave it at that. But I did like the climax, and what a revelation at the end !
All in all, and based on book 1, it looks as if it might be a promising series, but a better test will be book two. Will J D Kirk stick to crime, or start to introduce fantasy ? Also it looks as if Logan is to be sent to various locations in Scotland, and meet new local detective teams. I would prefer to get to know one team better, and not be introduced to too many new characters in each outing. However we must allow the author to tell his story in his own way, and he is good at his craft.
Links to author index and home page