Iain's Leisure Reading





Browsing in a charity shop, I came across a trilogy, the first three books in Keith Moray's Inspector Torquil McKinnon series. I knew from the Highland name that it must surely be a Scottish crime series. A quick glance revealed the setting as the fictional island of West Uist further out west into the stormy Atlantic from South Uist in the Outer Isles / Hebrides. "This looks promising" I thought, "let's give it a go."



Keith Moray is one of several pseudonyms used by Dr Keith Souter, a now retired medical practitioner living in Wakefield, Yorkshire with his wife Rachel. Keith Souter is a most prolific published writer in various genres. As a qualified doctor he has written many medical books, and for over 38 years has penned a weekly medical column in his local newspaper, the Wakefield Express. He has also published childrens' books - his first venture into writing when still a medical student at Dundee University. The stories were published in the "Peoples Friend" - a sister publication of the D.C Thomas Group to the famous "Sunday Post" of Oor Wullie and the Broons. Keith has also written many short stories. He uses the name Keith Moray for his crime fiction - the West Uist set Inspector Torquil McKinnon series, and the Sandal Castle Medieval thrillers. He has even published a series of Westerns, this time under the name of Clay More.

Keith was Scottish born in St Andrews in Fife on the 28th June, and working backwards I think the year must have been 1952, or thereabouts. Next he moved to St Albans in Hertfordshire, England where he attended St Albans Grammar School for Boys from 1963 to 1970. Now back to Scotland for his University (Dundee) medical studies. He graduated in 1976. He did some of his medical training in the Scottish Highlands and writes of his love of the sense of community in little villages. He determined that if he ever wrote a crime series it would feature a Scottish detective working in a remote place. The Outer Hebrides are certainly remote - this is the setting for bagpipe playing Inspector Torquil McKinnon. North and South Uist are real places, but West Uist is a fictional setting. Keith wrote that he prefers low tech murder mysteries rather than forensic police procedural crime. Hence the setting of West Uist with its police force of three (and two special constables). Keith now lives in Wakefield with his wife Rachel, and they have three grown up children, and some grandchildren. He retired from practice as a doctor in England, but returned to help the NHS when CoronaVirus struck the nation.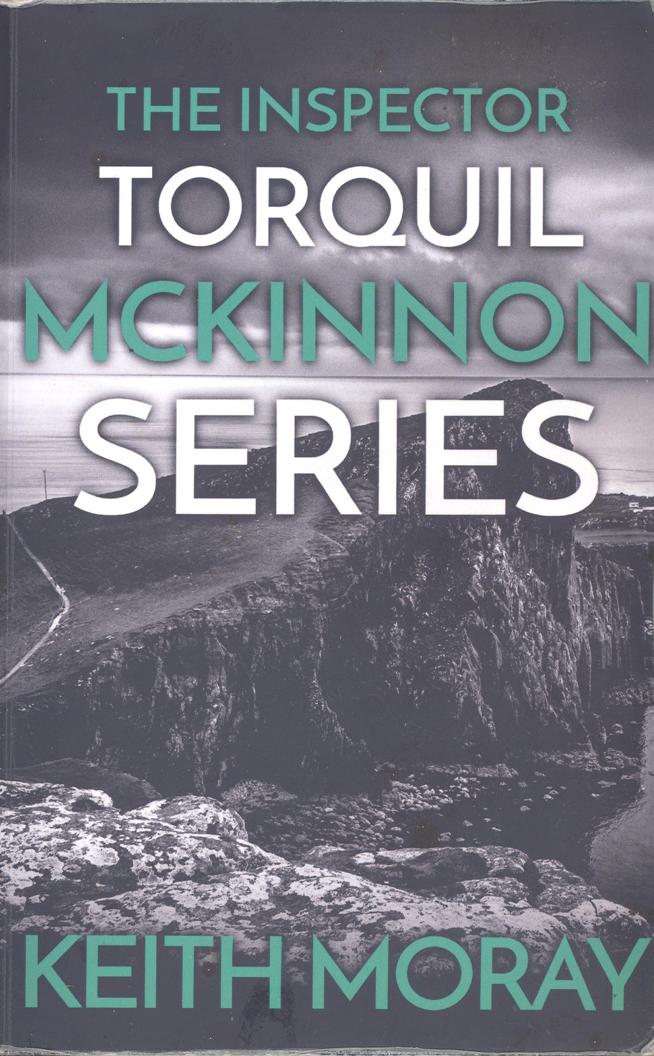 I read this book in November, 2020.
This is book one in Keith Moray's Inspector Torquil series and also book one in a trilogy that I chanced upon in a charity shop. The setting is the remote fictional island of West Uist set further out into the Atlantic than South Uist. We are introduced to our hero, handsome, 28 year old Inspector Torquil McKinnon, only recently promoted to inspector some six months previously. As expected, it's a small local police force of three in total. Torquil's two assistants are the very capable Sergeant Morag Driscoll (a widow when 26, now in her early thirties with three young children), and the inexperienced, 23 year old, 6 foot four inches, hammer throwing and wrestler, Constable Ewan MacPhee. Torquil is known to all as Piper - he is a skilled bagpipe player, taught by his uncle, the local catholic priest, 64 year old Lachlan McKinnon (known to all as Padre). Torquil's parents died about twenty years ago when he was young, and he was brought up by Lachlan, living in the Manse. Here he caught his uncle's love of classic motorbikes, and piping. Lachlan has a trusty Royal Enfield Bullet 500 bike, and Padre also gets around on a classic bike, a 1954 Ariel Red Hunter. On the subject of classic travel, Calum Steele i.e. the one man of the local West Uist Chronicle, travels by ancient Lambretta scooter. Padre is now a golf fanatic, and has built a six hole golf course on links next to the Manse. As there are three tee approaches for each hole, an 18 hole round can be played without duplication. Torquil's parents are buried in the graveyard of Lachlan's St Ninian's church, but it is too painful for Torquil to visit. Two special constables help at busy times - they are local fishermen, the Drummond twins, Douglas and Wallace. Being a small place, everyone is related to or knows everyone else on West Uist, doors are seldom locked, etc.
To appreciate the story we have to know a local superstition - the tale of the "Selkie." A Selkie is a sea man who emerges from the deep, and changes to the form of a handsome young man as he wades ashore. There he captures the heart of some young maiden, gets her pregnant, then abandons her and returns to the sea. Worse, he returns years later to reclaim his offspring who all seem to drown at sea.
Our story opens with a prologue. Someone unknown has killed a married couple - the husband was pushed downstairs, the widow later poisoned. We only learn the identity of the couple and the killer when all is revealed / explained at the explosive climax. The murderer finds the couple's tickets to a Highland Gathering and Literary festival in West Uist, and goes there to look, but not at random, for more victims. Someone else goes to West Uist too - this is the returning, now famous "Queen of Scottish Crime Fiction," the writer Fiona Cullen. Fiona is very beautiful, and rides a modern Honda Firebird motorbike. Years ago she was Torquil's girl friend - they went to school together - but West Uist became too confining and Fiona just upped and left, abandoning Torquil. Now she wants a simpler way of life, and a quiet place to finish her latest book. She also wants to get together with Torquil again - which prospect delights Torquil.
We now learn more of West Uist, and it's inhabitants. The main village is Kyleshiffen, with it's harbour for the ferry from South Uist. Kyleshiffen has three pubs - Fiona is booked into the local "Bonnie Prince Charlie" pub where the landlady is Mollie McFadden. The local doctor is Dr Ralph McLellard who by chance had trained in forensic medicine in Glasgow, but now likes a simpler life as a local GP, and at Kyleshiffen cottage hospital . Calum Steele is the owner, chief reporter, and printer of the local paper. Bella Melville is the retired school teacher who taught everyone on the island, still orders them around, and gets things organised (including the Gathering and Literary Festival). Angus MacLeod is the local laird, rich with a private helicopter, and an important Scottish businessman with murky fingers in lots of pies. Angus lives in Dunshiffen Castle, and is host for the Games to house guests Roland Baxter, Scottish Minister for Culture, and a friend, Dr Wattena, a plastic surgeon who also does gender realignment. Dr Wattena made a mess of breast enlargement for Fiona, and she is suing him. Fiona seems to have quarrels with lots of people - eg Genevieve Cooper, her agent, and Allegra McCall, her publisher. Fiona's plots are based on her own investigative journalism skills, where she rewrites and reveals corruption in high places. In short, she has lots of enemies. Amongst the many visitors to West Uist are a mysterious, newly married young American couple - the male wants to be an amateur detective, and the girl wants to be a writer. We find them in the local antique bookshop and fishing tackle store owned by a famous fraud of a gaelic spreaking poet, Ranald Buchanan. He has a nice sideline in illicit whisky called Peatreek which he distills in his isolated cottage, and on his little mini island. Good looking Issie Fraser is another visitor and becomes Constable MacPhee's girlfriend, but Issie is not all she seems.
Torquil has gained many prizes for bagpipe playing, but longs to emulate his uncle and win the famous Silver Quaich. This has not been won for years - you have to win the three separate piping contests for strathspey, jig and pibroch all in the same year. The pibroch is the most difficult - you have to master three 15 minute pibrochs, and play each from memory without hesitation. In turn a pibroach has three phases - the salute, the lament, and the gathering. Torquil practises in St Ninians cave, a vast cavern with perfect acoustics.
As the Gathering gets under way, so too the crime story now unfolds. Apart from the prologue couple, the poet Ranald Buchanan is the first victim, murdered by a mysterious diver in a wet suit who emerges from the sea. Ranald recognises the diver, but is bashed on the head, and drowned. His death, when discovered, is first taken as an accident. The next death is a shocking one that I had not expected. Torquil's now rekindled girlfriend Fiona Cullen is killed, obviously murdered. I had thought Torquil and Fiona would be a team and go on to solve mysteries together. Torquil reports in to his boss on the mainland, Superintendent Kenneth Lumsden. He is laid up with gout on Benbecula and in a foul mood. Instead of offering the young inspector some help and advice, he barks out "you are an inspector now, get on with it". He later gives Torquil 24 hours to wrap up the case. Much later still he arrives on the island in a press helicopter, bawls out Torquil for not disclosing his personal relationship with Fiona, and suspends Torquil when Torquil calls him a prat. Torquil of course, solves the case, and is reinstated before a joint press conference so that the Superintendent can claim Torquil's credit.
It's a very complicated story with many more deaths and involves child paedophilia, a gender change, and the return of someone long thought dead, and now out for retribution. Everything is revealed at the end - none of it remotely believable. This seems to be another series where disbelief has be be suspended. Go with the flow.
All in all, I thought it was OK, and a fair introduction to West Uist and it's three coppers. In real life, a small island would not have all the big town facities that West Uist seems to enjoy, but this is not real life, but a "cosy crime" whimsy. I'll read on and see where the series goes.
Links to author index and home page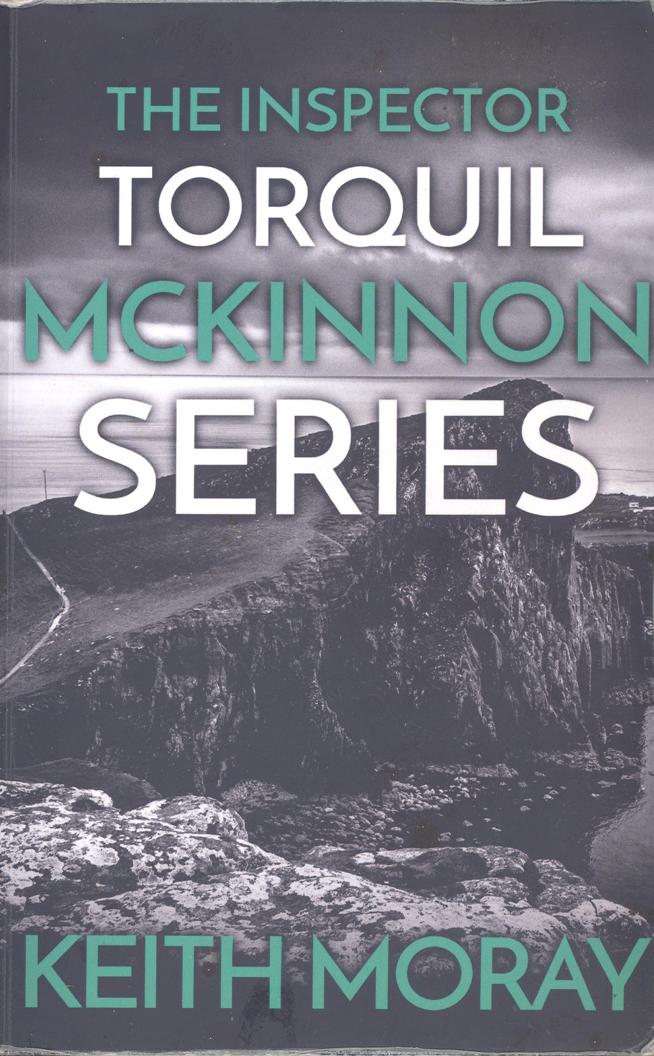 I read this book in January, 2021.
This is book two in the Inspector Torquil series by Keith Moray, and also book two in the trilogy that I chanced upon in a charity shop. It's all set in the imaginery remote Scottish island of West Uist. Uist exists, but West Uist does not. Before dealing with the main characters private lives, and the main crime Torquil McKinnon has to solve, let's mention the all important Prologue to the story. All is not as it seems ! We apparently have a professional assassin with a family in his gun sights. The father is the first target, but the mother senses danger and sits up. Quickly the assassin moves his sights to the mother, and shoots her. The father reacts to protect his children, but is also shot. The assassin then walks over and shoots the two children. Torquil's assistant PC Ewan McPhee sails on to the scene in the "Seaspray", rushes ashore, but is slugged unconscious by the hiding assassin. Next the "Seaspray" is found floating at sea, and Ewan is missing, presumed dead. So the questions are : who is the assassin, what is he or she doing on West Uist, which family has been wiped out, and why, and is this really the end of Ewan McPhee ?
We are back in West Uist where the main town and harbour is Kyleshiffen, where we find the "Bonnie Prince Charlie" pub run by Mollie McFadden. We meet again the rest of Torquil's crew - Sgnt Morag Driscoll, and special constables, the Drummond twins, Wallace and Douglas. Lachlan McKinnon (Padre) is Piper Torquil McKinnon's golf fanatic uncle, his former guardian and a clergyman. Torquil's boss is Superintendent Kenneth Lumsden on the mainland, a bully who offers no support, seldom listens and barks out orders. Callum Steele runs / is the West Uist Chronicle, and Doctor McKelland is also a trained pathologist who escaped the rat race to West Uist. Torquil has been away on compassionate leave following the loss of Fiona as per book one, and Ewan has been missing for four days leaving his mother Jessie McPhee distraught as she had also lost her husband to the sea. Katrina Tulloch is the new vet who has three suitors - Ewan McPhee, Nial Urquart, a bird preservation officer (and former green activist), and Kenny McKinley, a crofter helping his crofter father Alistair McKinley.
We now meet a lot of other new characters. There is a new laird, Jock McCardle, apparently a self made businessman from Glasgow. He has bought Dunshiffen Castle and estate - six crofts on land comprising the "Wee Kingdom." He also inherited and kept on the former laird's butler Fergus MacLeod. McCardle arrived with two Glasgow heavies - his minders Danny Reid and Liam Sartori. McCardle is a villianous nasty piece of business who makes instant enemies in all directions. He announces he is to build a 15 turbine wind farm on the "Wee Kingdom" horrifying but ignoring the local crofters. These crofters are an assorted bunch. Gordon MacDonald died recently, meaning an empty croft the laird has no intention of re-leasing. Nial Urquart runs his croft with his vegan partner Megan Munro, also very much into green issues, and who runs a hedgehog preservation rescue centre. Vincent Gilfadden has another of the crofts, and he is also tending his neighbour Geordie Morrison's croft. Geordie and Sallie are off somewhere with their two children, but nobody knows where they have gone. Is this the assassin's slaughtered family ? The final crofter is Rhoda McIver, a former writer and journalist, now writing again but who has a weak heart.
The main plot is McCardle and his wind farm, which stirs up a lot of local resentment, violence and retribution. There are also other green issue plots. Some would like to protect the local eagles, some farmers would prefer them killed as vermin. Kenny McKinley falls to his death from a cliff and apparently has talon marks on his face. And of course, there is the missing Ewan McPhee. There is a lot of infidelity exacerbated by the new vet. Nial now wants to leave Megan for Katrina, but Vincent is there to console Megan. Since we are mentioning love interests, Callum Steele has always had a soft spot for Sergeant Morag Driscoll.
Torquil returns much to the relief of Sgnt Driscoll. Both McCardle's rottweiler dogs are poisoned, but who did it comes as a surprise, and gets shot. Violence and arson erupt, but Callum is there to report it all, including to Scottish TV. The body count rises - Gordon MacDonald dead, Kenneth McKinley dead from a cliff fall, Rhona McIver dead from a stress induced heart attack following receipt of letter from McCardle, the "slaughtered" family, and both of McCardle's minders, Liam and Danny. It all mounts to a terrific climax, and the author reveals the assassin and a tricky surprise that had me fooled. Jock McCardle is not who he seems, nor is Vincent Gilfadden.
All in all, I thought it was a good story with a cracking plot, and strong and interesting main characters that we care about.
Links to author index and home page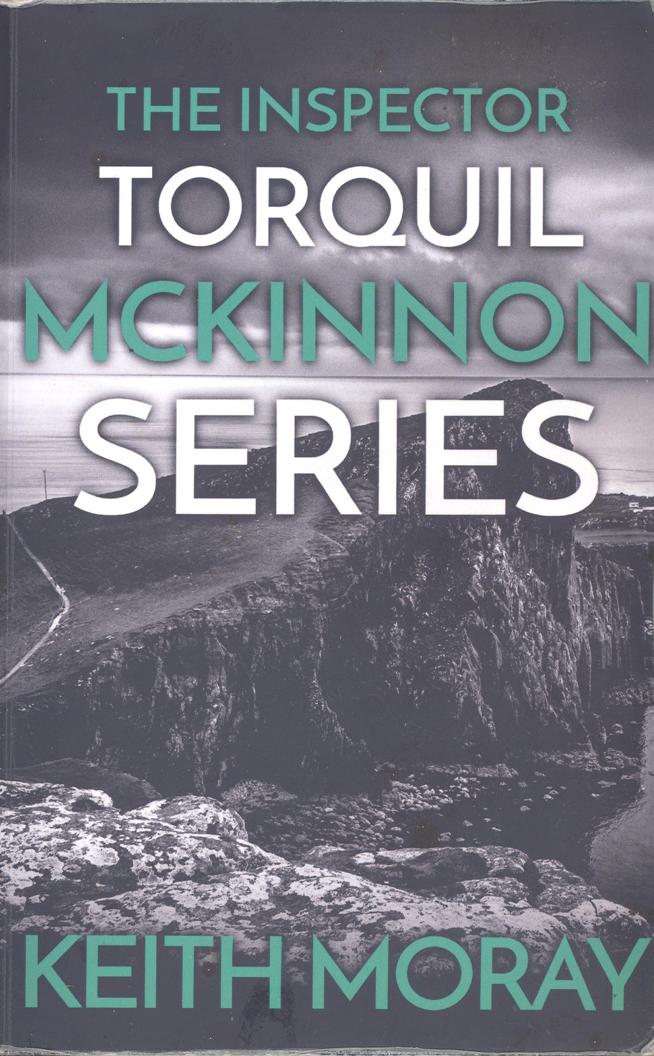 I read this book in February, 2021.
This is book three in Keith Moray's Inspector Torquil McKinnon series set in the fictional Scottish island of West Uist (Uist exists, West Uist doesn't). It is also book three in the trilogy I have been reading. Once again we join the local police force - Inspector Torquil McKinnon (29) (Piper), Sgnt. Morag Driscoll, PC Ewan McPhee (25), and the two specials - the twins Wallace and Douglas Drummond. Ominously, Torquil's mainland boss Superintendent Lumsden is back from suspension, and, out for revenge, he has sent Sgnt.Lorna Golspie to do an efficiency audit. It's a series with lots of characters, and so once again we meet Lachlan McKinnon (64) (Padre), Torquil's uncle, Dr Ralph McLelland, Calum Steele of the West Uist Chronicle (published Tuesdays and Fridays), Annie McConville (70) who runs a dog rescue centre, Bella Melville, (70) the retired local headmistress, and Mollie McFadden who runs one of the local pubs, the Bonnie Prince Charlie, etc, etc. We also meet a few new characters whom I'll cover later. The main town is Kyleshiffen.
The story begins with a flash back to the previous winter solstice. Calum gets a phone call from Rab Noble's wife Esther - together they run the Hoolish Farm beside the famous Hoolish Standing Stones. She tells him to come quickly for a great story, but when he arrives on his ancient Lambretta he finds Rab driving wildly away from the farm, with Esther inside and strangled. He summons Torquil, and eventually they find Rab dead. Apparently he had gone mad, shot a few of his cows, and then turned his shotgun on himself. All this was later taken as a double suicide, but Torquil had his doubts.
We now open with one of many subplots, and meet some new characters. It's almost time for the summer solstice. There are yet again changed owners up at Dunshiffen Castle. The place has been bought by the Daisy Institute - the Divinity and Spirituality Institute - run by charismatic Dr Logan Burns, and two other directors, Drew Kelso the FD, and a female Suki Yasuda. The Daisy Institute is not popular locally as some locals have joined, but have had to enter 3 months isolation / meditation when they are cut off from friends and family. In effect it's a flower power, free love cult although many believe Dr Burns is a genius. Calum thinks it is well worth investigating - as do two Scottish TV journalists, Finbar Dunleavy, and his cameraman. Finbar is engaged to TV news presenter Kirstie Macroon - whom Calum also fancies. Logan claims to have translated the ancient script on the Hoolish Stones but local historian Finlay MacNeil, curator of the Black Horse Museum disputes this. Logan thinks the Hoolish Stones are a link to Atlantis and he will reveal all at a the Summer Solstice ceremony.
A second subplot takes us back to the Hoolish farm, now run as a battery hen factory by the MacQueens - also not popular with the locals. Calum investigates - he certainly has gift for getting into trouble and making enemies. A third subplot introduces us to Goat's Head Farm, run by ex boxer Pug Cruikshank and his younger brother Wilfred. Pug was a Glasgow debt collector, enthusiastic at his work. Tyler Brady is their pig manager. Another investigation for Calum ! Goat's Head farm is plastered with "Keep Out" signs and has two interesting sidelines - they grow cannabis, and breed, train and sell fighting dogs. Annie McConville, the dog woman, is chased away, but complains to the police - and Ewan is sent to investigate. Calum of course also gets involved - but at the end of the day it is Annie who will come to the rescue.
It's certainly an all action packed story. Calum is attacked several times, as is Ewan, and there are two deaths, both claimed to be accidental. Finlay MacNeil, historian, a known cannabis smoking, alcoholic apparently falls off a cliff to his death. Eileen Lamont a local new recruit at the Daisy Institute has paired up with another member of the Institute - Johanna Waltari. Johanna had been at the Geneva branch of the institute. Johanna is really Jaana Hakinen whose sister died in another "accident." Eileen swaps a night virgil duty with her friend Nancy Macrurie, and so it's Nancy who accidentally falls to her death from a tall Dunshiffen tower. (Nancy's father Hamish gets his revenge as part of the multiple climax to the book) . And so events unfold at the Battery Egg farm, at Goat's Head farm, and at the Daisy Institute - with Superintendent Lumsden always a thorn in Torquil's side.
It's also an eventful book in the private lives stories. Sgnt. Lorna Golspie starts off very unpopular with her police colleagues because of her efficiency audit. She thinks when Torquil gave her a tour of the island from the police boat "Seaspray" he deliberately intended to get her very seasick, and when hapless Ewan's hammer tossing almost kills her on the moor, it too was deliberate. Torquil gets everyone together, says they should all press the reset button, and this they do very successfully. Torquil later wines and dines Lorna, and then stays the night. Torquil and Lorna have both fallen in love. Is this to be another ill fated love interest for Torquil ?
There is a lot more to the story but I have said enough. Let me just hint at a champion wrestler taking on a champion boxer. Everything is sorted and solved in the end and there is even a suggestion of a happy ending in that Lorna and Torquil are still alive and in love at the end, and Lorna wants to stay on in West Uist. How can she do this, will she have to resign or will we have two police sergeants, we must read on ?
Links to author index and home page