Iain's Leisure Reading
I was in "The Works" bookshop where there was a "three for a fiver" offer when by luck I chanced upon the first three books in a new series that really caught my attention - "The Dales Detective Series". I love plain speaking, no nonsense Yorkshire and Dales humour. Although I had never heard of the author Julia Chapman, I simply had to give the series a go !
I usually try to give a little background to all the series I read, but I have been able to find out all that much. Julia Chapman is the pseudonym of Julia Stagg who has published five books in the Forgas Chronicles series set in the Pyranees. Julia started writing this series when she and her husband lived in France (2004 to 2010) and ran a little french village auberge, but most of the series was actually written after Julia returned to Yorkshire.
Julia grew up in Coventry. She was born about 1969 to Irish immigrant parents who had scrapped their TV, and never owned another one. The house was full of books, and Julia was an avid reader. Skip forward now to about 2000, Julia is married, her husband is working in America, but Julia does not have a work permit and so has time to write. The couple have certainly had a wanderlust - Julia has also travelled to Japan and Australia. Then came to French period (2004 to 2010). Mostly Julia has worked as a teacher of English as a foreign language, but she has also dabbled in bookselling, pawnbroking, waitressing, and on a supermarket checkout till.
Back in the UK she and her husband lived in Manchester, but spent happy weekends in Austwick, a little Yorkshire Dales village about five miles north west of Settle. Later Julia and her husband left Manchester and now live permanantly in Austwick.
The Dales Detective series is set in the fictional Dales village of Brunscliffe which is based on Settle. To the south of Brunscliffe is Skipton, and to the north Horton-in-Ribbledale, and the famous Ribblesdale Viaduct. The two main characters in the series are Samson O'Brien who was an undercover, mostly London based, serious crime cop who seems to have been set up, and has had to flee for his own safety, lie low, and return "home" to sleepy Brunswick until whatever the trouble is, is settled. Back in Brunscliffe where he grew up, he gets a mixed reception generally, mostly from the Metcalfe clan and especially from Delilah Mercalfe - they went to school together - now struggling financially and forced to be his reluctant landlady.
The Dales Detective Series is what is sometimes referred to as the "cosy crime" genre. Julia prefers to call it "crime without the grime."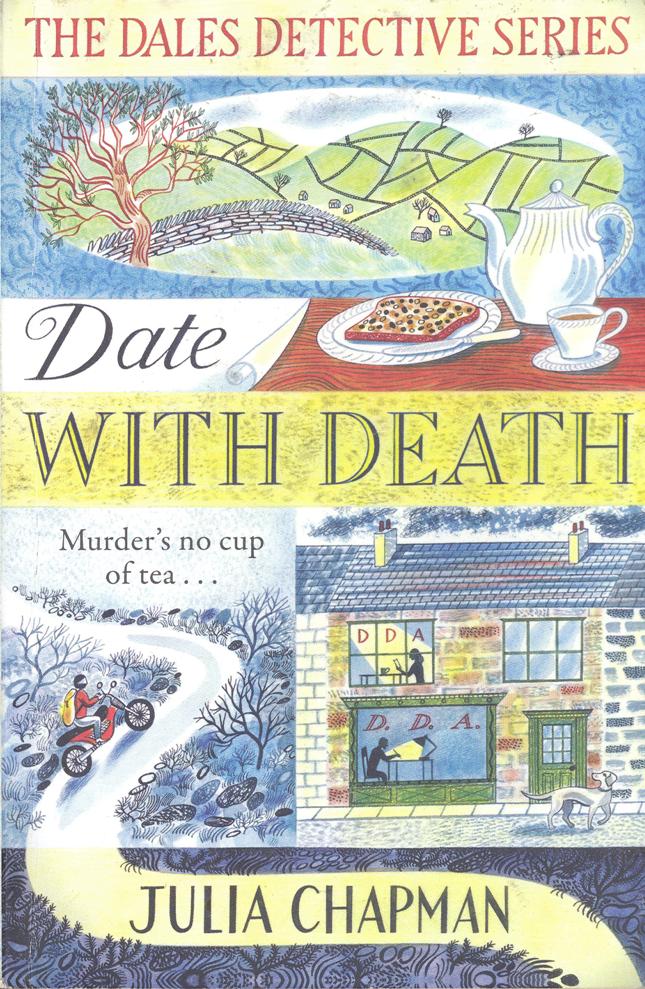 I read this book in August, 2020.
"Date with Death" is book one in the Dales Detective series, and let me say straight away that I really liked the book and look forward to reading the series. We are introduced to the two main characters Samson O'Brien and Delilah (Dee) Metcalfe, and the fictional Dales village of Brunscliffe - based on Settle in Yorkshire. Let's mention also Dee's Weimaraner dog Tolpuddle - just the opposite of his mistress and instantly devoted to Samson.
Samson O'Brien was born and bred in Brunscliffe - people there are "hefted" to the place just as their sheep are hefted to the Fells and never stray. Samson however had had to leave in a hurry some 14 years ago, and start a new life. He joined the police, was promoted, and then worked undercover in the series crime unit (SOCO) and for the national crime agency NCA. Something has happened, though we are not yet told the details. Samson has probably had his cover blown, he has been beaten up, and has been advised by his boss to lie low for about six months until it can hopefully all be sorted. So now, Samson is back in Brunscliffe. "How can you hate a place and love it at the same time ?" All those years ago, times were hard. As a child, growing up on Twistletown farm, Samson was sent to the butcher each week to get the family supplies with a pittance, and unbeknown to the young lad, the kindly village butcher's wife would slip in a little free extra. "I'll not take charity" said Samson when he found out. "You have been taking it for years" was the reply. Now, grown up Samson in this tale is able to repay kindness with kindness. Samson's mum died, and his father Joseph O'Brien took to drink. Their farm got badly neglected and fell to disrepair. Anything Samson did to improve life was drunk away by the father, and it nearly came to violence. He had also become involved in a brawl at Nathan's christening - incurring the wrath of the large Metcalfe family, and they know how to bear a grudge. Samson had to take himself off - on his father's Royal Enfiend motorbike. Ryan Metcalfe was Samson's best friend - Samson was best man at Ryan's wedding to Lucy, and godfather to young Nathan, but Ryan had joined the army and was killed in Afghanistan about two years ago. Inexplicably Samson never returned to help Lucy.
The Metcalfe farm is a well run family farm. Delilah Metcalfe is the daughter of Ted and Peggy, and has two brothers living locally - Will and Ash (there are two more brothers working away from home). Their son Ryan was killed in Afghanistan leaving Dee's sister-in-law Lucy a widow. Lucy now runs the Peaks Patisserie cafe in Bruncliffe. Dee was a champion Fell runner in the making, but gave it up when she got married. She and her husband ran a graphic design business which subsidised Dee's other business - the DDA, or Dales Dating Agency. Dee's husband, Neil Taylor ran off with another woman, leaving Dee struggling financially but too proud to tell her family. Thus Dee is forced to rent out half her premises to an unknown (internet booking) tenant. This turns out to be black sheep Samson O'Brien. Quick tempered Dee socks Samson on the jaw when she finds out - but she has spent the deposit money and cannot return it. She has to accept Samson as a tenant even though his business is also called DDA (Dales Detective Agency). But Dee's huge Weimaraner dog Tolpuddle take an instant liking to Samson. In short Samson and Tolpuddle bond.
We also meet a big cast of village residents. Roger Murgatroyd (Troy) is the surly landlord of The Fleece pub in the centre of the village, with Kay his wife. Samson doesn't like the man nor place - Troy continued to serve alcohol to an alcoholic. Samson was a champion grade darts player but refused to play for the Fleece. However Troy serves a good pint of Black Sheep bitter. Ida Capstick is Dee's cleaner, and quite a character. She lives in the nearest house to Samson's farm - Twistletown - with her mentally slow son George who is a dab hand at mechanical repairs. Seth Thistletwaite is a retired geography teacher and was Dee's Fell running coach. Rick Procter is a wealthy but shady local builder with fingers in lots of pies. When Samson ran off, his father Joseph had to sell the farm, and Rick Procter bought the place for a silly price. Samson is determined to get the farm back - one day. Rick seems to have set his cap at Dee.
The crime story opens with the murder of Richard Hargreaves, son of the local butchers. The police dismiss it as a simple suicide. Richard had moved back to Brunscliffe with his wife and their two children about 3 years ago, but the wife could not setle, and left with the children. But Richard was beginning to put his life back together again, and had even signed up for a fun, speed dating evening organised by the Dales Dating Agency. Seemingly unconnected, Martin Foster is also found dead. Martin also was a client of Dee's. Richard Hargreaves mum, the butcher's wife, cannot accept that Richard committed suicide, and asks Samson to investigate - the first case for the Dales Detective Agency. Dee too overcomes her dislike for Samson, and asks him to look at the murders of two of her clients. It will destroy the fragile business if some serial murderer is targeting clients of the DDA. Tom Anderson, farmer, also a Dee client, is the third victim in an apparent quad bike accident. Here Samson gets the first clue that some killer is loose. Another DDA client, Stuart Lister, a newly qualified estate agent is almost the fourth victim, but he survives. At Dee's insistence Samson has signed on for the next speedy dating session, and Samson persuades Harry Furness, auctioneer and captain of the Fleece darts team, to make up the numbers - in return Samson will play for the Fleece at an oncoming grudge match against another local pub. Harry is attacked in the local golf club which is dowsed in petrol, and set fire, but Samson somehow manages to get Harry out, save his life, and becomes a local hero. From black sheep to local hero in 14 days.
Samson and Dee, working together (is romance in the air) find a possible reason behind all the murders, and the author fooled me with a red herring when I thought I had spotted the likely murderer about half way into the book. There is tension, excitement, and a thrilling climax where Lucy lies unconscious also soaked in petrol, and Dee rediscovers her old Fell running prowess, and Tolpuddle is well up in the action. Its all well written, and told with lots of humour where appropriate. Of course, Samson saves the day, solves the murders, and the Dales Detective Agency is assured of lots of business. Samson makes it up with his now sober father, and could opt for a good life in Brunscliffe, but he reminds himself he is only lying low for six months.
All in all, a great start to what promises to be a good series. Will Samson and Dee get together ? Will Samson get Twistletown back ? Will Rick Procter continue to prosper from all his shady dealings ? In brief, we are hooked, and must read on.
Links to author index and home page


I read this book in September, 2020.
This is book 2 in what is promising to be a very enjoyable series, set in Bruncliffe in the Yorkshire Dales. It features "resting" undercover cop Samson O'Brien who has returned home to set up the DDA (Dales Detective Agency) and his oiginally reluctant (she punched him on the jaw) landlady Delilah Metcalfe also of a DDA, but this time the Dales Dating Agency. Delilah spends a lot of her time helping Samson. Really Samson and Delilah are falling in love, but each of them is fighting it. Delilah is resisting, annoyed at black sheep Samson who took off in the middle of the night years ago leaving an alcoholic dad who quickly lost the family farm - and on going villain Rick Procter hardly paid a fair price for the property. Also Samson failed to return when his best friend Ryan (one Delilah's many brothers) died, leaving a wife Lucy and a son Natham - Samson's godson. In his turn Samson is fighting it because he thinks his return to Bruncliffe is only temporary whilst some problem is resolved. It's some as yet dark secret hanging over Samson who might go to prison. There are lots of misunderstandings but fate keeps throwing them together - yet another case to work on, and fell running together again searching for a "stolen" ram called Clive Knowles. And of course they both share a love for Delilah's Weimaraner dog Tolpuddle, happily recovered.
The book is full of humour and is set at Christmas time. There is a huge cast of characters whom we met in book one, and I won't list them all again. Mostly the book is the back story of the private lives of Samson and Delilah ( note the pun). But there is a murder mystery too. Samson's dad Joseph is now a resident at the Rick Proctor owned retirement home Fellside Court. He is happy there with lots of friends, and they all look out for each other. Deputy manager Vicky Hudson still fusses over the old folk, but there is a new manager - the enigmatic Bulgarian (or Serbian ?) Ana Stoyanova. The book opens with one of the residents, Alice Shepherd, wanting to hire Samson. She thinks her life is in danger, but seems muddled with a story about things being stolen and turning up, and it's all a bit nebulous. Samson declines Alice's money but wonders if he has done the right thing. Alas, soon Alice is found dead. In truth she had been tricked into overdosing on her medication in a clever plot involving her distinctive pill box, and a secret copy. Next Eric Bradley almost dies when his oxygen supply is interrupted in the middle of the night - another clever plot. And the next attempted care home victim is Rita Wilson who is pushed downstairs and is in a coma. All appear to be accidents and the police (Constable Danny Bradley and Sergeant Clayton) are not involved, but Arty Robinson seems to be the next target - Samson doesn't know his dad Joseph has already had a lucky escape.
And so the plot unfolds, and I'll leave it at that as I don't write spoilers. Throughout Ana Stoyanova is the chief suspect, but is that true or are things not as they seem ? And yes there are twists, and tension builds, until it is all sorted at the end. Happily too Samson finds Ralph Knowles £7k pedigree tup (ram) Clive, although here also, all is not as it seems. Samson has rediscovered some of his old shepherding skills, and sheep loving Will, Delilah brother seems won over - for this Christmas anyway.
There are lots of sub plots all handled well by Julia Chapman. One I really should mention is that, unbeknown to Samson, Delilah's ex husband Neil wants his dog Tolpuddle back. We will need to read book 3 to see what happens. Also Samson's under cover cop problem seems about to break.
In brief - it's a terrific little story and well worth a read.
Links to author index and home page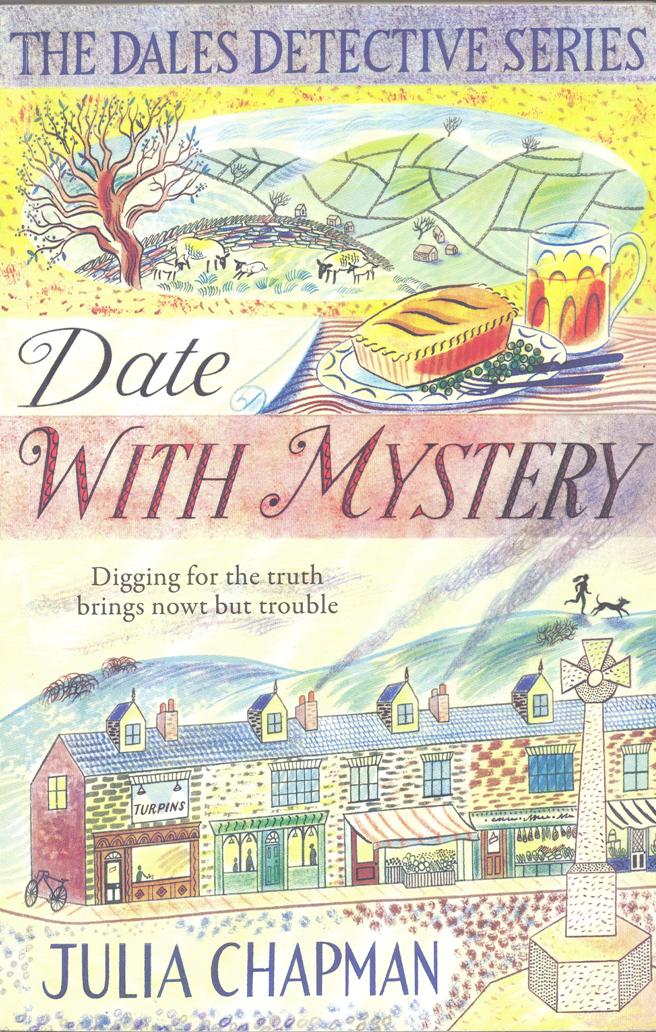 I read this book in October, 2020.
This is book three in an excellent little series - the Dales Detective Series - set in Yorkshire and with two very strong characters who have been thrown together. Samson O'Brien is an undercover policeman now falsely under suspicion of corruption who has had to flee London and return to Bruncliffe, the home he left in a sort of disgrace. Of course we now know a lot more about what really happened when he left. Delilah Metcalfe is the daughter of the well respected local Metcalfe farming family. She grew up with 5 older brothers and quickly learned how to take care of herself. She runs the DDA - Dales Dating Agency - and is Samson's landlady - he also runs a DDA - the Dales Detective Agency. The initial meeting was very prickly, but now there is a sort of on/ off romance between Samson and Delilah. Initially he fought shy of committment, thinking his return to Bruncliffe was only temporary, but now things keep getting in the way of true love. Samson's corruption charges seem to be coming to a head. He is suspected of stealing police confiscated drugs and selling them. A police friend of Delilah's ( DCI Frank Thistlethwaite) warns her that Samson is no good, and after one failed marriage she doesn't know what to do for the best.
It's a terrific setting, and the book is full of all sorts of interesting characters most of whom we have got to know - the Metcalfe clan, lots of pensioners at Fellside Court where Samson's dad Joseph now stays, young DC Danny Bradley who helps Samson and Delilah, and the nasty (but only Samson can see it) property developer Rick Procter. There is a lot of humour and there are all sorts of sub plots - eg Joseph O'Brien is now having to fight his craving for alcohol once again, Delilah is facing bankruptcy, and having to take on hopeless cases for her DDA. The ongoing story of Delilah's ex husband Neil reclaiming her beloved dog Tolpuddle does come to a malodious ending - I guess we all saw how Samson was going to save Tolpuddle way before Samson, but it was set up neatly, and almost didn't work.
The main story starts very quietly. Jimmy Thornton's mother Marian has just died and Matty Thistlewaite, their solicitor tells Jimmy that inexplicably Marian has left half the estate to Livvy Thornton, Jimmy's sister who died some 20 years ago apparently in a hit and run accident in Leeds. Livvy's beloved dog, Red, also disappeared after this accident. The solicitor can't find Livvy's death certificate, and asks Samson to find it for him. He also asks Delilah to help Samson - Matty knows everyone will help Delilah Metcalfe, but many would send Samson packing. Of course finding the certificate turns out to be anything but straightforward. Samson and Delilah can find no death certificate, nor press report of the fatal acident, nor burial record, nor cremation certificate in the whole of Leeds. And so the search deepens, and strangely Rick Procter seems to crop up a few times. The story of the Thornton family is slowly revealed. Before she disappeared, Livvy had a worshiping admirer in Oscar Hardacre, son of the neighbouring farmers the Hardacres. He was distraught when Livvy just upped and left one night. She had had to flee her brute of a dad Carl Thornton, who was coming home drunk, and beating his wife Marian. Apparently, full of regret, he later committed suicide - but of course there is a lot more to the story as it unfolds. Along the route Samson starts getting threatening letters telling him to leave things alone, and someone takes a pot shot at him and Delilah. Oscar is an expert shot - could he have been the marksman ? But shooting ability seemed to be a shared Hardacre skill.
Marian Thornton had asked her son to look after her garden when she died, and tend her rhubarb. Needing something to do to take his mind off all the emerging complexities of the case, Jimmy goes out to split and divide the rhubarb, but finds something buried there. Is it the missing Livvy ? Read the book to find out. It's like peeling an onion -there is always another layer below.

At the very end of the book Samson is suspended and it seems the story of his alleged corruption is about to break. He is only slowly winning back the trust of the Bruncliffe folk. How will they react, what will his father Joseph think, and how will Delilah react ? We must read on to find out. As I said a great little series with so much going for it !
Links to author index and home page