Iain's Leisure Reading
There were 3 more Miss Seeton books written by Hampton Charles (Roy Martin) - in 1990
There were 16 more Miss Seeton books written by Hamilton Crane (Sarah Mason) - 1991 to 2018, and possibly still writing.
In the "three for £5" section of "The Works" bookshop I came across the first three books in Heron Carvic's Miss Seeton series, read that they were a gentle parody on a series I knew and liked - the Miss Marple books - and so I decided to give them a go. Inexplicably, when I got home, I found that my three books were two copies of book two, and one copy of book three, and so I had to start reading at book two. Sadly, although I sort of liked the characters and the English village setting, I wasn't too taken with Heron Carvic's writing style. In short, I doubt that it is going to be a classic series.
Heron Carvic is a pseudonym for Geoffrey Harris (1913 to 1980). Geoffrey was an English actor (he played Gandalf in BBC radio's version of "The Hobbit" ) and writer who created the character of a retired art teacher, Miss Emily Seeton. The books were so well received in America, that the Miss Seeton character lived on after Geoffrey's death with stories by two further writers - 3 books by Roy Martin writing as Hampton Charles, and 16 + books by Sarah Mason writing as Hamilton Crane. Note that all three authors had the initials "H C" ! I think I will concentrate on the original author.
Geoffrey Harris was educated at Eton, but he escaped from there and his father by running away to France, where he took the stage name Heron Carvic to avoid family outrage. As well as being an actor, Geoffrey also worked as an interior designer and florist. He met his wife Phyllis Terry when he was 23 (she was 43) but they did not marry until 1958, years later. Wierdly, records show Phyllis married both Geoffrey Harris, and Heron Corvic - surely attempted bigamy. Geoffrey died in a car accident in Kent in 1980.
Miss Seeton, Emily D Seeton, MissEss is the herione of "cosy" mystery novels. She is a retired art teacher who draws portraits / sketches / cartoons of various subjects. Most bear a good likeness to the subject, but some are distorted cartoons revealing often malevolent character. Is she a gifted medium - a gift of which she is quite unaware - or just a great observer of human characteristics? She seems to blunder about with her brolly, and always be in the wrong place at the wrong time, unknowingly saving lives and exposing murderers and criminals. It's all written with humour, and Miss Seeton definitely talks and thinks as a caricature of Miss Marple, but to my ears this soon becomes annoying. I thought it was overdone - like a smart idea from which, once started, Heron Carvic could not escape.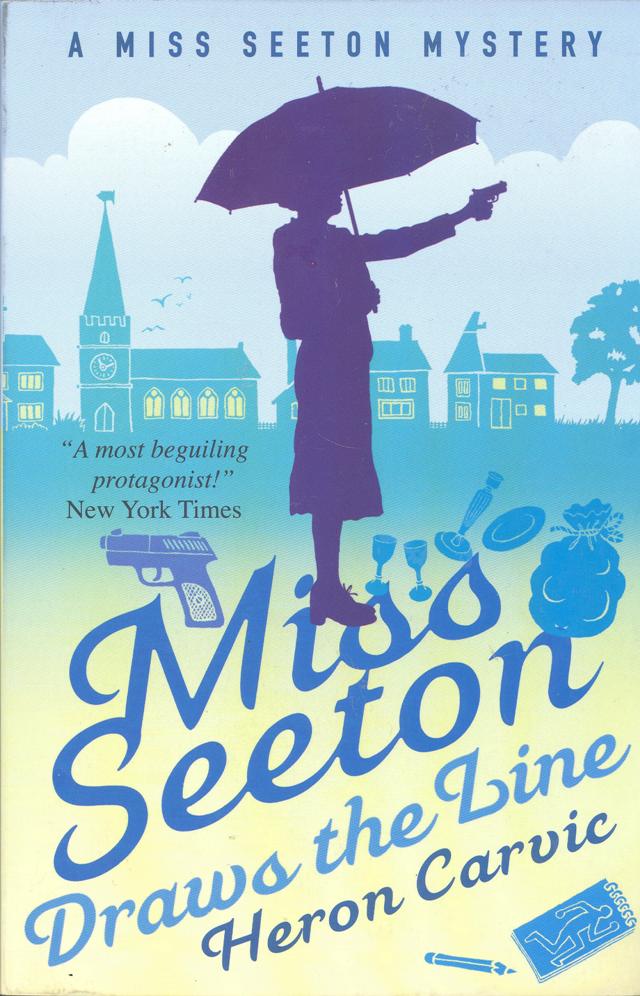 I read this book in October, 2019.
This is the second book in Heron Carvic's Miss Seeton series, but I foolishly had bought book two twice instead of books 1 and 2, and so this had to be my starting point. I liked the country setting. Miss Seeton is retiring as an art teacher, and hopes to move to a cottage in the little Kent village of Plummergen left to her by her godmother. It's the 1960s, so even this small village has 5 shops - a baker, a small butcher, and 3 grocers, one of which is a post office. The pub is the "George and Dragon". Village life is ruled by gossip (the Nuts, Mrs Blaine and Miss Nuttel ) which spreads at lightening speed - sometimes it is based on fact, usually not. We meet some village worthies. There is a Dr Knight, Treeves, the vicar and his sister, Miss Seeton's cleaner Martha (three shillings an sixpence per hour), and Major General Sir George and Lady Colveden, and their son Nigel who live just outside the village. The main police character is Superintendent Delphick (the Oracle ) and his assistant Segeant Ranger, but we also meet the Oracle's boss Chief Super Gosslin, and the assistant commissioner Sir Hubert.
The story opens with Delphick and co baffled by a series of brutal child murders - strangulation with a wire. In desperation Delphick remembers a village phenomenon, the artist Miss Seeton who saved the day in book one when she painted a portrait of the killer, and so won great noteriety in the national press. Delphick asks Miss Seeton to draw pictures of the dead children to see what that might reveal. But Miss Seeton has troubles of her own. Mrs Goffer, mother of the village scamp Effie, had stood in for Martha in her absence in looking after Miss Seeton, and so Miss Seeton had agreed to draw a portrait of young Effie as a reward. Unfortunately each of three attempts fails - half the sketch is a good likeness, the other half a devilish distortion. Miss S. consults Dr Knight to find out what is wrong with her. Has she had a stroke ? Delphick sees one of the sketches and identifies Effie as a future strangler victim. Another Miss S. sketch connects the murders with a series of post office raids. We also get a local gang of youths starting street fights, an embezzeler at the local bank, and a Fleet Street journalist despatched to Plummergen. There are two new families in the village - the Quints, brother, sister and their strange kid brother, and the Hosiggs - and both are soon made chief suspects. Miss S. stumbles about in a series of comic turns, solving everything, saving lives with her brolly, catching crooks (always just happening to be in the wrong spot at the wrong time, and not being aware of the effect she is having).
It's a sort of humourous, make believe caricature of English village life that I found OK for a change. But Miss Seeton's contrived "Miss Marple," "don't you know", "as it were" peculiar speech patterns soon became annoying, and generally crept throughout the narrative as a disease. If only Corvic had mastered the deceptively difficult art of simple writing, the book would have been many times better, to my thinking. In short a good idea spoiled.
It's early days, I'll reserve judgement and see what I think with the next book.
Links to author index and home page