Iain's Leisure Reading
&nbsp
There were also a series of Mike Hammer books completed by Max Alan Collins, &nbsp I have ignored these.
I have really enjoyed reading the Philip Marlowe books by Raymond Chandler. Not that long ago, I found and bought a crime fiction trilogy by a roughly contempory fellow American crime fiction writer - Mickey Spillane, whose also wrote of a loner PI - Mike Hammer. I had sort of heard of Spillane as a writer of popular certainly, perhaps "trashy" books full of violence and sex, but I had never read any. Time to give it a go. Happily, the trilogy that I bought had the first three Mike Hammer books.
Mickey Spillane was born Frank Morrison Spillane in 1918 in Brooklyn, New York City - the only child of an Irish bartender father John, and his Scottish mother Catherine. He started writing whilst at High School, and graduated from there in 1935. There then followed a variety of jobs including Lifeguard, and even work as a trapeze artist for Ringling Bros and Barnam and Bailey circuses ! In 1941, on the day after the attack on Pearl Harbour, he enlisted in the Army Air Corps during Word War II, becoming a fighter pilot and a flight instructor. Reportedly he flew over Murrels Inlet, South Carolina, and took such a liking to the place that he later moved there.
Surprisingly he was an active Jehovah's Witness. He married Mary in 1945 and they had four children, but they divorced in 1962. In 1965 he married his second wife, nightclub singer Sherri Malinou, but that too ended in divorce - in 1983. He then shared his Murrels Inlet house with wife number three, Jane Johnson, whom he married, also in 1983. Their house was destroyed by Hurricane Hugo in 1989, and had to be almost completely rebuilt. He died in 2006, still living in Murrels Inlet. His friend and literery executor Max Allan Collins then started work to edit and complete Spillane's unpublished typescripts.
Spillane started work as a writer for comic books, and concocted adventures for Captain Marvel, Superman, Batman, and Captain America. Wanting to raise some quick cash to buy a house with first wife Mary, Spillane tried his hand at writing a novel, and wrote "I, The Jury" in 19 days ! This sold over 6 million copies in the USA alone ! In 1947 it introduced the world to tough, hardboiled, vengeful Mike Hammer and the book although tame by modern standards featured more sex than the other crime novels of the period. Some 13 more Mike Hammer books appeared over the next 50 years, and many were made into movies. Spillane even played his creation Mike Hammer in "The Girl Hunters !" In short, he is quite a character !
In the first paragraph I rather unkindly and unfairly described his work as "trashy," - I hadn't read the books and only knew of them by reputation. Most critics have not liked his work because of the violence and high sex content, and have variously described the character Mike Hammer as a homicidal maniac, and the books as "nauseating". Others though have praised his flair for fast action, and his lean, spare, authentically tough style. His chum Max Collins thought Spillane the peer and perhaps even a better writer than Raymond Chandler. I wouldn't quite agree with that, but Mickey Spillane is certainly a very successful writer, and I think credit where credit's due. I haven't sold one book, and Mickey Spillane has sold over 130 million!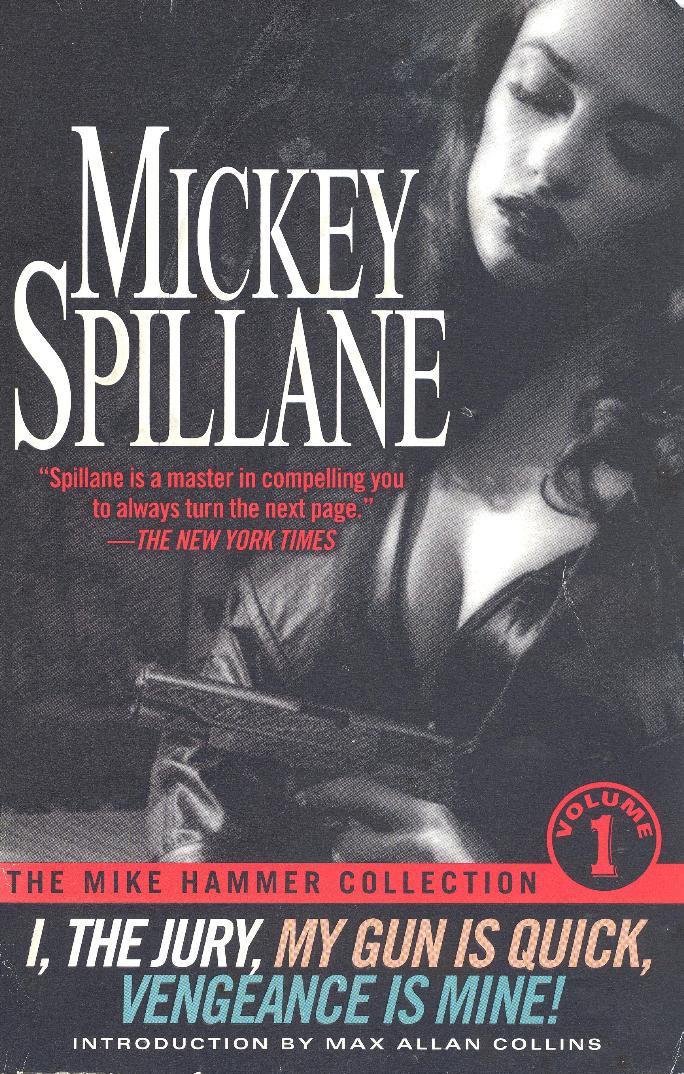 I read this book in May, 2017.
I had heard of Mickey Spillane's Mike Hammer books, but had never read any, and so when I saw a Mike Hammer trilogy in a charity shop, one that contained the first three books, I bought it for the pending shelf. "I, The Jury" is book one.
The omnibus had an introduction by Max Allan Collins. Mr Collins argues that Spillane is the equal of Raymond Chandler - I don't agree but he is entitled to his opinion. Collins suggests that Spillane is a WWII veteran writing for other returning GIs who want entertainment stuffed full of violence and carnality. A veteran of comic book writing, he writes in a hard hitting direct style.
Mike Hammer is one tough guy very quick with his fists and with his gun. He is quite happy to shoot first - he is not looking for justice. He doesn't trust the trial system where a smart lawyer can find some smart words to fool a jury. Mike Hammer is judge, jury, and executioner. Like a cartoon character he escapes death time after time - in short its comic book stuff.
In this first story, Mike Hammer's best friend (and he doesn't have too many friends), the ex cop Jack Williams, has been shot. Jack lost an arm in the war protecting Mike - so Mike is doubly determined to get who did it, no matter what it takes. Mike has a good contact on the NY police force in Pat Chambers, who sort of shares knowledge with Mike Hammer knowing that Mike will create action that he cannot do. Pat hopes that Mike can lead him to the murderer. Jack Williams was an ex cop - so all cops want to get whoever killed one of their own.
Mike has a secretery Velda who has designs on Mike - and Mike admits he will probably end up marrying Velda. There is quite a bit of comic banter between Mike and Velda - light touches amongst the darkness. It is also an interesting period piece. Hammer drives around NY and apparently has no problems with parking. He posts a letter to himself, and it is delivered almost immediately. Some things were better in the 1940s.
Anyone at a party just before Jack was shot is a suspect, so Mike Hammer goes through the guest list to find the murderer. In the process he meets the beautiful psychiatrist Charlotte Manning - and instantly they fall in love, and Mike proposes marriage. (He doesn't tell Velda, though!) But whilst there is a lot of sex in the story - eg one of the Bellemy identical twins is a nymphomaniac with designs on Mike ( but how can you tell which is which ?) - strangely, Mike and Charlotte never got round to it. And of course it takes ages to find out who did it as the body count mounts, and an elusive motive just can't be found. However, Mike Hammer gets there in the end.
Now I've read it, I wouldn't call it a trashy novel - it's better done than that. It's certainly fast paced but its aimed at a segment of the popular market. It is as it is - which is much as you would expect. I wouldn't rave about the book, but didn't mind reading it. Let's see where the series goes.
Links to author index and home page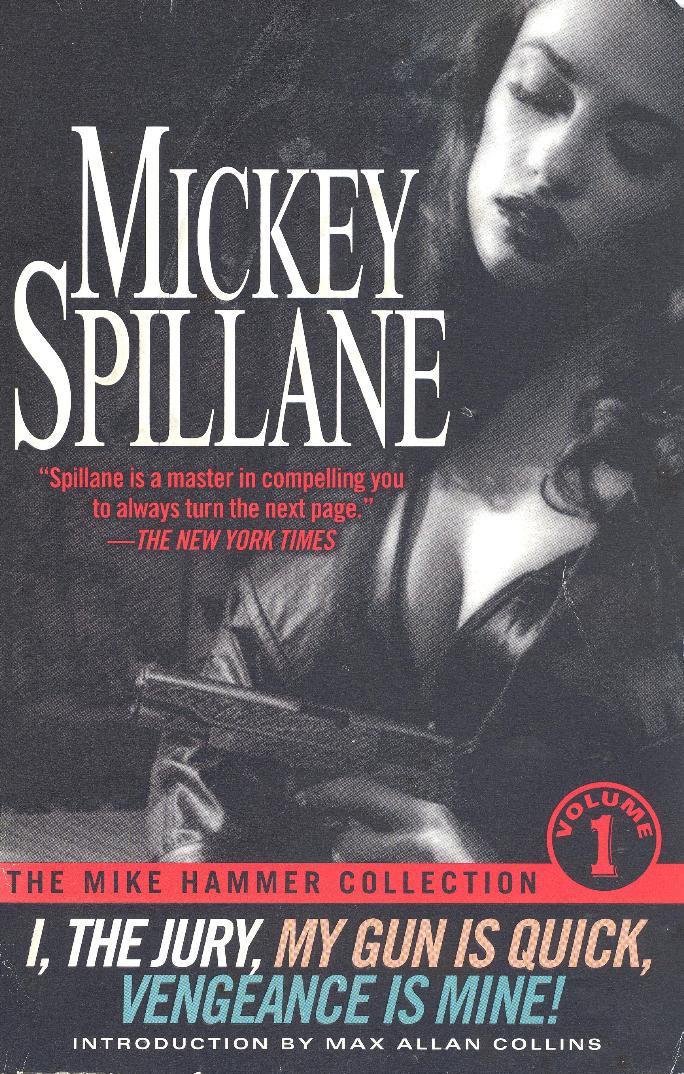 I read this book in May, 2017.
This is book two in Mickey Spillane's Mike Hammer series, and it's much as before. Book one finished with Mike Hammer shooting dead the murderer he had been chasing. Guess how book two finishes ? I started off quite liking this book, thinking, of the genre, it was quite well done. But after Mike meets Lola there was a lot of gush about them falling in love - or rather Lola falling in love with Mike, and Mike almost getting round to falling in love with Lola. I thought the book went off the boil, but perked up again at the end with a good, climactic finish. So all in all, good in parts, but a disappointment overall.
There is quite a bit about the series that I like. I like that PI Mike has a secretary, Velda, and I like the Mike / Velda interplay. I like that Mike has a good respect for cops, and a good friend in the cop Pat Chambers, but find it surprising how closely Pat and Mike work. Pat even jokes that Mike seems to be running his department. The action sequences are comic book stuff, but the plot fairly rattles along. However I don't specially like the sex part - now very dated and not at all shocking. It now reads as a parody, a pastiche.
The book opens with Mike Hammer exhausted, but flush with cash, having just successfully completed an assignment. He is falling asleep at the wheel, so goes into the next bar / diner to get some coffee. There he meets a beautiful redhead and they get talking. Then a thug acquaintance of the redhead, Feeny Last, turns up, and starts to hassle the redhead. Mike rescues the girl, and sends Feeny packing. Seeing good in the girl, Mike gives her enough cash to make a new start in life - we all need a helping hand sometimes. The redhead next turns up dead, and the police think suicide. Mike knows better. The girl is to be buried unidentified, with no mourners, no family, and Mike can't stand that, and decides to do some investigating to see if he can put a name to the redhead. Feeny Last is a good starting point, and it turns out that although there is a lot more to Feeny Last, he works as chauffeur / companion to a very wealthy old man - Mr Berin-Grotin.
The story now really takes off. Seemingly the redhead was a former high class prostitute with a love of photography also into a bit of blackmail - or was she ? The city is corrupt, but here perhaps is evidence to expose those in high places. Pat is heading the case but is coming under a lot of pressure from on high to drop things or face dismissal. Pat and Mike are now a team, and Pat decides to press on, come what may. Mike's investigations lead him to interview a former friend of the redhead - another beautiful former call girl, Lola. Lola and Mike get on well, and soon Lola is taking terrible risks to help Mike.
Mr Berin-Grotin is a philanthropist who, when told of the unknown redhead, decides to do something to help. He pays Mike to work full time on identifying the girl. But is Mr Berin-Grotin just a little too good to be true ?
It is three years after writing book one, and now it is not so easy to get a parking space in NY. Also realistically not all the bullets aimed at Mike Hammer miss, so I guess we have a sort of cliffhanger ending.
I think I prefer UK fiction and nostalgia to American - after all I was alive in 1950's UK. I'll probably read book three, and then possibly not bother with the rest of the series, but you never know. One thing I am sure of, though - I very much prefer Raymond Chandler to Mike Hammer.
Links to author index and home page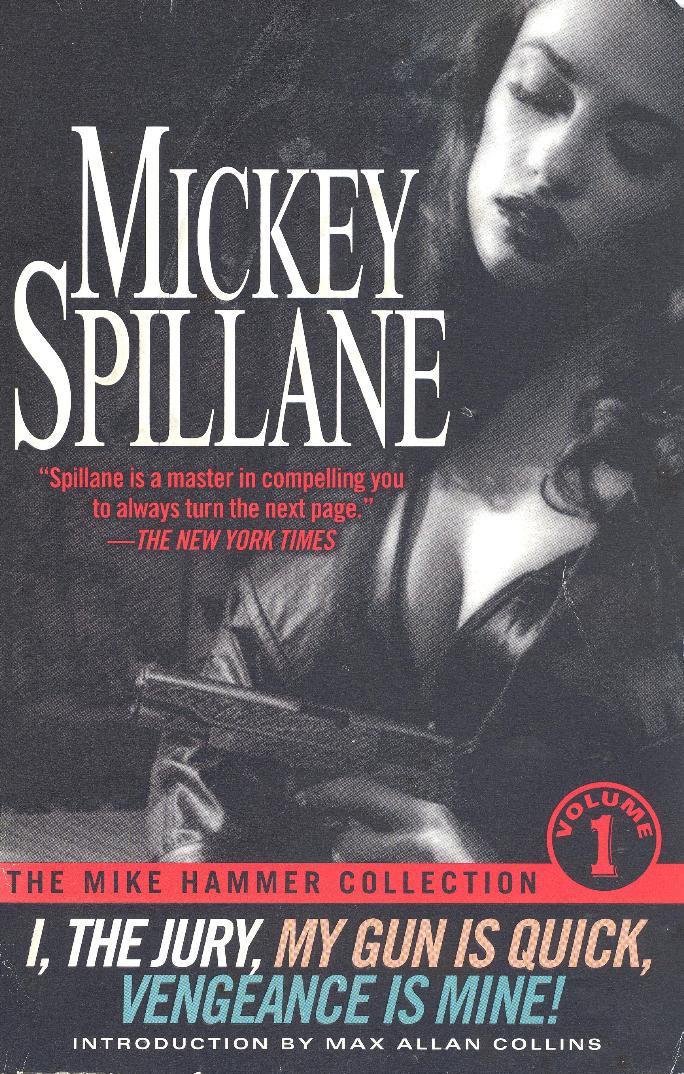 I read this book in Jun, 2017.

This is book three in the Mickey Spillane trilogy that I have been reading. It features tough American PI Mike Hammer who apparently hasn't been blessed with good looks, but yet girls have just to look at him and fall madly for him. He treats them rough, and they like him for that. Its fantasy, one dimensional, comic book fiction, and of course I am not its target audience - I am not an adolescent American teenage boy, nor a young army squaddie. I thought I would read this trilogy out of interest to see what it was like, not expecting much. I was pleasantly surprised by the first two books - I liked the set up, the pace and the action. But possibly the novelty has worn off. I didn't like this book at all.

The actual story is not too bad. Mike Hammer meets Chester Wheeler, an old army chum, they both get gloriously drunk, and Mike finally awakes from his drunked stupour in a hotel room with his chum shot dead on one of the twin beds, shot by Mike's gun. The local DA wants to nail Mike, but apparently it's suicide. Nevertheless Mike was drunk in charge of a gun, and his gun and PI license are removed. Mike thinks its not suicide, but murder, and sets out to prove this, but not as a licensed PI. He tells Velda, his secretary (who also has a PI license) that she is now in charge of the agency - and Velda sets out to prove Mike innocent.

Apparently Chester went out with a good time girl who worked for the Anton Lipsek model agency, and so we meet Anton, and Juno Reeves, a stunningly sexy creature who run the agency. Connie Wales is another stunningly attractive girl at the agency, but when poor Connie falls for Mike Hammer, we don't expect her to survive the book. Chester had been taken to a characterful club - the Bowery Inn where there was illegal drugs and gambling etc (and a good side line in blackmail). The place was owned and run by a crook who now called himself Clyde, but was well known to Mike Hammer as Dinky, a low life whom Mike had "sorted out" some years ago.

And so we now have all the ingredients for another Mike Hammer frolic. We have three sex goddesses Connie, Juno, and Velda - when she gets dressed up and goes on a date with Clyde as part of her investigations to clear Mike's name. The body count soon mounts. Mike Hammer is a suspect, saved from the DA's clutches by a false alibi provided by Mike's police chum, Pat Chambers. This was completely out of character for Pat - and I didn't believe / like it. There is lots of shooting, but unfortunately just too many tame sexual encounters with gushing, quivering blondes, each bit of "purple prose" trying to outdo the previous one, and all getting in the way of the action.

Overall, I thought book three well below the standard of books one and two. I may dip into the Mickey Spillane / Hammer Hammer series some time again, but I doubt if I will bother. Why Anyone would prefer this tosh to Raymond Chandler / Philip Marlowe is beyond me.








Links to author index and home page