Iain's Leisure Reading
I got the first three books in Mathew Baylis's series about Rex Tracey, a London based journalist, as a Christmas 2015 present from my daughter and son-in-law. I had never heard of Rex Tracey, nor Mathew Baylis, and so I have been looking forward to learning what is on offer.
Matt Baylis was born in 1971, and was educated at Merchant Taylor's School, Crawley, and then Trinity College, Cambridge. He spent his early years in Southport, Merseyside. He is a novelist, screenwriter, and a journalist, like his creation Rex Tracey. He has written for Eastenders, and travelled abroad (eg Kenya, Cambodia, and a remote mountain village in the Pacific island of Tanna) to train local writers - funded by the BBC World Service, and the Department for International Development. He has been the television critic of the Daily Express since 2005, but has written TV reviews for most of Fleet Street. He is married, and lives in Highgate, North London with his wife and son.
His third novel "A Death at the Palace," the first in his Rex Tracey series, published in 2013 is a crime thriller set in Tottenham. Second and third Rex Tracey books followed in 2014, and 2015.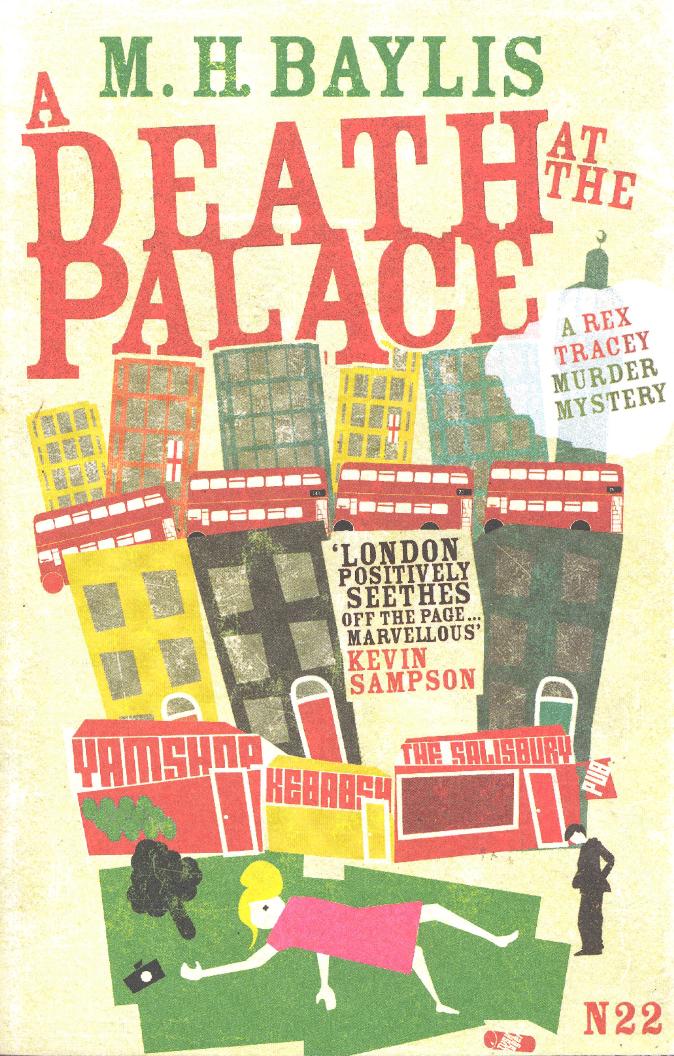 I read this book in February, 2016.
It is always interesting to read book one of a new series, especially one that I had never heard about. Would it be any good, would I like it? The book I read before this one was the very slow paced, atmospheric The Woman Who Walked in Sunshine, book 16 in the Lady Detective series. This also is atmospheric, but is very fast paced - lots of diverse characters from a multitude of ethnicities all jumbled and crowded together in the back streets of Wood Green and Tottenham in North London. There is a murder mystery for Rex to solve - that of his ex Lithuanian girlfriend Mardi. But first we must meet our hero Rex Tracey.
Rex is a good journalist and newspaperman, ex Fleet Street, but seemed to have suffered some sort of mental breakdown, blotted his copybook, and never worked there again. He now works for Susan, who has bought a North London local newspaper, and we are introduced to Terry, the photographer, and Ellie, a graduate supposedly being mentored by Rex ( but Rex is mostly AWOL). We also meet the rest of the crew, including Brenda the receptionist whose husband Mike is a local detective sergeant, and the source of lots of stories for the paper. Rex is almost 40, and is a semi alcoholic. He has a brain damaged wife Sybil - Rex had been drinking, was driving the car at the time, but passed the breathalyser. Rex's foot was badly damaged at the time, and so he now walks with a limp, and suffers from athritis. He is dishevelled and unkempt - but somehow attractive in some mysterious way to the opposite sex. He has a girlfriend of sorts, Dr Diana Berne but Rex is never punctual, and sometimes forgets to turn up !
I was rather thrown at the start of the book when I thought I was being introduced to Rex, but suddenly found myself reading about someone else, a lot more sinister. Really we should have had new chapter break to warn us, or perhaps we could have switched to italics. Other writers can flit about without causing confusion.
Mardi and Rex had split up, but he is now getting over it. Then Mardi goes missing, and her sister appeals to Rex to find out what has happened. The story is told against a background of racial tension - some think there are two many immigrants, some like Rex revel in the buzz of city life. So the story is bang up to date !
Rex is beaten up several times, but is stubborn and eventually solves the mystery. I won't reveal if Rex and Diana are still together at the end of the book.
I started off not liking the book at all, but stuck with it, and ended up thinking it was probably OK after all. Maybe two stars out of five.
Links to author index and home page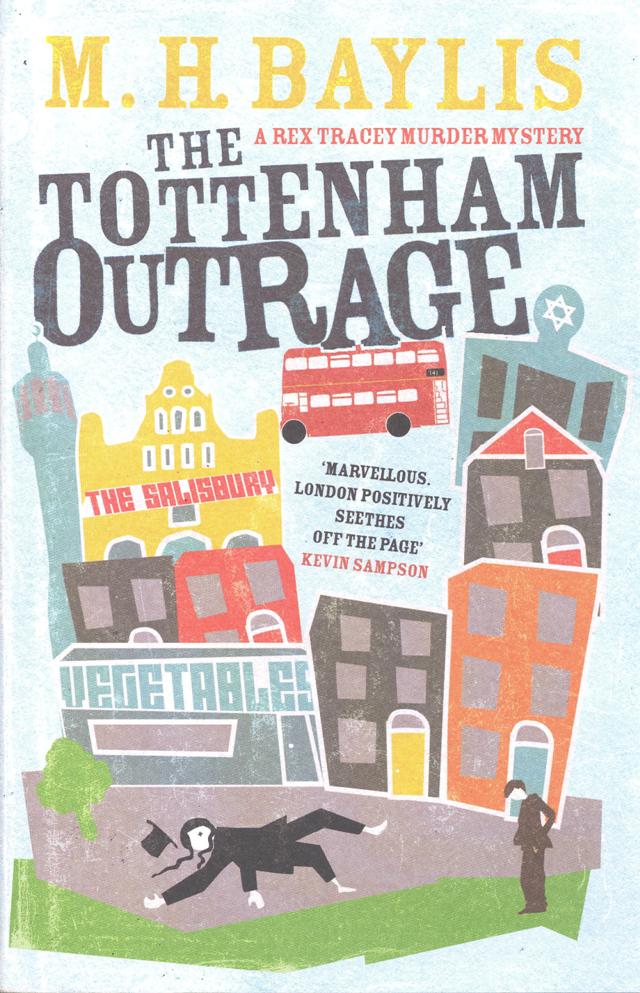 I read this book in December, 2017.
It's almost two years since I read book one in this series about an investigative journalist, Rex Tracey, and his adventures in the Wood Green, Tottenham area of London. I didn't think it was the best of series, but thought it was sort of OK. That said I haven't really rushed back, have I ? Again I have had very much mixed feelings. There is a lot of detail in this story, and sadly I grew bored about half way through. I did stick it out to the end, and the final 20 odd pages did manage to make sense of it all. There was a nice surprise at the very end, so no doubt I will give book three a go sometime.
As in all series, we have two main stories running concurrently. Story one is what is happening in our hero's private life, and story two is the particular mystery to be solved. Rex, like most detectives in crime fiction, has a complicated, troubled life. His wife has been in a sort of hospice for many years - Rex visits occasionally. Her sister wants to take her away to France. It was caused by a terrible accident when Rex was driving, and Rex is now crippled in one foot - and overdozing on codeine and Polish lager to escape the constant pain. He is still working for North London Newspapers, based in Wood Green, but times are hard in the print trade, and it's now a free weekly give away, and a web site. It's sad that Rex and co. once a week press set to lock the weekly version before its print run, and try to conjure up heady former days. Rex of course had been an investigative journalist on a national daily - long ago, and before his accident, and subsequent depression. Rex's best mate is Terry, the paper photographer. Now times are very hard, and the paper will have folded by the end of the book.
The particular mystery is who poisoned a whole family of Hasidic Jews, and why. To understand this, Rex has to submerge himself into a very strange culture where history is all. The slights of centuries ago are still relived, and it occurs to no one that things could and indeed should change. Most are happy with the set up - but some long to escape, and escape is very difficult. And of course times are hard, and there is little money. These people are subsisting. It's not only the family that are killed, but an academic, Dr Kovacs, is stabbed and killed. Dr Kovacs was an unpleasant, difficult man who just happened to be Terry's neighbour, and with a strange twist of fate, Terry is the chief suspect. There is a lot of misdirection, and what we think of Terry swings one way, and then back again as the story progresses. The Tottenham Outrage was a botched wages grab by eastern block terrorists/ revolutionaries about 100 years ago, and Dr Kovacs was researching what had really happened, and what happened to the wages / money that was never recovered. This story is told in flash back, and it seems what happened all those years ago is linked to current events. This of course is the whole point of the story - history shapes these peoples' lives. To understand the situation the author has to give us a lot of detail about a very different way of life - and I guess it's impressive research by the author, but sadly my interest wandered. This might be a smashing book for someone with different tastes, but I found it heavy going in places.
As per book one, perhaps two marks out of five. I've read a lot of worse fiction, but this has not grabbed my interest. Perhaps book three might be better ?
Links to author index and home page