Iain's Leisure Reading
I got the first three books in Mathew Baylis's series about Rex Tracey, a London based journalist, as a Christmas 2015 present from my daughter and son-in-law. I had never heard of Rex Tracey, nor Mathew Baylis, and so I have been looking forward to learning what is on offer.
Matt Baylis was born in 1971, and was educated at Merchant Taylor's School, Crawley, and then Trinity College, Cambridge. He spent his early years in Southport, Merseyside. He is a novelist, screenwriter, and a journalist, like his creation Rex Tracey. He has written for Eastenders, and travelled abroad (eg Kenya, Cambodia, and a remote mountain village in the Pacific island of Tanna) to train local writers - funded by the BBC World Service, and the Department for International Development. He has been the television critic of the Daily Express since 2005, but has written TV reviews for most of Fleet Street. He is married, and lives in Highgate, North London with his wife and son.
His third novel "A Death at the Palace," the first in his Rex Tracey series, published in 2013 is a crime thriller set in Tottenham. Second and third Rex Tracey books followed in 2014, and 2015.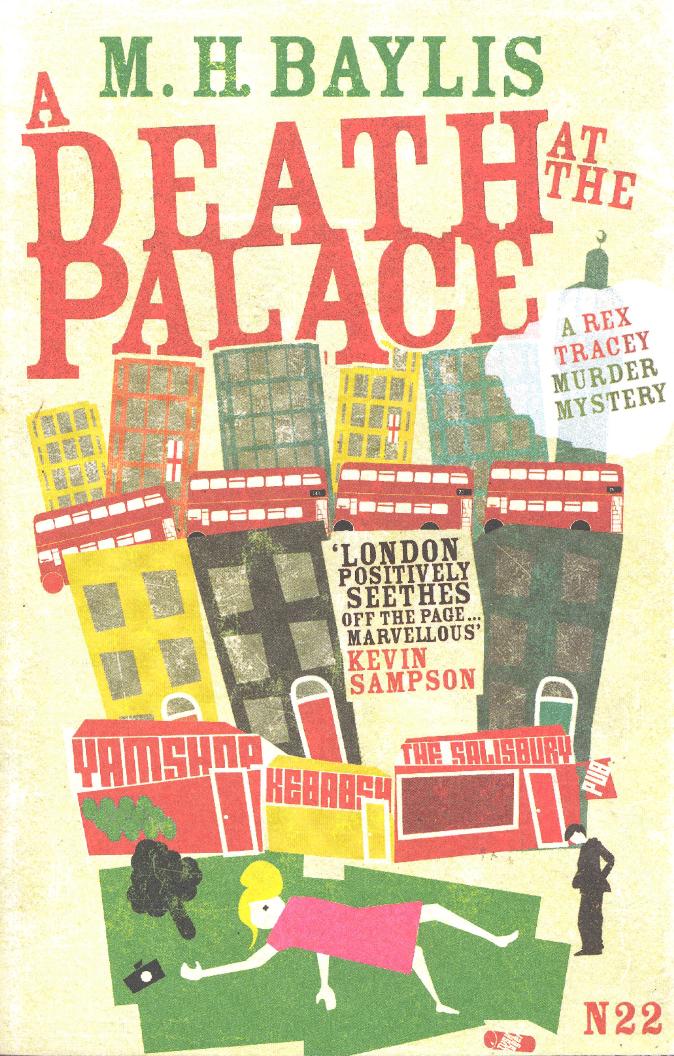 I read this book in February, 2016.
It is always interesting to read book one of a new series, especially one that I had never heard about. Would it be any good, would I like it? The book I read before this one was the very slow paced, atmospheric The Woman Who Walked in Sunshine, book 16 in the Lady Detective series. This also is atmospheric, but is very fast paced - lots of diverse characters from a multitude of ethnicities all jumbled and crowded together in the back streets of Wood Green and Tottenham in North London. There is a murder mystery for Rex to solve - that of his ex Lithuanian girlfriend Mardi. But first we must meet our hero Rex Tracey.
Rex is a good journalist and newspaperman, ex Fleet Street, but seemed to have suffered some sort of mental breakdown, blotted his copybook, and never worked there again. He now works for Susan, who has bought a North London local newspaper, and we are introduced to Terry, the photographer, and Ellie, a graduate supposedly being mentored by Rex ( but Rex is mostly AWOL). We also meet the rest of the crew, including Brenda the receptionist whose husband Mike is a local detective sergeant, and the source of lots of stories for the paper. Rex is almost 40, and is a semi alcoholic. He has a brain damaged wife Sybil - Rex had been drinking, was driving the car at the time, but passed the breathalyser. Rex's foot was badly damaged at the time, and so he now walks with a limp, and suffers from athritis. He is dishevelled and unkempt - but somehow attractive in some mysterious way to the opposite sex. He has a girlfriend of sorts, Dr Diana Berne but Rex is never punctual, and sometimes forgets to turn up !
I was rather thrown at the start of the book when I thought I was being introduced to Rex, but suddenly found myself reading about someone else, a lot more sinister. Really we should have had new chapter break to warn us, or perhaps we could have switched to italics. Other writers can flit about without causing confusion.
Mardi and Rex had split up, but he is now getting over it. Then Mardi goes missing, and her sister appeals to Rex to find out what has happened. The story is told against a background of racial tension - some think there are two many immigrants, some like Rex revel in the buzz of city life. So the story is bang up to date !
Rex is beaten up several times, but is stubborn and eventually solves the mystery. I won't reveal if Rex and Diana are still together at the end of the book.
I started off not liking the book at all, but stuck with it, and ended up thinking it was probably OK after all. Maybe two stars out of five.
Links to author index and home page