Iain's Recommended Book Series
I only watch Breakfast TV when we are on holiday, so we must have have been on holiday somewhere when I saw Peter Robinson being interviewed. He seemed a sensible enough chap, I had never heard of his books about DCI Alan Banks which were set in Yorkshire, and I quite like Yorkshire, so I decided to give him a go.
Dr Peter Robinson was born in 1950 in Castleford, Yorkshire (I think), and graduated from Leeds University with a BA in English Literature. He then emmigrated to Canada in 1974. There he took a second degree, an MA in English and Creative Writing at the University of Windsor, and then finally a PhD in English at York University, Toronto. So he is well enough qualified on paper to be an author.
He is best known for the Inspector Banks series of novels set in a fictional Yorkshire town of Eastvale. These sell very well, have been translated into fifteen languages, and have won a series of awards through the years. His twelth book, "Aftermath" was a number one best seller in the UK and Canada, and was later dramatised for ITV as a two parter called "DCI Banks." This was broadcast on 27.09.10, and 04.10.10 - but unfortunately I did not see it. Perhaps he was in the UK on a visit to promote the programme when I saw him being interviewed on TV ?
Robinson lives in the Beaches area of Toronto with his wife Sheila, and he occasionally teaches crime fiction writing at Toronto Uni. He has also taught at a number of other Toronto colleges, and was a writer-in-residence at his old college - at the University of Windsor. He has also published other novels and various collections of short stories. So he is quite a prolific writer as well as an academic.
I wonder how someone living in Toronto, Canada, can write about modern day Yorkshire - yes, his roots are from Yorkshire, but how can he hope to keep up to date ?
The first book that I read was "Dead Right" which is the ninth in the series. I really should have started with an earlier book.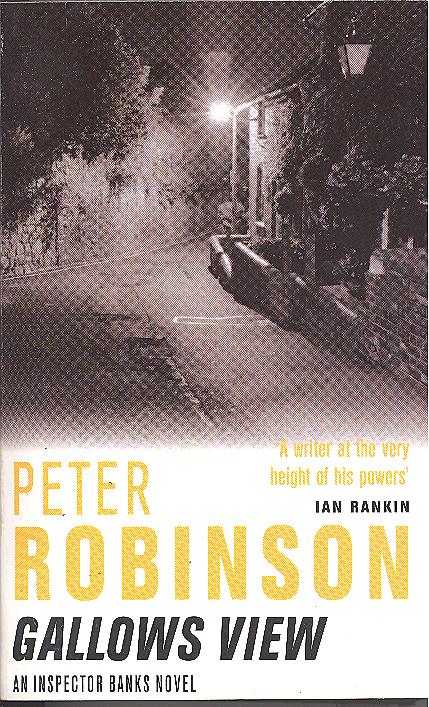 "Gallows View" is the first Inspector Banks book, but I had started with "Dead Right", book 9, chosen at random, and had read two of the other books before I managed to get a copy of this, the first book. In fact I hadn't managed to find a copy in any charity shop - and we visit quite a few - and ended up buying a copy for £2 on a book stall in Newton Abbot market. In the picture opposite you can see a most inappropriate comment by Ian Rankin of Peter Robinson - "A writer at the very height of his powers". Peter Robinson is a good writer, and I'm sure Ian Rankin did say that, but not of the first book in a series of at least 15. How can you be at your height at the start of your writing ? It must be some idiot at the publishers - Pan Books.
I wish I had started reading the books at book one. It's a good book, and a good introduction to the characters. Alan Banks had been a DCI in London, but had moved to the "sleepy" Yorkshire dales some six months previously, and after some difficulty had adjusted to the slower pace of life. We meet his boss Sup Gristhorpe - a good detective, a good boss who concentrates on administration and handles any potitics, and leaves Banks to get on with it. We suspect that Banks will not handle politics well. We also meet Sgnt Jim Hatchley, but he in not painted in such a favourable light. He is unfit, lazy, lacking in intuition, interested only in boozing and sex. He is a big brute of a man though, which has its uses. Jim Hatchley is later moved sideways in book 5, "Past Reason Hated". We meet a young detective Phil Redmond - an able man for whom promotion will surely follow. And we also meet a young Susan Gay - a PC who will also go far.
We meet Sandra, Alan Banks wife. She is in the background for a lot of the book until an explosive ending. We also meet the beautiful Jenny Fuller - she is a professor of psychology brought in to help with a Peeping Tom case. There is a real chemistry between Jenny and Alan - will he be unfaithful to Sandra ? This question simmers in the background through the book - and again appears in the explosive ending.
What is the story ? There are three main stories. There is a Peeping Tom. Some young thugs are breaking into people's homes, stealing, and then trashing the surroundings. And poor Alice Matlock, who lived in No 2, Gallows View, is found dead with a cracked skull. Was it murder, or did she fall and crack her skull. I thought that there was just about the right level of action taking place - unlike with Inspector Frost, or Sgn Logan MacRae, who have so many crimes to deal with that no one gets any time to sleep, and its difficult to keep track of what is what.
It's a good story, and an excellent first book. I'm puzzled by the references to gas lights on the square in Eastvale - mentioned in later books too. Were there still gas lights then ? But Banks is a good creation, and the book was an easy and enjoyable read.
Links to author index and home page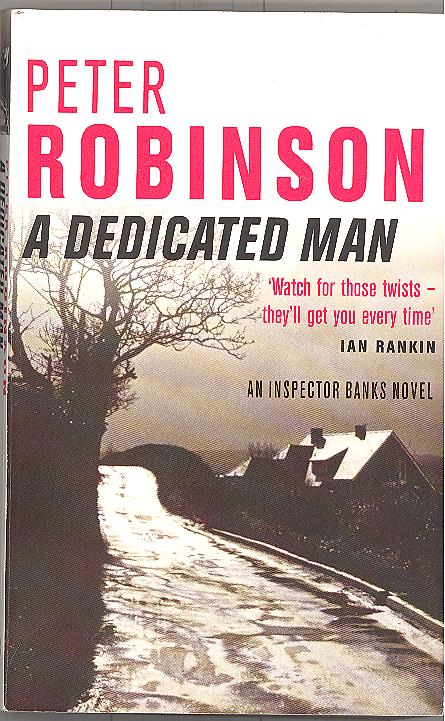 "A Dedicated Man" is the second book in the DCI Alan Banks series by Peter Robinson. It took me ages to find a copy (for £1) in a charity shop, and so by the time I got round to reading it, I had already read seven of the books - Gallows View, the first, and six later books. "A Dedicated Man" is a worthy second book in series, and I enjoyed reading it.
As with "Gallows End", "A Dedicated Man" is set in Eastvale, in the Yorkshire Dales. DCI Banks is still a fairly recent immigrant to the area - he had been a copper in London, but had relocated to Yorkshire. He and his wife Sandra are settling in quite nicely, but he is still a newcomer. His boss is the kindly Sup. Gristhorpe, and the DS is Jim Hatchley - a big rough, uncouth policeman, tolerated rather that liked by Banks and Gristhorpe. Constable Richmond is a also there, but only just - he is away on a computer course.
What is the story ? A local historian, Harry Steadman, is found murdered. He had been a well liked local character - who on earth would want to kill him? Usually, when you start to dig beneath the surface, you find a different story. But not in this case. Harry Steadman was a genuinely nice fellow. But yet someone did kill him ! There are very few clues - but eventually a local schoolgirl comes forward. Sally Lamb and her boyfriend had been courting on the dales late at night, and saw a car in the area where the body was found. Sally is curious to find out more about the new detective in the area - one who had actually worked for Scotland Yard, in exciting London - and so she visits Banks in the police station, and tells what she saw. But she is very disappointed in Banks - in her mind, he is a loser - why else would he give up life in exciting London, and prefer a quiet life in the Dales. Sally is so disappointed in Banks, that she doesn't return when she remembers something else. Instead, she decides to check it out herself - a big mistake !
I don't think Peter Robinson is a great writer, but he is a pretty decent one. He tells a good, strong story, reasonably simply. We are able to follow everything as it happens, and the tale is told with few distractions, and no gimicks. This story held my interest throughout. With only 30 pages to go, I still had no idea who had done it. The crime was solved at the very end - and it was a good, logical, satisfying conclusion. All very beleivable. A very commendable performance.
Yes, I enjoyed reading the book.
Links to author index and home page


"A Necessary End" is the third book in the Inspector Banks series by Peter Robinson. I started reading the series at random with "Dead Right" which was actually book nine, and quite liked it - so now I am busy scouring charity shops for DCI Alan Banks books, and trying as best I can to read them in the correct order. I haven't yet been able to find books one nor two, so this third book in the series, is the second that I have read.
I quite like DCI Alan Banks - he is a good honest detective, determined to get to the bottom of things, even if that means ruffling a few feathers in the process.
In this book the story is about a collection of a few hippies / ban the bomb protestors who live in a secluded farm house in the Yorkshire Dales - Maggies Farm. They are Seth, Mara, Paul, Rick and Zoe ( who is in to reading Tarot cards). An anti nuclear demonstration in normally quiet Eastvale - where Banks is a DCI - ends in tragedy when a policeman is stabbed to death. He is PC Gill, and it soon becomes apparent that he is a brute of a copper - a violent thug who is quick to lash out. But of course, he does not deserve to be knifed to death.
The usual crew swing into action. DC Sup. Gristhorpe, DCI Banks, Sergeant Jim Hatchley, DC Richmond, etc. There is a also mention of an able young police woman Susan Gay who might be persuaded to switch to become a detective. But very soon higher authorities decide that the case should be handed over to a national anti terrorist specialist, and Det Dup. Richard ( Dirty Dick) Burgess appears on the scene. His approach is to charge at everything full force. Of course he antagonises everyone, and witnesses clam up. Banks tries to tell him to calm down, but Burgess is the superior officer - Gristhorpe has been told to take a back seat.
The book has an interesting comparison between the two men - Banks and Burgess - and their very different styles. Burgess just wants someone whom he can charge with the offence as soon as possible, and then be on his way, back down to London. Banks, however, is determined that only the correct suspect should be charged - not just the first person against whom sufficient evidence can be gathered. So Banks decides that if the correct man is to go to jail, he , Banks, will have to solve the crime himself. And yet, although they are very different, and have heated arguments, Banks and Burgess somehow manage to get on quite well together. It is an interesting partnership. Banks keeps telling people that Burgess is his boss, not friend - but they do seem to be quite good friends.
Peter Robinson has been getting some excellent reviews - most of the books I have managed to get have some kind comments on the sleaves from Ian Rankin, no less. So far , I think Peter Robinson seems to emerging as is a good writer, but not quite in the top league. I may decide otherwise as I read more books in the series. Similarly, Banks is solid and worthy, but not a great character. I'd love to have a drink with Rebus ( or perhaps not on second thoughts), or Morse, or even Jack Frost - but I don't feel the same about Alan Banks.
I do like the Yorkshire setting, and I like a book such as this that has a beginning, a middle, and a good solution in the final chapters. I have now read books threee and nine in a series of fifteen. I will be interesting to read more, and to see how Banks changes through the years.
In this book, Bank's wife Sandra leaves him to go to London to look after a sick father - but there is more to it than that. She feels that the marriage has gone stale, and she wants to away from Alan to work out her thoughts. She is about to return at the end of the book, so I will need to read book four to see what happens.

Banks is unusual in that he is married - neither Morse, nor Rebus, nor Frost have wives ( Frost had been married but his wife died). On the other hand Reg Wexford does have a happy home life with Dora. Just a thought - not quite sure where that leads me.
Links to author index and home page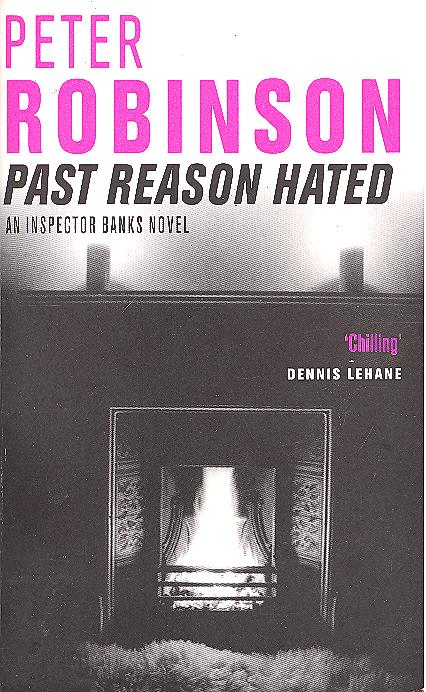 " Past Reason Hated" is the 5th book in the DCI Alan Banks series, and the third that I have read. I started on book 9, "Dead Right", chosen at random, then read book 3, "A Necessary End". I like to read a series of books, get to know the characters, and follow them as they develop. In book 3, the main sub plot was that Sandra had left Alan Banks, to look after her sick father in London, but before going, she had told Alan that she thought that their marriage had gone stale. She was going to use the visit to London to work out if they had a future together. That was book 3. Now in book 5 there is no mention of any problems - they seem to be happy together. I will need to read book 4 to see if it mentions what happens when Sandra returns to Eastvale.
In book 3, constable Susan Gay was mentioned as a possible future recruit to the detective division at Eastvale police station. Book 5 starts with detective constable Susan Gay on her first day as a detective. It's almost Christmas. Sgt. Jim Hatchley had that day got married, and is celebrating in raucous rugby club style at a reception also attended by DCI Banks, and Supt. Gristhorpe. So, when a phone call comes in that there has been a murder, Susan has to interrupt the proceedings to get help . She need not have worried. Both Banks and Gristhorpe are delighted with an excuse to leave the noisy "celebrations".
Caroline Hartley has been brutally murdered - when found a Vivaldi requiem had been set to repeat play on the record player. Was this a clue ? What did it mean ?
Caroline had been a member of the local amateur dramatics group. She was very attractive, and much fancied by the male members of the group - but she had a secret. She was a lesbian, and lived with her partner Veronica Shildon.
Soon there is a full scale murder inquiry led by DCI Banks, and his investigations take him back to London - Banks used to be a detective there before moving to Eastvale.
Jim Hatchley, as well as getting married, is being moved sideways - he is off to the Yorkshire coast beside Whitby, to set up a police presence there. This allows Phil Richmond to be promoted to detective sergeant, and also created the detective vacancy for Susan Gay. All of this was well signposted in earlier books - well done Peter Robinson !
It is a good story, the best of the three books that I have read so far. However I was puzzled by several references to gas lighting in Eastvale. Did they really have gas lights in Yorkshire in 1991? I can remember gas lights in Edinburgh in the 1950's, but could they still be around in the 1990's ? I have discovered that gas lighting was still used in the 1980's in Hertfordshire, so I guess it must have been possible, but I am still surprised.
Soon there were only a few pages left - I like it when the crime is solved in the final pages. But then everything was explained again when Banks went round to Veronica Shildon's to explain it all to her. I didn't like that.

The good news is that I have now got a copy of "Gallows View", the first Inspector Banks book, so I can belatedly read that next.


Links to author index and home page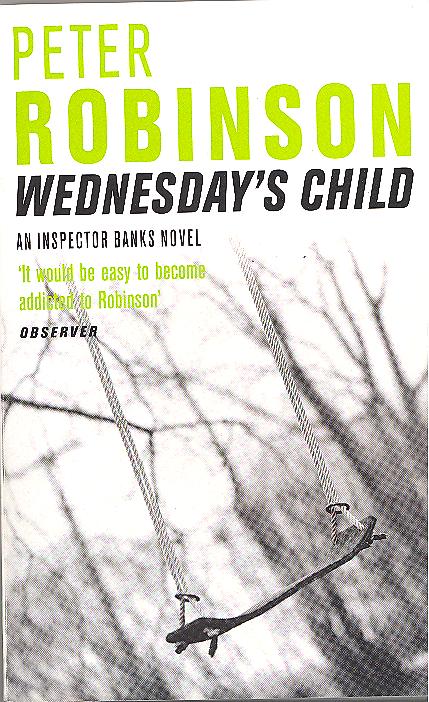 "Wednesday's Child" is the sixth book in the DCI Alan Banks series, and the sixth that I have read - unfortunately, though, I have not been reading them in the correct order. Of the six books that I have read so far, I think this is the best to date. I think I have said something similar about earlier books - perhaps it's just that I am getting into the characters.
Like the others that I have read, this too is set in Eastvale, in the Yorkshire dales. All the usual gang are here - DCI Banks, of course, his boss Sup. Gristhorpe, DS Richmond, and DC Susan Gay. Jenny Fuller, the professor of psychology is also there as an advisor. And DS Jim Hatchley also makes a brief return visit - and this time his peculiar skills are appreciated for a change. Perhaps he might get a chance to return to Eastvale in later books - he hasn't really been treated all that fairly, having been shunted off to the coast to make way for Richmonmd and Gay.
There are two main plots to the story, and yes, they do converge later in the book. A little girl, Gemma Scupham - is abducted, wierdly just handed over by her stupid mother to two strangers at the door, a man and a woman, who claimed to be social workers. Everyone is working on the case when a body is found in an old disused mine. They fear the body is Gemma's - but it's not. So now there are two cases - Gemma's abduction is handled by Sup Gristhorpe, and a separate murder enquiry is set up and handled by DCI Banks.
The story is carefully followed from start to finish. There are no distractions - both Gristhorpe and Banks concentrate on their own cases. Slowly they get clues, and then finally we have a solution. But the solution properly comes in the last twenty pages, and it's a good satisfying end. I thought it all finished too quickly - I'd have liked a "what happened next" chapter, ie an epilogue.
This book is one in a series of books, and it both refers back to previous books, and creates possibilities for future ones. Banks spends so little time with his wife Sandra that I guess they may split up later on - we will see. Sup Gristhorpe comes over as a great policeman, able and wise. He is the perfect boss for Banks, giving him just the right level of freedom. He has excellent relationship with Banks, and they are good friends. Gristhorpe is nearing retirement. No doubt this will happen in a future book, but how might Banks get on with a new boss?
I still don't think that Banks is as strong a character, as interesting or as complex as say P.D.James's Dalgleish, nor as rebellious / cantankerous as Ian Rankin's Rebus. However I am still enjoying reading the books, and more to the point, Peter Robinson is still writing them.
I do recommend this book, but it's best that you read earlier books first and get to know the characters.
Links to author index and home page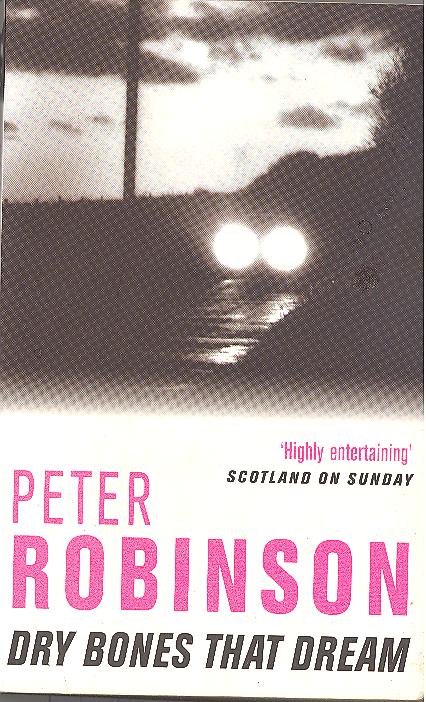 "Dry Bones that Dream" is the seventh book in the DCI Alan Banks series, and the seventh that I have read. Its strange that although I quite like reading these books, I don't really think of them as anything special. They are stories well told, they hold your attention throughout, and have a good plot twist at the end - but they don't have that extra factor, a super strong lead character, or a good partnership, to make them outstanding.
The usual crew are all gathered together again - Banks, Sup. Gristhorpe, Sgt. Richmond, and constable Susan Gay. But none of the others has much to do in this story. Richmond is the local computer whiz, and soon he will be off to London. To replace him, Sgt Jim Hatchley returns - his return had been well signposted in earlier books. Banks is still married to Sandra, but they continue to lead completely separate lives - I am sure they are going to break up is some future book. Oh, and "Dirty Dick" Burgess does make a re-appearance.
What is the story ? Keith Rothwell, a very rich accountant, comes home with his wife one night to find his daughter Alison bound and gagged, and he is marched off to the barn by two intruders where he has his head blown off with a shotgun. Banks and Co. investigate, and straight away it seems that this is a contract killing - in sleepy Eastvale, of all places. But why kill a respectable country accountant. All of course is not as it seems, Rothwell did not come by his riches honestly, and had been leading a double life. So there is a lot for Banks to puzzle over. There are even exotic political connections - hence the re-appearance of "Dirty Dick".
Eventually, everything is more or less solved, but there are several loose ends that trouble Banks, and there are still 30 pages to go. And so we have a plot twist at the end that doesn't come as too much of a surprise, but it's well done.
All in all, a good competent story that holds our attention well -nothing extra special, but well worth a read.
Is Jim Hatchley back to stay, will Sandra and Alan Banks stay together, in Pamela Jeffreys have we been introduced to a future love interest for Bank, etc, etc? I will need to read on to find out. This of course, is why I like reading a continuing series of books.
Links to author index and home page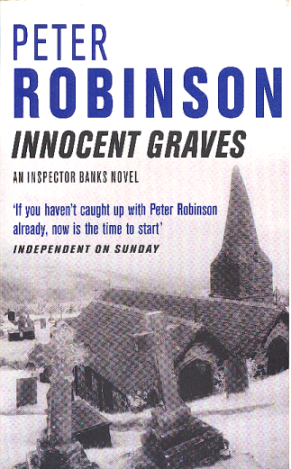 "Innocent Graves" is the eighth DCI Alan Banks book by Peter Robinson, and the ninth that I have read. I really enjoyed reading it.
The book opens with DCI Banks as officer in charge at Eastvale "nick" - Supt Gristhorpe is off ill with a broken leg sustained whilst dry stone walling. Poor Deborah Harrison's body is found lying in the church yard behind St Mary's. Sixteen year old Deborah is the daughter of Sir Geoffrey Harrison, a powerful financier, who moves in high places and is on first name terms with the Chief Constable - "Jimmy Riddle". Sir Geoffrey wants action now, so Banks has Jimmy Riddle taking a very close interest in things, as he and DC Susan Gay work their way through the case. We also meet DI Stott, a high flyer graduate policeman on accelerated promotion - eager to make a name for himself.
There is quite a long list of characters. The body was found by Rebecca Chartis, wife of vicar Daniel. Rebecca has a drink problem. Daniel is under suspicion - someone alleges he made homosexual advances to him. Also under suspicion are some of the staff of St Mary's - the expensive private school that Deborah attended. Deborah had a boyfriend, John Spinks - a thief and bully. And Michael Clayton is a powerful friend of St Geoffrey's who seems to spend a lot of time with Sir Geoffrey's wife when Sir Geoffrey is away.
This story is slightly different from the usual Banks stories, in that someone is arrested and charged with the murder when the book is only one third way through. There is powerful forensic evidence against Owen Pearce - but no real motive. Monday, Wednesday, Friday, Banks thinks he has arrested the right man, Tuesday, Thursday, etc, he is not so sure And that is the main story - did Owen do or not. Even after the trial, we still do not know, but DI Stott has played a crucial role in all of this.
Finally, at the end, with only a few pages to go, we find out who did it, but I won't reveal if it was Owen or someone else. It's a well written page turner, and Peter Robinson is a good writer.
Alan Bank's wife Sandra appears in the book. There is also a little more about Bank's daughter Tracey - she knew John Spinks. Banks meets up with Pamela Jeffreys very briefly, but it's an uneventful meeting. When she first appeared in an earlier book she and Banks got on very well - I had thought that she might be a future love interest for Banks (whose marriage to Sandra never seems very secure). Perhaps I got that wrong !
I liked the characters and the setting, and the way the book kept referring to earlier books in the series. Unusually, I had bought the book new, from a book stall in Bury St Edmund's market for £2.50 - almost as cheap as getting it from a charity shop.
Links to author index and home page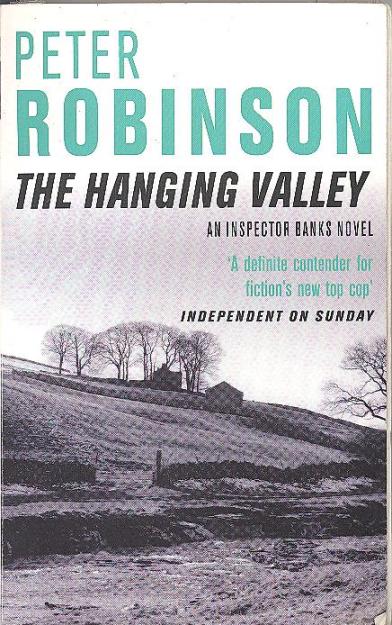 This is the fourth book in the Inspector Banks series by Peter Robinson, and the fifth that I have read. I started off quite liking it, but then it seemed to go "off the boil" about two thirds of the way through, and I'm afraid I worked out who did it long before the end. I don't regret reading the book, but it's not one of the best in the series.
It's a pity because I thought the story started off very strongly. A corpse is discovered in a remote valley about 20 miles from Eastvale, and it soon becomes clear that it's not accidental death. The unusual aspect of the case was that there had been a murder in the self same valley some years previously, but the case had never been solved. Bank's boss, Sup. Gristhorpe had been the officer in charge of the earlier case. Could Banks solve the current case, and in so doing, perhaps even solve the earlier one too ? In this remote valley, the Collier brothers, Nicholas and Edward, are very important local landowners whom none of the village dare oppose.
Most of the usual gang are here. Banks of course, and his wife, Sandra, Sup Gristhorpe, DS Hatchley, and DC Phil Redmond. There is also a passing mention of constable Susan Gay.
Katie Greenock is married to Sam, a brute of a man. A lot of the story is Katie's story - but I thought the long stretches analysing Katies thoughts slowed the story, and were over long, almost tedious.
I thought it was quite interesting when Banks went to Toronto in Canada to follow up a lead in the case. This is home territory for Peter Robinson who immigrated there from Yorkshire, and Banks survived the change of scene. One of the characters in the story, now a Canadian, is homesick for Yorkshire, and would go back immediately if he could find a similar job there teaching English. Is it all becoming autobiographical I wondered - or is it just that my attention was wandering ?
So overall, not a bad story which started strongly, but faded a bit, and I lost interest before the end. But it hasn't put me off reading about DCI Banks.
Links to author index and home page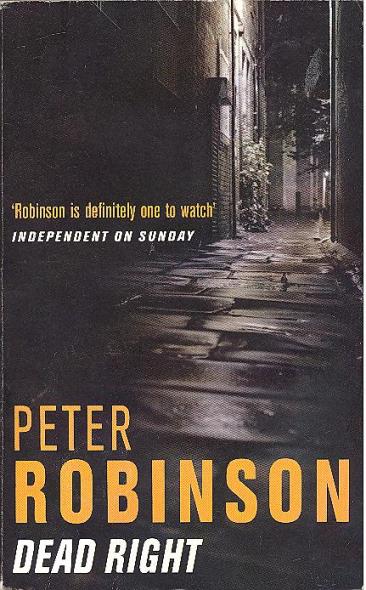 As explained in the introduction about Peter Robinson, I had seen the author being interviewed on TV, heard of the DCI Alan Banks novels, and decided to give them a go. I bought the first book I saw in a charity shop - for 99p - and this happened to be Dead Right, the ninth book in the series. I should really have sought out the first book, but I wasn't sure how long that would take, and perhaps I would not like the books anyway, and decide not to read them.
The story is sort of OK. Jason Fox is found murdered in a dirty alleyway in Eastvale (the fictional setting in Yorkshire for the Alan Banks novels). At first Jason is very much a man of mystery, but it becomes apparent that he was a member (leader) of a white power organisation - The Albion League. A lot of the book deals with racial attitudes - all the way from very mild to extreme racism. If we don't hold with political correctness all the time are we really racist? I guess it depends on who is defining racist. The book was written in 1997, but doesn't appear to have dated. Peter Robinson handles a tricky subject reasonably well in a politically correct way, always making clear his abhorrence for extreme versions. I wonder if / how the author did his research, residing as he does in Toronto?
I thought the book and the Alan Banks character OK. For three quarters of the book I thought it all quite workmanlike, reasonably well done, but perhaps lacking that spark that makes a book stand out from the rest. Perhaps I have just read too much crime fiction.
Who are the others in the cast? I liked DS Jim Hatchley - a blunt yorkshireman. However, when he comes to work with dark shadows under his eyes, everyone thinks he has been out on the booze. Surely they would really know him better than that, and that the sleepless nights are caused by a teething toddler. I can't imagine why his colleagues would not know this in real life ! I definitely liked DC Susan Gay - a 27 year old detective who has now passed her sergeants exams, and is waiting for promotion. Banks is a DCI, and his boss is D Supt. Gristhorpe - a good detective and a decent boss. The Chief Constable is "Jimmy" Riddle, a right so and so who hates Banks. Why ? I should have read the earlier books first. And D. Supt Richard "Dirty Dick" Burgess also makes an apearance - and stangely he seems to like Banks although they have nothing in common.
So it's a good enough cast, but I thought it all a bit pedestrian until three quarters way through the book when I changed my mind about Banks. It is a long story, but he gets suspended, and then punches the chief constable on the nose - it's a good punch too. Banks has more character than I gave him credit for. Now that children Brian and Tracy have left home, Sandra, Bank's wife also leaves to sort out her thoughts as to whether their marriage which has gone stale has any future. That question is still unanswered at the end - and yes I do want to know how it turns out.
All in all, I ended up quite liking the book. I will buy a few others, and see how it goes. Somehow though I don't think Robinson will end up as a favourite author, but we shall see.
Links to author index and home page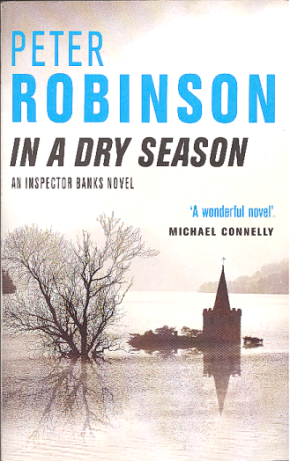 "In a Dry Season" is the tenth DCI Alan Banks book, and also the tenth that I have read - so I have now caught up, and I can read the following books in the correct sequence. I started at random with "Dead Right", the ninth book, and have now read all of books 1 to 8, so I can now follow events as they unfold.
I really enjoyed reading this book. It is good on so many levels. It is two tales, one told in flashback It is also a significant book in what happens in Alan Bank's personal life.
What is the plot ? Hobb's End is a small village in a Yorkshire dale that was flooded some 40 years ago, but which now reappears in a period of prolonged drought- ie "in a dry season". A young lad, playing in the uncovered village, finds a skeleton burried there some 40 years ago. Foul play is suspected - why else would you hide a body under cement slabs in the cellar of Bridge Cottage? But who on earth would want to investigate such a hopeless case - no forensics, just some old bones, no witnesses, no Hobb's End any more, and the former villagers either dead or scattered far and wide.
We now switch to the personal life of Alan Banks. In book 9 he was suspended by the Chief Constable, Jimmy Riddle - and after being suspended, and checking that he really was suspended, it had given Banks great satisfaction to punch Jimmy Riddle in the nose ! This book opens with Banks re-instated, but hated by Jimmy Riddle. He is put on admin duties, and has not had a case to investigate in over a year. Banks home life has also plunged downwards. His wife Sandra has left him, is living back in London, and has found a new partner, Sean, suspiciously quickly. Sandra's leaving hardly comes as a surprise - there have been lots of hints about the state of the marriage. Alan had then let himself go, took to drink, didn't tidy the place, ignored his friends, etc. And whilst all this was going on, Alan's friends who might have been able to help, Jenny Fuller, and Pamela Jeffreys were away, Jenny lecturing in the States, Pamela playing in an orchestra in Australia. DS Susan Gay might also have been able to help, but she has left Eastvale. But Alan has finally given himself a shake, cut down on the booze and fags, sold the old matrimonial home, and has bought a secluded cottage in the Dales which he is doing up. So, quite a change!
Jimmy Riddle gives the hopeless Hobbs End case to Alan as a punishmant - but Banks goes to work, his curiosity aroused, and gets his old enthusiasm back. Banks has to work with a DS Cabbot - but when he visits Hobbs End, he finds that DS Cabbot is an attractive Annie Cabbot - who is also being punished, in her case by being sent to sleepy Harkside in a remote Dale. So Alan and Annie have something in common - need I say more !
As Alan and Annie investigate, the story unfolds, and events are uncovered, but we find we are also reading the diary of some unknown person, written some 40 years ago. This tells of a life in war time, in a very remote Yorkshire dale - in fact in Hobb's End. Whose diary are we reading, and will Banks and Cabbot ever get to read this diary ?
The picture of life in Hobbs End is told very well - a perfect little story in itself - a story of vivacious Gloria bursting on to the sleepy scene, meeting Gwen who worked in the local shop, Gwen's brother Mathew, and Michael Stanhope, a local artist. We get to know them all very well.
Banks and Annie do have a chemisty together, but Sandra reappears out of the blue, and it is obvious to Annie that Alan is still in love with Sandra. Annie has her own complications to deal with. Will she take Alan on , with all his complications, or will she not? This is still unresolved at the end.
Sup Gristhorpe is away on holiday - he only appears briefly. Is he due for retirement soon ? There is layer upon layer of story - perfectly written by Peter Robinson. It's a mini tour de force, an excellent book. The books are getting better and better. I must read on to see what Annie decides to do.
Links to author index and home page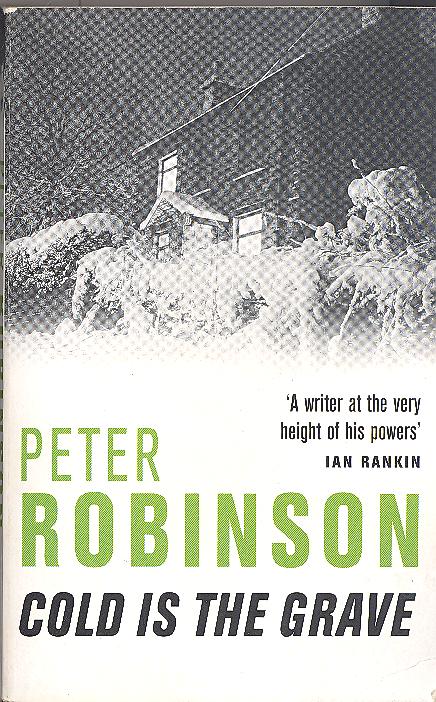 "Cold is the Grave" is the eleventh DCI Alan Banks book, and also the eleventh that I have read - having caught up, I am now reading the books in the correct order. This book has a cracking story - well done Peter Robinson ! That said though, the conclusion of the case relied on two coincidences - the kind that happen only in fiction. I'd have preferred if the author could have solved the crime in some better way, but it didn't really spoil my enjoyment of this very good story.
It's a story where there is a change of fortune for DCI Alan Banks - both at work and in his private life. The previous book ended with Banks and Annie Cabbot's affair left somewhat in the air - remember, Sandra, Banks wife, had left him. This book opens with Annie keeping her distance from Alan - things had happened so quickly for her, and she wanted to step back a bit and gather her thoughts. Banks has gone along with this, thinking the right thing for him to do might be to patch things up with Sandra.
At work, Banks is still frozen out - remember, he punched the chief constable in the nose two books ago- and hasn't been allowed near an investigation since against all the odds he solved the Hobbs End case of book 10. But now, he is asked to visit Chief Constable "Jimmy" Riddle at home on a confidential matter. Riddle's errant daughter Emily , 16 years old, had always been running wild - drugs, sex, etc. Now, she has run away to London. Jimmy Riddle seems genuinely worried and concerned - he asks Banks to go there, trace her, check that she is OK, and get her to phone home. "Why on earth should I help you ?", asks Banks. " Because you are the best detective on the Yorkshire force, and if you help me, I will unfreeze your career, and give you cases to solve" says Riddle. Banks is still swithering, but he is swayed by the genuine concern in Riddle's eyes - Alan has a daughter (Tracy) too, and what has happened with Emily is every father's nightmare. As an aside, what kind of man is he, a chief constable that allows personal feelings to keep his best detective desk bound !
So, Banks takes the case, finds Emily in London living with gangster Barrie Clough, a really nasty character and is there to "rescue" Emily when required, and even take her back to Eastvale.
Not only is Bank's career "unfrozen", but an announcement is made at work that there is to be a reorganisation - Eastvale is to be made a regional headquarters, and expanded. The assistant chief constable also recognises Bank's fine crime solving abilities, and wants Banks to play a leading role in the future. Excellent news for Banks ! But there is even more good news - or is it good news? As part of the changes, DS Annie Cabbot is to be re-assigned to Eastvale - and will be working with Banks. How will they get on as boss and assistant ?
There is another murder, and Banks is assigned to deal with it - even though he has some personal involvement. I can't really say more without spoiling the story. But soon everything is up in the air, Banks is a frequent visitor to Chief Constable Jimmy Riddle's home, and by the end of the book so much has changed. The Alan , Sandra, Annie love triangle also seems resolved. Strangely, although Banks boss Sup Gristhorpe is still around, he plays very little part in the story. I had thought he might be pensioned off by now - but really I quite like him, so I'm quite happy for him still to be around somewhere in the background.
What a great story - I really liked it !
Links to author index and home page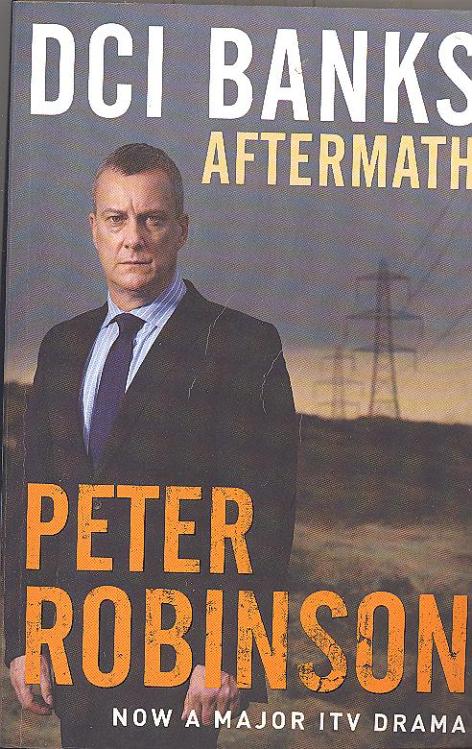 "Aftermath" is the 12th DCI Alan Banks novel by Peter Robinson, and the 12th that I have read. I'm now reading them in the correct sequence - essential if you want to follow / make sense of Alan's private life, and loves.
Initially, I thought it was a cracking book - a great story. But at the end, there were so many victims, and everyone was so down, that I thought that perhaps it could have ended on a happier note. It was even , in the end, a depressing book. The book blurb says that it was a Sunday Times best seller, and Peter Robiinson is a good writer, so don't let me put you off reading this book, but it's not a load of laughs.
As usual, there were several inerlinked stories - the main plot, a sub plot, and Alan Banks private life.
The book starts with an horrific description of child abuse - it could almost have been written by Stuart McBride, but of course, had it been written by Mr McBride, there would have been a lot more gruesome details throughout.
We then switch to the story of Maggie - who had been abused by her husband in Canada, and had fled to a friends house in Yorkshire to escape. Maggie befriends Lucy Payne, wife of Terry Payne, who lives opposite. Maggie thinks that Lucy also is being abused, and tries to help. Unable to sleep at night, Maggie looks out of her bedroom window and sees Lucy being attacked by her husband Terry. She phones the police, who arrive to attend what they think is a domestic dispute. But it's a lot, lot worse than that.
We switch now to DCI Banks. Gristhorpe has again broken an ankle (again dry stone walling), and is on sick leave. Banks has been promoted to acting Superintendent. He is in charge of a huge investigation to catch a serial killer called the chamelion. The investigation has been going on for weeks, and with so many facts to master, so much to do and organise, and so little time for sleep, Banks is almost burned out.
The Banks, Annie Cabbot, wife Sandra triangle had been resoved in the previous book - Banks and Sandra had parted. But Jenny Fuller, the forensic psychologist, is now back on the scene. She has known Banks for eight years, and has wanted their friendship to develop into something deeper. So now we might be heading towards a Banks, Annie Cabbot, Jenny Fuller triangle ! Annie is now a DI, but to get this position she has had to leave Eastvale, and switch to the Complaints section - a section she hates, and she wants to return to crime detection as soon as possible.
It's a good story, very well told, but at the end of the book there are so many victims. I think the on - off relationship of Banks and Annie has finally been resolved, but who knows what might happen in the future. I think Jenny is going to be the one for Banks, but it may take several books to get there.
All in all, it's a good, well written book, a cracking story, but it's a bit of a depressing ending !
Links to author index and home page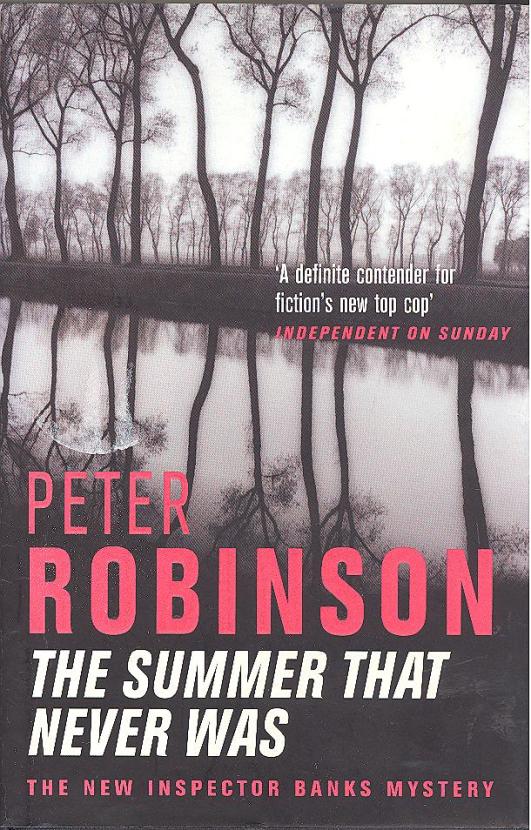 "The Summer that Never Was" is the 13th DCI Alan Banks book by Peter Robinson. I thoroughly enjoyed reading it - I am really into the Alan Banks books, and I hope Peter Robinson can keep up such a high standard. In previous comments I have underestimated Mr Robinson, and compared him unfavourably to the greats of crime fiction, Rankin, P.D. James, Dexter, etc. I am now revising my opinion.
In this book we learn more of Banks history, and meet DI Michelle Hart, and yes, she and Alan do become more than just good friends. Annie Cabbot is still there too, becoming more and more skilled as a detective in her own right. Sup. Gristhorpe is back from injury, doesn't play much of a role in this story, but it's nice that he is still there.
There are two cracking stories unfolding in parallel. The book opens with Banks on extended leave, resting and recharging his batteries , alone, on a remote Greek island. He walks, and listens to music through the day, and at night he has met a chum in the village taverna, with whom he plays chess. Its a slow paced, idyllic life. We are not told at this point if Banks is just on holiday, or contemplating retirement. But then Banks picks up an old UK newspaper, and reads that old , buried human bones have been found in an isolated spot of the moors near Peterborough - where Banks spent his childhood, and where his mum and dad still live. Later Banks reads a more up to date newspaper, and finds that the remains are those of Graham Marshall - a 14 year old great chum of the young Banks, who suddenly went missing all those years ago. Banks had been attacked by a strange man some two weeks before Graham disappeared, but broke fee, and ran away. He had told no one - he had been playing truant. Banks has always blamed himself - if he had said something, and the man had been arrested, might Graham's life have been saved ? So yes, Banks has to return, to see if he can help in any way - he owes it to his chum Graham.
And so, Banks meets DI Michelle Hart - in much the same way as he met Annie Cabbot, not disclosing who he was at the time. Both Annie and Michelle are burdened by sad secreets in their past. Of course Michelle and Alan are going to get together - there is no Jenny Fuller in this story.
The story now switches to Eastvale, where a youngster has gone missing, and Alan's help is required. Annie Cabbot is dealing with the case in Alan's absence.
There are two great stories, and we have Alan returning to his roots. Everything is solved in the closing pages of the book, and it's quite a satisfying ending that ties up all the loose ends.
Another good book, from an author in good form, and lots of personal details and developments in the lives of the main characters. Yes, I liked it !
Links to author index and home page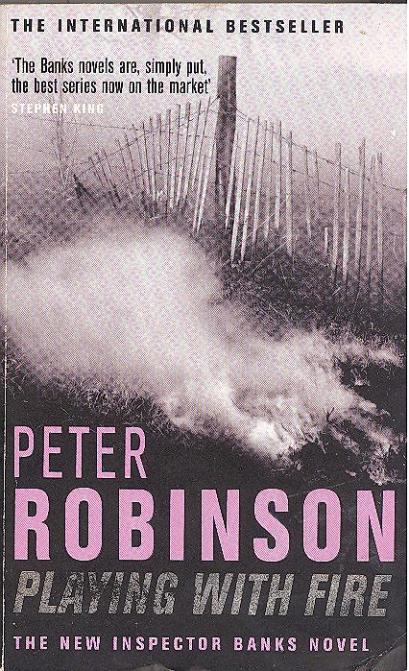 "Playing with Fire" is the 14th Alan Banks book, by Peter Robinson. I liked it. It was a lot better than the previous book that I had been reading - "Red Bones", by Ann Cleeves - and it restored my faith in crime fiction. Peter Robinson is a good writer, and the Alan Banks books just get better and better.
As usual, there are two stories running in parallel. Story one is the crime mystery that DCI Banks and DI Annie Cabbot have to solve. In this case, two almost derelict barges are destroyed by fire, and a charred body is found in each barge. Old Tom, a painter, lived in one barge, and Tina, the junkie daughter of Dr Aspen, was killed in the other. The fires were deliberately set, so it's murder - another case for Banks and crew - Gristhorpe, Annie Cabbot, Sgt. Hatchley, etc. There are other fires, more deaths, a lot of red herrings, and the story simply charges along.
Just as important, I think, is what is happening to Banks in his home life. His wife Sandra is now his ex wife, and Banks really must move on. But how could Sandra have so quickly met someone else, and started a new family ? Annie Cabbot and Banks have an interesting relationship. In the Rebus books by Ian Rankin, Rebus and Siobhan never really got together in their private lives, but there was always the possibility - or was there?. With Banks and Annie, they have had their affair right at the start, but are now trying to put that behind them, and work together in a professional way. Mostly, they do manage to do this, but their personal history is too strong. In this book, Annie has moved on and has sleeps with some one else, but she has not chosen wisely, as it turns out. Banks can't tell her this - he would only be accused of jealousy.
Bank's new girlfriend Michelle is hardly in the picture at all, until the end of the book. There is a terrific conclusion that leaves Banks and his life almost destroyed. How will he cope ? Is his future with Annie, or Michelle, or will Dr Jenny Fuller reappear. I'll need to read on.
I really enjoyed this book. Banks just gets better and better. 14 books down, and still a good few to go. Excellent.
I read the book whilst on holiday in Australia - it was great holiday reading, but I'd have enjoyed reading it wherever I was.
Links to author index and home page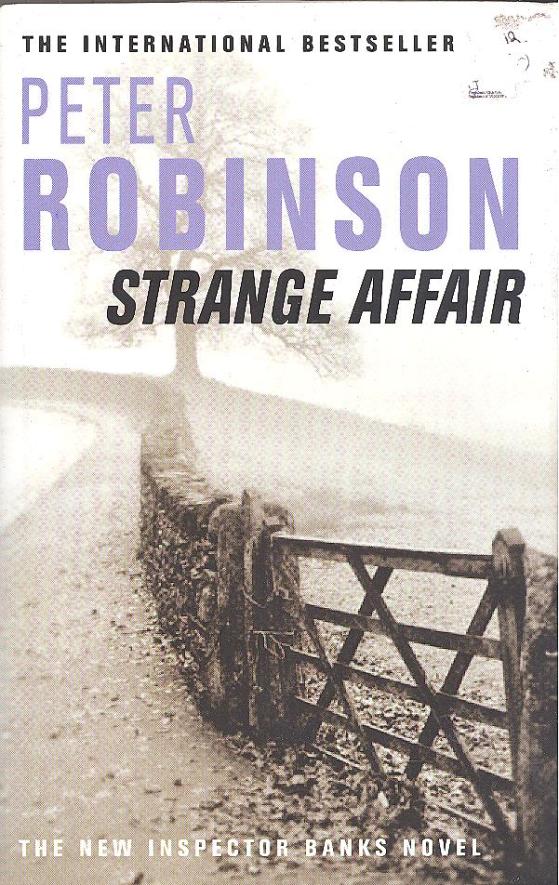 "Strange Affair" is the 15th book in the DCI Alan Banks series by Peter Robinson - I read it whilst on holiday in Sydney in November, 2011. I had taken five books with me on holiday, books 3 and 4 of the DI Jimmy Perez Shetland series by Ann Cleeves, and books 13, 14, and 15 of the DCI Alan Banks series. I was reading "Strange Affair" last, and tried to make it last - I had no more books with me to read - but I enjoyed it so much that I just kept turning the pages and ran out of reading material ! Peter Robinson is a good writer, and I've grown to really enjoy the DCI Banks books.
It's really good how all the same characters keep turning up again and again in these books. The usual crew are all there - Banks, Annie Cabbot, Gristhorpe, Hatchley, etc - but Susan Gay, a main character of the early books, reappears ( she is now Susan Browne), and Alan goes to London, so Dirty Dick Burgess is also there too.
What of the story ? Book 14 had ended with Banks alive, but only just, rescued from his burning and now destroyed cottage, by Annie Cabbot. Book 15 opens 4 months after the fire, with Banks living in rented accommodation. Banks has lost everything, not just his possessions and his beloved music collection, but he has also lost his get up and go spirit. He is suffering from mild depression, and has been doing light duties, paper work only. Then out of the blue, he finds a message left on his phone which appears to be a cry for help from his younger brother Roy. Alan and Roy had drifted apart. Roy was always his parents favourite. Alan phoned back, but could never get hold of Roy. So he set off to London to see what was wrong.
At the same time, a girl was found murdered in a car forced off the road near Eastvale. Banks had booked holiday leave, so Annie got the case.
So we have Banks in London searching for his brother, and Annie investigating a murdered girl in Eastvale. Yes, of course the cases are related, especially when Alan's address is found on a piece of paper in the murdered girl's pocket.
It's a terrific story, that as I said above, kept me turning the pages too quickly.
Eventually everything is more or less tied up, and in a satisfying way, but the London story is on a grand international scale and takes place a long way from Eastvale. I prefer it more when Eastvale is the setting, and Alan drinks in the local pubs.
There is no love interest for Alan in this book, and he and Annie seem to be going their separate ways. There is no pointer as to what the future might hold for Banks - so I will have to read on, and I look forward to doing so.
Links to author index and home page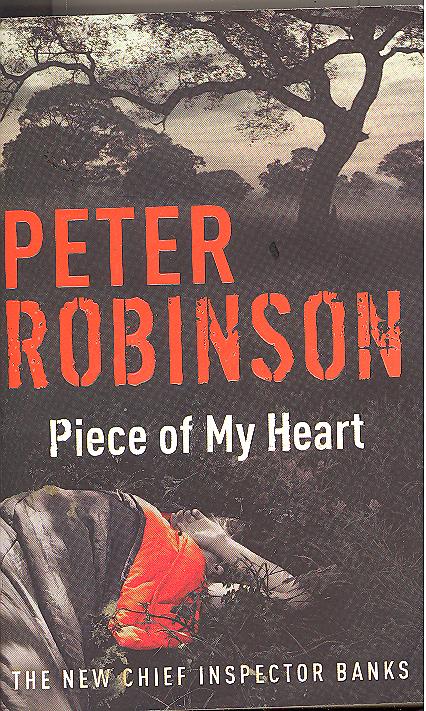 I read this book in January, 2012.
"Piece of My Heart" is the 16th book in the DCI Alan Banks series by Peter Robinson. It's a good book, a worthy member of an excellent series. Peter Robinson has developed into a very good writer. But I do have a complaint. One of the reasons for the success of these books is that they have a very strong character Alan Banks, and an equally strong set of colleagues - Annie Cabbot, Jim Hatchley, Winsome Jackson, etc - whose loves and lives we follow from book to book. Alan reports to D. Sup Gristhwaite who is a good boss, a kindly man, and has been a good friend to Alan. In this book we are curtly told that he had retired a few months ago, and that's all. He hadn't played much of a role in the last few books, but I liked him - and his retirement should have been treated better. He deserved a farewell story and a farewell party - we should all have been there. If a main character goes, it should not be off stage !
That apart, I did enjoy this book. It is two stories for the price of one. Linda Lofthouse is stabbed in the woods near a rock concert where the Mad Hatters played. The year is 1969, and DCI Stan Chadwick is called in from Leeds to head the local enquiry. In the present day, Nick Barber is murdered in a secluded cottage near Eastvale, and Banks, Annie, and Winsome are given the case. For the first half to two-thirds of the book, the narrative switches between the two stories, and perhaps more prominence is given to the 1969 Chadwick investigation. Chadwick is a decent man, who has a 16 year old daughter who has started to run wild, is into drugs and the Hippie scene, and it turns out that she knew the murdered girl Linda Lofthouse. We all know that the two stories are going to be connected, but for a long time, its not obvious what the connection might be. Peter Robinson tells the two stories well, and they both hold your interest. But I didn't think Chadwick was as interesting a character as Banks, and instead of being pleased to get two stories for the price of one, I felt a little cheated - I was only getting half a Banks story.
So that's two complaints I've made - but don't let that put you off. When the two cases do connect, the story really takes off, and the book becomes a real page turner. The new D. Sup. is Catherine Gervaise, curt and restrained, a female graduate on accellerated promotion, who makes no secret of her ambition to advance as soon as possible to become a commander in the Met. She starts off badly, and antagonises both Annie and Alan. But then she takes Alan aside, and says it will do her career most good if he carries on solving cases. She will give him freedom to solve cases in his own way, and we think she might be OK after all. Then she seems to forget this conversation, and it may be that she will prove to be a poor replacement for Gristhwaite. Banks had become convinced that there were connections with the old 1969 case, but she tells him this is irrelevant. Banks ignores her, goes his own way, and eventually solves both the old and the present day cases at the very end of the book. What is Gervaise's reaction to this - we are simply left in the dark, as the book has ended ?
Annie and Alan Banks still have a good professional partnership, and Winsome is turning into a really strong character. Will Annie and Alan get together again ? This is still very much left in the air.
Following on from "Strange Affair" Banks is now driving his deceased brother's Porsche, and rebuilding his music collection with state of the art equipment also inherited from Roy. Alan is now back living in his rebuilt secluded cottage in Gratby, and he gets a welcome visit from Brian, his pop musician son, who turns up for a holiday with his stunning new actress girlfrend.
It's a good book, especially the last third. The Banks series is turning into a real treasure.
Links to author index and home page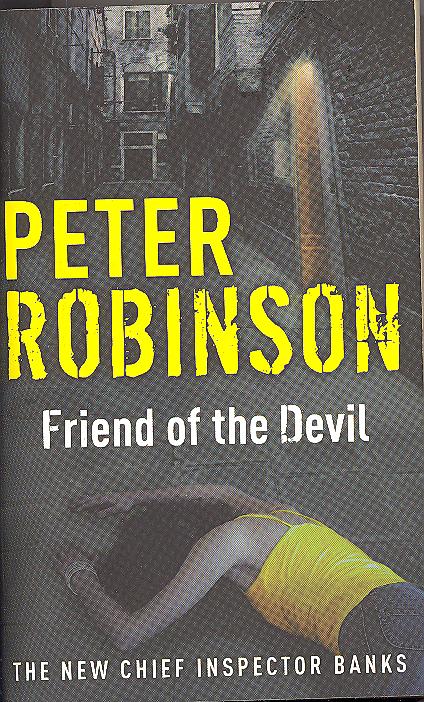 I read this book in January, 2012.
"Friend of the Devil" is the 17th book in the excellent DCI Alan Banks series by Peter Robinson. I thought it was another winner, a really good read. A bit of advice, though - be sure to read the earlier book "Aftermath" about Lucy and Terry Payne before you read this book.
I love the continuity in the Bank's books. It's not just the main characters that keep appearing, but lesser characters pop up now and again, and we find out how they have been getting on. In this book, Peter Robinson takes it a step further and tells us what happened next to the "Aftermath" characters
As per in book 16, I have one little criticism, though. Surprisingly, D Sup Gristhwaite, Banks former boss, seems to have been forgotten about. His retirement was only just mentioned in book 16, and he is not mentioned even once in this book. At the very least, Banks could have dropped in on his old chum for a cup of tea, and perhaps helped with a bit of dry stone walling !
The book opens with two murders. Haley Daniels, a 19 year old girl, is found strangled in a warehouse in Taylor's Yard in Eastvale. She had been raped. Banks is senior investigating officer. The other murder is quite a few miles away. It's a 40 year old "Karen Drew" (not her real name) who is quadriplegic and confined to a wheel chair. She had been taken for a walk by a "friend" called Mary who called at the care home near Whitby where Karen lived. Karen was later found with her throat cut by a sharp instrument, and left in a wheel chair at the edge of a cliff beside Whitby. DI Annie Cabbot had been temporarily transferred to Whitby to help out, so Annie leads the case.
Annie had accepted the move to Whitby partly to get away from Banks. She and Banks split up a good few books ago, but they still have strong feelings for each other - althought they won't admit it. Annie had thought it might help is she didn't see Alan every day at work, but of course, the two cases turn out to be connected (aren't they always ?), and so Alan and Annie are thrown back together again.
We first meet Annie the night after a one night stand she has had with a boy half her age. He was 20 ish, and Annie is 40 ish. She had drunk too much at a party, and woke up in a strange bed the morning after. Annie seems to be at the start of some kind of breakdown. She knows she must drink less, try to get her life under control again, and try to sort out her feelings for Alan. Why does she keep pushing him away, and regretting it so much each time she does so ?
D Sup. Catherine Gervaise, Bank's new boss, seems to be settling in quite nicely after her shakey start in book 16. Alan is correctly given a free hand. Dr Elizabeth Wallace is the new pathologist.
There is a terrific plot twist about two thirds of the way through the book. The plot build to a terrific climax that places Annie in great danger, but thrown back together with Alan. Banks has a possible new girlfriend in Sophia, a BBC producer who shares his love of music - Sophia even knows the work of Alan's son Brian.
So in spite of everything, we are back to the same old question. Are Annie and Banks to get together again, or does Annie want Banks back only now to find that he has met someone else in Sophia. Roll on book 18 !
Links to author index and home page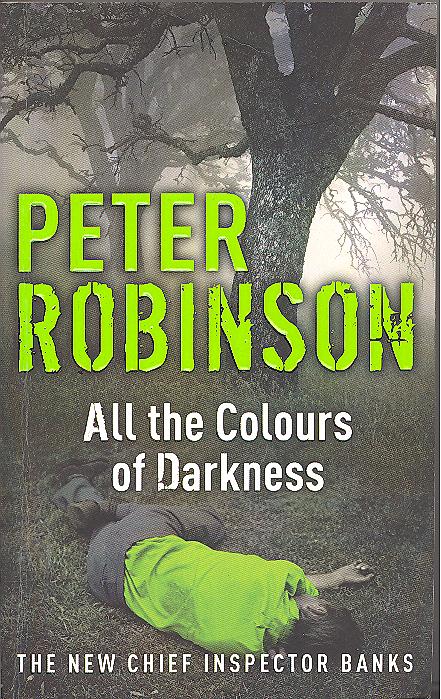 I read this book in February, 2012.
"All the Colours of Darkness" is the 18th DCI Alan Banks book by Peter Robinson. I did enjoy reading it, it's a good book, but I didn't think it was quite as good as it's immediate predecessors.
As usual, there are two narratives running at the same time. The main story is the crime to be solved, but of equal, perhaps greater interest is that of what is happening in Alan Banks life - i.e. are he and Annie Cabbot back together again ?
First the story. Mark Hardcastle's body is found hanging in the woods - it seems to be suicide. He is gay, and his lover / partner Lawrence Silbert is later found murdered in his very up market house - not just murdered, but savagely beaten with a cricket bat. It seems that Mark killed his lover in a freenzy, and then, full of remorse, took his own life. Banks thinks there may be more to it than that - and you have to read the book to find out.
Book 17 finished with Annie in a terrible state , and sobbing in Alan's arms. This book opens with Alan on holiday in London with his new girlfriend Sophia. He had been there for Annie when she needed him, but she then seemed to withdraw into herself, and push him away. So Alan had returned to Sophia. Not just returned, he seemed to be besmitten, and had fallen in love - too deeply, too quickly. It will never last, we think, and there seem to be lots of clues that it will indeed all end in tears. Alan and Sophia take a long walk together through the dales - Alan enjoys Sophia's company, and the views, and everything seems magical - he thinks in retrospect that he should have done it all again, straight away, to savour the sweetness of a day to remember.
Why do I think its just a good book, not a very good one ? It turns out that Lawrence Silbert is a former spy, and soon we are in the muddy MI6 infested waters of all powerful secret, shadowy figures. It's all a bit too far fetched, a bit like Bob Skinner by Quintin Jardine.
Alan's children are getting on well. Tracy phones her dad once a week, and Brian is a now successful pop musician with a strong fan base. Banks meets Tom Savage, a private investigator in London, who asks if he is really the Alan Banks, the DCI father of Brian Banks. Tom is a big fan of Brians. Bank's visit gets Tom into quite a bit of bother, but more than makes up for this by introducing Tom to Brian, when they all have an expensive lunch together.
Dealing with the secret services again, Banks contacts his old friend and sparring partner, dirty Dick Burgess.There is quite a bit about Catherine Gervaise, the new superintendent, Alan's immediate boss. I'm not sure if we are meant to like her or not. I was never in any doubt about former superintendent Gristhorpe, Banks old boss. He was straight talking, and you knew where you stood with him. He is described as Bank's best friend, but Banks never seems to visit him.
All in all, it's a good book, well worth reading. I'm not really bothered that it's not quite as good as say books 10 to 17, but I would be bothered if it was the first sign that the series was going off the boil. I'll read on, and we'll see.
Links to author index and home page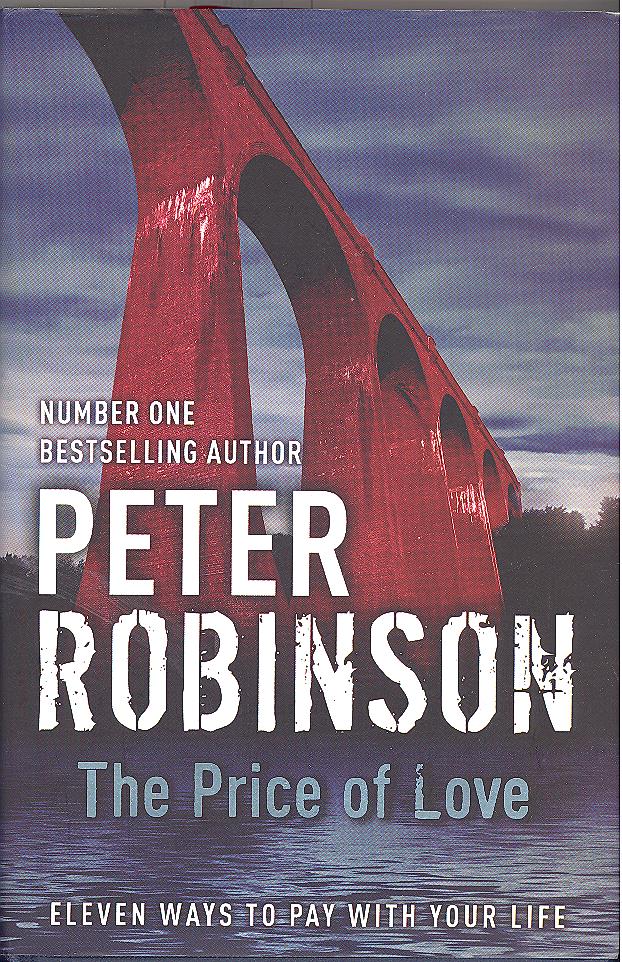 I read this book in May, 2013.
This book is a collection of eleven short stories by Peter Robinson. I don't usually like short stories, but nevertheless I got this book some while ago as a way of saying hello again to Alan Banks and Annie Cabbot, etc. That was at a time that I had read all the Alan Banks books. Later Peter Robinson wrote another - "Watching the Dark" - but it has taken me quite a while to get hold of this in a charity shop - and then surprisingly I got the new Rebus ("Standing in Another Man's Grave") on the same day ! Both were only out in hardbacks at the time. That was in Bury St Edmunds on 17th April, 2013. I also got an Erast Fandorin ("State Councillor"), and three Peter James, Roy Grace books - a golden day indeed !
Of the eleven short stories in "The Price of Love", only three are DCI Banks ones. These were the stories I liked best. But the collection did open with two good other stories. "Cornelius Jubb" was set in the 1940's and was a good story about an American coloured GI up against discrimination, even from, or especially from, his fellow Americans. "The Magic of Your Touch" was a story about someone selling his soul to the Devil - and paying the usual high price. It was a bit like the Midas touch on a piano. Most of the non Banks stories were quite good - but I didn't like "Walking the Dog", and "Birthday Dance" was just plain silly - a retelling of a biblical story set in modern times. "The Price of Love" was story nine, and was a cracker.
Most of all, I liked the three DCI Banks stories - "The Eastvale Ladies Poker Circle," "Blue Christmas", and the 114 page " Like a Virgin"." This last story was excellent - well worth the price of the book in itself. Here we meet Alan Banks, working for the Met, drinking too much, smoking too much, and being unfaithful to his wife Sandra with WPC Linda Jameson. He is heading for a burn out. He takes his family with him when he visits Eastvale for the first time for an informal, complete change of scene job interview, and we and Alan meet the wise, fatherly Superintendent Gristhorpe for the first time. Back in London, Alan also meets dirty Dicky Burgess for the first time. It's quite a good story about the murder of prostitutes. Alan solves the crimes, but it never gets to court, hushed up by dirty Dicky.
Not as good as a novel, but I enjoyed reading these stories. I thought the non Banks ones were a lot better than Ian Rankin's non Rebus short stories.
Links to author index and home page


I read this book in April, 2012.
I read this book when on holiday in Spain. At that time, Peter Robinson had written 19 DCI Alan Banks books, and I had read all but number 19, saving it for a while to be enjoyed later. Well, I have now read it, and it didn't disappoint.
I don't think that this will be the last Banks novel - but it does have an air of things coming to an end. Possibly Robinson intends to write only one more Banks book - if so, I hope he changes his mind, gets his second wind and keeps going well into the future.
The story here very much concerns Tracy, Alan's daughter. She hasn't lived up to the early promise that she showed. Her brother Brian is now an international pop star - Tracy works in a book store in Leeds.
The story starts off very slowly. Alan is on holiday in the USA, trying again to sort out his head and his life. His relationship with Sophia ended at the close of the previous book. There have now been too many failures, too many disappointments, and Alan know it and suffers. We all know that Alan's best chance of happiness and peace must surely lie with Annie Cabbot - DI Cabbot, Alan's police "partner". But will it ever come to pass ?
Anyway, Alan is on holiday when a former neighbour calls in at the police station in Eastvale, asking to speak to Alan. If only he had been there. She speaks to Annie in Alan's absence, and eventually confides that she has found a gun in her daughter Erin's bedroom. Erin had a "bad boy" dodgy boyfriend, but she had found him kissing Erin's flatmate, and so Erin had fled back home, taking the boyfriend's gun with her. Who was Erin's flatmate in Leeds ? - someone she had known since she was a little girl, when the Banks family were neighbours - yes, Tracy Banks!
Tracy has gone off the rails, and teams up with Erin's "bad boy" boyfriend - one Jaff McReady. It all starts as a big adventure. But events spiral out of control, and soon Tracy and Jaff are on the run. When Alan's friend Commander Richard Burgess of MI5, or whatever reappears, it is obvious that Tracy's boyfriend is more than just a petty criminal. It's slowly cooking, but events step up several gears when Alan returns from holiday to see that mess that his daughter has got herself into.
Annie is also caught up in it all too - very much so, but I can't say more without giving away the plot.
It's a cracking story - very good, but not quite excellent. I'd have liked it to be based more in Yorkshire. In each successive book, DC Winsome Jackson, all 6 ft of her, gets a bigger and bigger part. She is an interesting character. I thought the book a bit slow going before Alan returned from holiday.
But, all in all, it's a very good story, and there must be at least one more book to settle the Annie / Alan relationship. Let's hope that I have misread the situation, and that there will be lots more books.
Links to author index and home page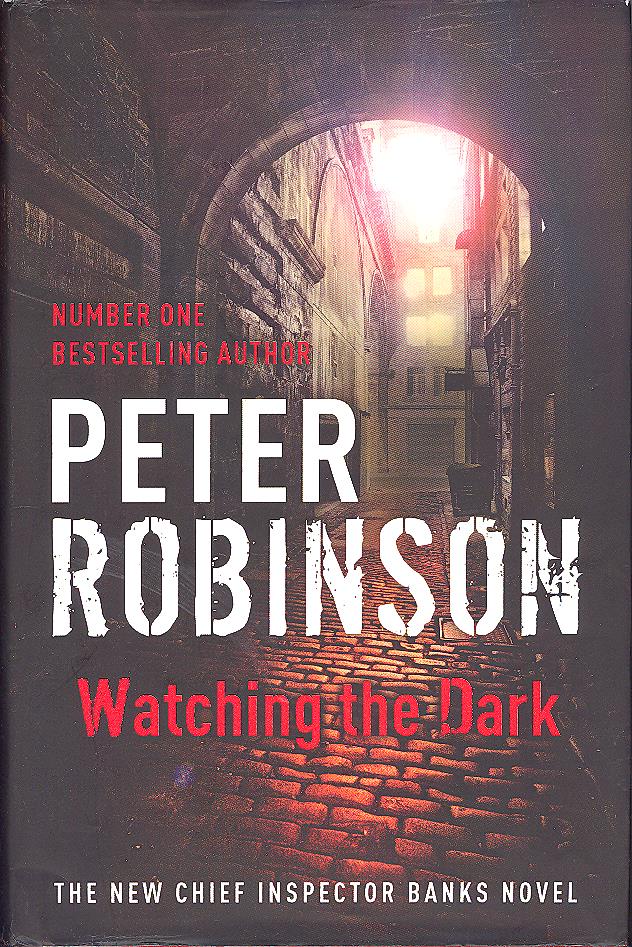 I read this book in May, 2013.
"Watching the Dark" is the 20th DCI Alan Banks book by Peter Robinson. Usually they are set in Eastvale, in the Yorkshire Dales, but this story also gets to Tallin, in Estonia. Peter Robinson had been teaching there, so I suppose, since he had got to know the place, he thought Alan Banks should visit there too. This is a good story, and I did really enjoy reading it, but I'd have preferred if Alan Banks had stayed in the Yorkshire Dales.
The story brings the time bang up to date (i.e. to 2012) - as I write this in 2013, there are lots of references to things only recently in the news. Alan seems a little older now, and more mature / less explosive. Annie Cabbot has been recovering from the shooting of book 19, and happily there has been no permanent damage. She has been absent for 6 months, part of which she had spent recuperating in St Peter's Police Convalescent and Treatment Centre, just outside Eastvale. It is here that a DI Quinn is shot dead in the grounds with a crossbow, and the case is given to Alan Banks to investigate. Quinn had been obsessed with the case of the missing Rachel Hewitt, some 6 years ago, and had visited Tallin at the time. Soon the case escalates when an Estonian reporter, working undercover on a story about the exploitation of immigrant workers, is also killed.
Banks thinks that Estonia / the disappearance of Rachel is linked to what is now happening. Quinn had been under suspicion of being a bent copper, so DI Joanna Passero turns up from Professional Standards, out the blue, to shadow Banks investigation, looking for any evidence of Quinn's corruption. Neither Banks nor Annie like this - Alan doesn't like someone looking over his shoulder all the time, and Annie fears that Joanna is there to displace / replace her. Banks objects strongly, but is over ruled.
I thought the best bits of the book were when Annie and Alan were together. They have so much history. Moving Alan to Estonia, but leaving Annie in Eastvale meant that the action unfolded in two places at the same time, but meant that Alan and Annie were apart - it's their interaction that is one of the strengths of the whole DCI Banks series.
It's a very believable, methodical story, slow, but well paced, and everything is sorted out in the end.
It's a worthy member of a great series, but I'd have peferred a few more Annie / Alan get togethers over a pint of Black Sheep.
I hope there is another book in the series to better address the Annie / Alan relationship - is it over, or will it blossom again? We need to know, and this book is a let down in this respect.
But I can't finish on the above words of criticism. I loved revisiting the Dales, and meeting Annie and Alan again. Its a worthy member of a great book series, but lets have another book really soon.
Links to author index and home page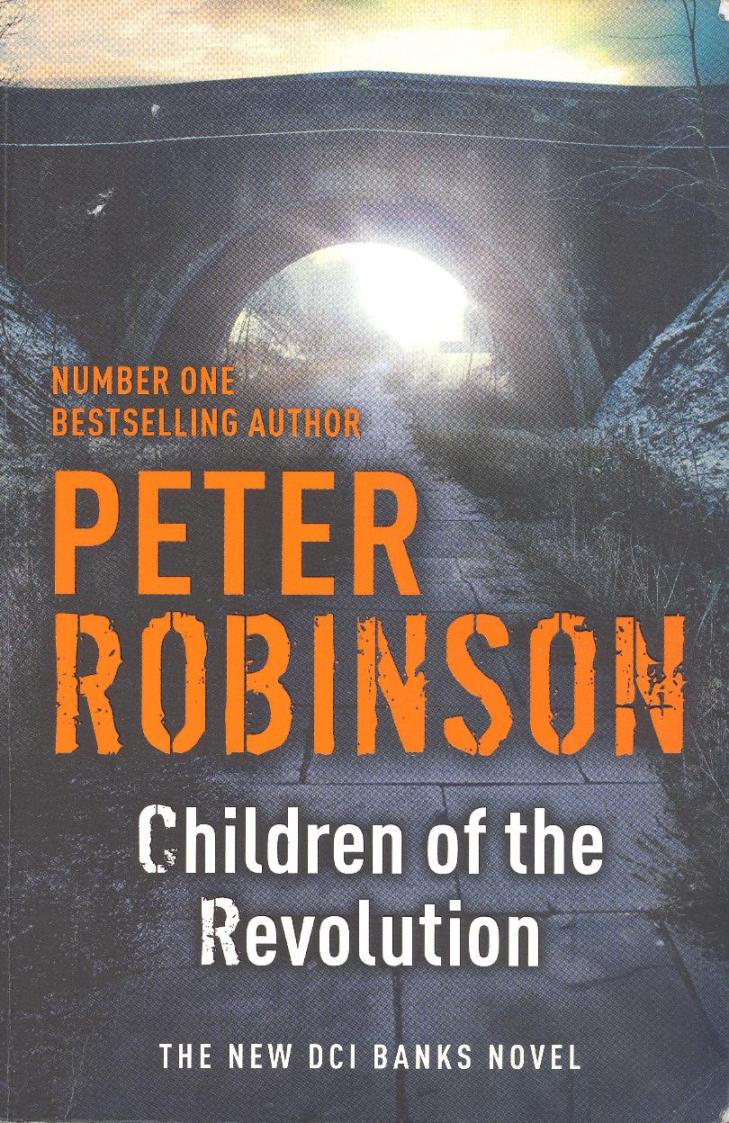 I read this book in May, 2014.
"Children of the Revolution" is the 21st in the DCI Alan Banks series, set in the Yorkshire Dales (Eastvale) and written by Peter Robinson. I read this whilst on holiday in Teignmouth, and and it was a pleasure to read a proper story after the previous book that I had read - "Case Histories" by Kate Atkinson. Here we rejoin Alan Banks in a proper story with a beginning, a middle, and an end. DI Annie Cabot is still here, and DS Winsome Jackman,and we meet a new face DC Gerry Marsden. Annie has a bit of a chip on her shoulder, and a caustic tongue, but she and Alan go back a long way, and he makes allowances for Annie.
Alan is now in his middle 50's, and his boss cleverly introduces the subject of retirement - had Alan thought about it ? He doesn't want to retire, he thinks he would be bored, and he doesn't want to even think about it. But his boss, D C Super. Catherine Gervaise, suggests he might consider being promoted to D Superintendent - in which case Alan would not have to retire until 65. But of course that would entail more desk work, more paperwork that Alan hates. He is a hands on man who likes to get out of the office. Perhaps in the next book it will be Superintendent Alan Banks ?
The story is quite a good one. Someone has murdered Gavin Miller, a former college lecturer who was wrongly dismisssed for sexual impropriety. The murder takes place near Miller's remote rented cottage, and surprisingly, Miller, obviously down on his luck, had £5,000 in his pocket. Why was this not stolen, and where did he get the money from ?
Alan's investigation leads him to approach Lady Veronica Chalmers who has friends in high places, and Alan is warned off by Gervaise and ACC McLaughlin. Alan never likes being warned off, so he presses on on the quiet - but what is he doing for his chances of promotion ?
Lady Chalmers has a stunning young researcher / assistant Oriana, and somehow she and Alan seem to get on very well, in spite of the age difference. I can't see what Oriana would find attractive in staid Alan Banks. Surely she would prefer Alan's son, the successful pop musician. And anyway, I still have hopes for Alan and Annie, although it now looks unlikely.
It's a good story with a good, entirely believable ending. Roll on the next visit to Eastvale !
Links to author index and home page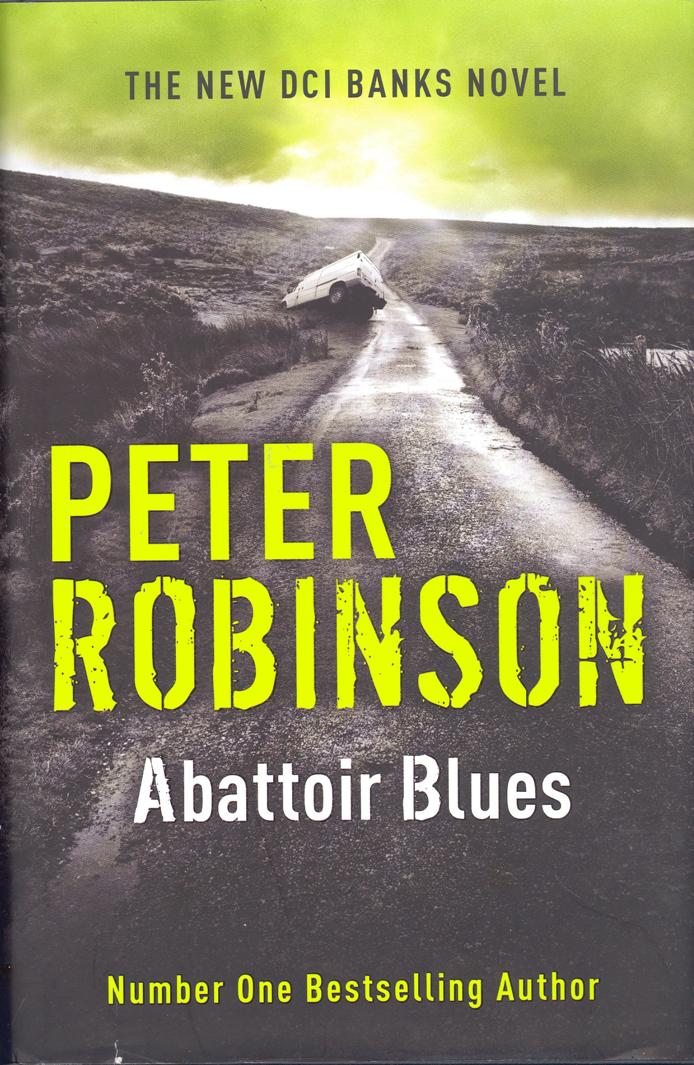 I read this book in May, 2015.
"Abattoir Blues" is the 22nd book in the DCI Alan Banks series, written by Peter Robinson. It is still set in Eastvale in the Yorkshire Dales. It is a terrific book with a good story, and a good set of characters whom we have got to know through the years. It is about a year since I read the previous book in the series, and I had forgotten who Oriana is. This is the young beautiful woman, whom Alan met at the end of "Children of the Revolution." Alan and Oriana just got on well together, although Oriana is about half Alan's age - more a suitable girlfriend for Alan's son, than for Alan. Anyway, Alan and Oriana are still together, and this book opens with DCI Banks and Oriana on holiday in Italy, staying with Oriana's family, and having a great time.
Otherwise much is the same as per the last book, but everyone is just a little bit older, and Sgnt Jim Hatchley has retired. Alan still works for area Commander Catherine Gervaise - she had suggested that Alan be promoted to Superintendent to enable him to work on until he is 65, but nothing has come of that yet. Most of the police gang are still around - DI Annie Cabbot, of course, and DS Winsome Jackman, but DC Gerry Masterson is a new member. Annie is still not back to her old self, still seems bitter, still has an acerbic tongue, and if she carries on like this she will have no friends left. That said she will still have an old friend in Alan Banks - and I haven't given up hopes of Annie and Alan getting together again. Annie admits to herself that it might be "a good thing" - but we will have to wait until the Alan / Oriana relationship plays itself out, as it surely must, and soon, I think. Annie might have a rival in DI Joanna Passero whom Alan worked with in Estonia in "Watching the Dark". Joanna is now divorced and back to being just plain Joanna MacDonald. Then she was in Professional Standards, but she makes an appearance here, gets on well with Alan, and Alan admits to himself feelings of possible jealousy when he sees "Dirty Dicky Burgess" chatting up Joanna at a party. Yes, "Dirty Dicky" also turns up again when Alan pursues enquiries to London. It's strange that two old characters turn up again when one of the themes of this book is Banks getting older, losing touch with old friends, not seeing much of his children - not seeing anything of them in this book - and going back home to his empty cottage, listening to his music, and quite liking his own company.
What of the main story ? The book opens with Alan on holiday, things being very quiet, and Annie Cabbot is handling the case of a missing / stolen £100k tractor owned by a gentleman farmer John Beddoes. DS Winsome Jackman is called to a deserted barn where a rambler Terry Gilchrist and his dog have found possible blood stains. Terry is an ex soldier - a decorated hero - who was injured badly in Afghanistan and is trying to get back to reasonable fitness. Terry and Winsome get on well ! Of course the two stories (missing tractor, blood stains) are related, and soon it is a full blown DCI Banks led investigation into international organised crime gangs. Is John Beddoes a victim, or something else ?
The case is solved by the end of the book, but there are lots of personal relationship questions still to be resolved, and so we must read on.
It's a very readable book, but quite a page turner, and I really liked it. Hopefully there will be more in the series for me to read.
Links to author index and home page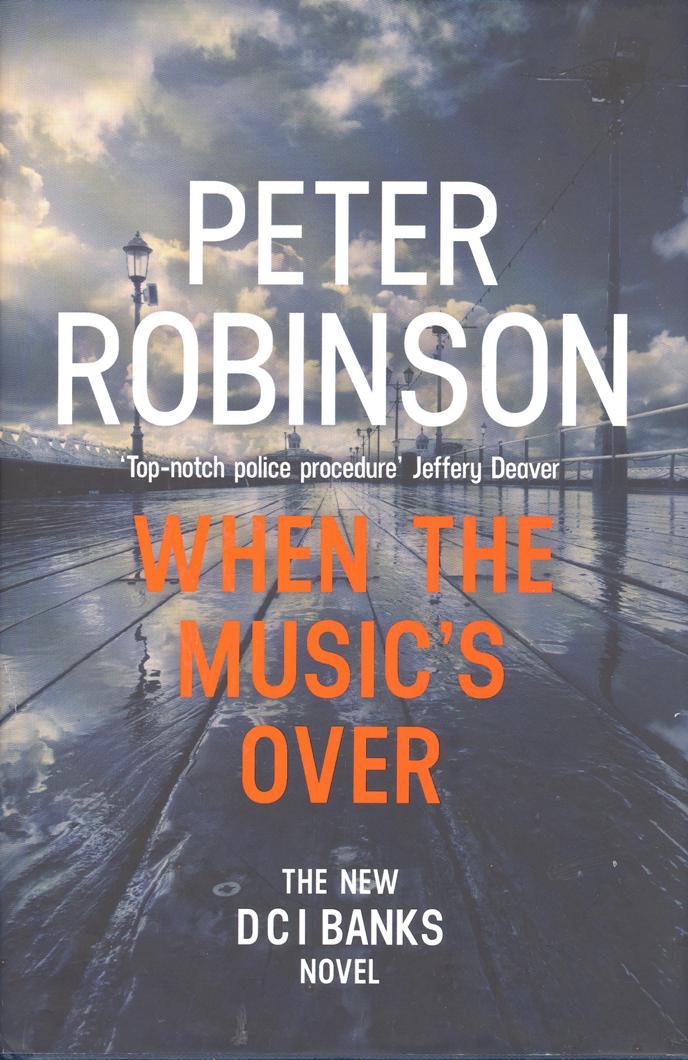 I read this book in Mar, 2017.
This is book 23 in the DCI Alan Banks series, set in Yorkshire - and the news is that Banks is now Superintendent Banks as the result of recent promotion. Happily though, he is still in Eastvale, and all the old cast are still there. So we have DI Annie Cabbot, DC Geraldine Masterson and DS Winsome Jackman. Alan's boss is still D. Chief Superintendent Gervaise, and we even have "dirty Dick" Burgess back on the scene again.
Alan doesn't have a girlfriend at present - his friendship with younger Oriana has just petered out. But now he meets the poet Linda Palmer -and Alan and Linda seems to be getting on well together.
There are two main stories here. Usually, in crime fiction, when we find two separate stories it usually turns out that these stories are linked, but of course, that need not be the case every time.
Story one is the rape and murder of a 14 year old girl, Mimsy Moffat, and this is being investigated by Annie and Gerry, with Alan Banks supervising. Mimsy had been thrown out from the back of a moving van, had survived the fall, had hauled herself naked out a ditch, and stumbled along a quiet road to what she thought would be her rescuer. Sadly she was not walking towards salvation, but towards a cruel beating and death. The men in the white van were of Pakistan origin, and Mimsy had been groomed. The police on the Wytherin estate where Mimsy lived said they had no idea that this was going on. Annie stirs up a hornet's nest.
The other investigation is given to newly promoted Banks, but it seems a hopeless 50 year old cold case. Danny Claxton is a famous celebrity of the Jimmy Saville, Cyril Smith, Rolf Harris vintage. He too was a paedophile who got away with too much for too long. Who would believe a young victim versus a famous star who had raised lots of money for police and other charities, and had friends in high places. The police are aware that they have failed to protect the public - hence Banks is let loose. The famous poet Linda Palmer has now come forward to to say that she was raped by Caxton and his assistant 50 years ago. Other people have also come forward with accusations about Caxton - but where is the evidence, and Caxton is now 85, an old man in poor health.
The story is told very convincingly - Peter Robinson seems to have done his research well. There is quite a lot of tension when young Gerry finds herself alone at night on the Wytherin estate. Racism is also handled well.
Its a good couple of plots, well handled, and it all comes to quite a realistic conclusion. But I didn't really like the subjects - racism and paedophilia. And somehow there didn't seem to be enough Yorkshire there - its all moved a long way from the early Banks books, with D Super Gristhorpe, and his dry stone fences.
On the other hand, it was terrific to catch up with Annie and Alan again - there was just one reference to their previous relationship, but nothing came of it, and I guess now nothing ever will. Its just a possibility to tease us. However Alan and the poet Linda do seem to be getting on well ...... We will need to read on and see if Alan is still a D.Superintendent in the next book - there is just a suggestion that he might be unfairly blamed for the way the Caxton case ends.
Links to author index and home page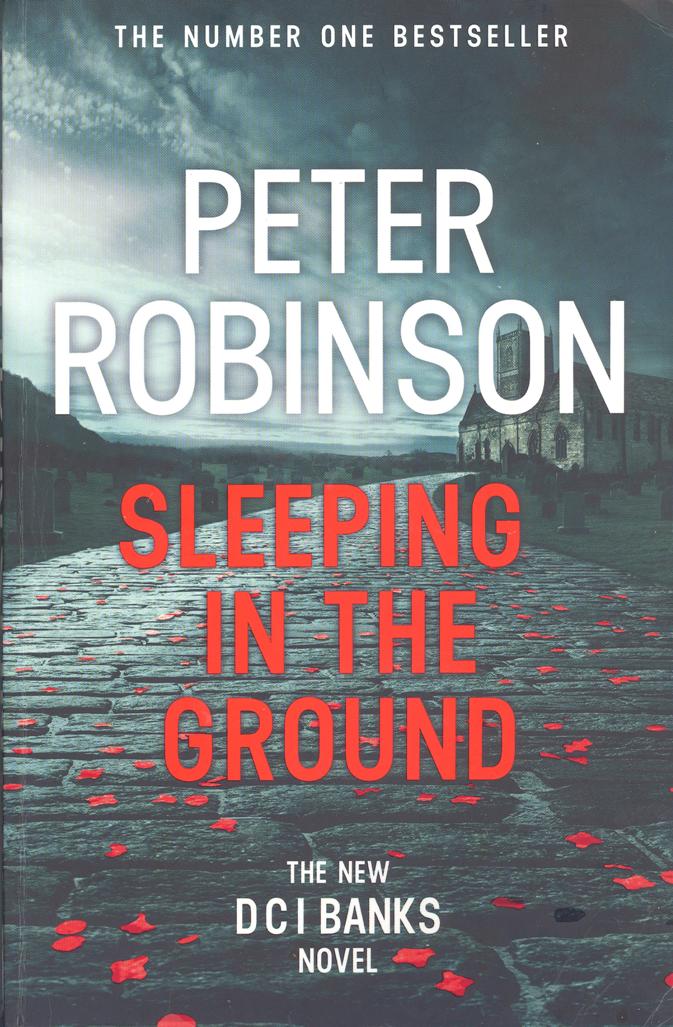 I read this book in Mar, 2018.
This is book 25 in the DCI Alan Banks series - with the update that Banks is now a Detective Superintendent with a new office too big for him. I bought this book for $4 in Vinnie's Charity shop in Cronulla, a seaside resort near Sydney in Australia - delighted to find so up to date a book so quickly in an unexpected place.
The previous book I had been reading was from a not very enjoyable series, and so it was a big step up to switch to a book from one of the very best series. It is a pleasure to relax into a good book by a good, trusted writer.
The main elements of the story are all told on the back cover of the book. There is a shocking mass murder sniper shooting at a small Dales village church wedding, and Banks leads the man hunt. Standard police procedure finds the murderer - a shooter who has committed suicide in his cellar. But when we learn this the book is only half way through, and so there is obviously more to the story. Alan thinks they may have got the wrong man, and he is right. It is a strong story, and tension builds as raw, over keen DC Gerry Marsden finds herself in great danger. Will she win through, or will D.Super Bank's team lose a promising young detective ?
It is lovely to meet so many old friend again. Alan still drives his Porche, lives alone in a secluded cottage, and enjoys listening to his music collection. He is still friends with the young poet Linda Palmer, but Jenny Fuller, a profiler, returns. She and Banks almost had an affair, but Banks was married to Sandra and had young children. Jenny knew that he would never leave his family, and so she left for a job in Sydney. Now, she and Alan are both single, and free - but has too much water passed under the bridge ? The problem is left unanswered at the end of the book, so we must read on. There is a nice and very apt quote from Shakespeare in the book :
"Our doubts are traitors,
And make us lose the good we oft might gain
By fearing to attempt"

Jenny puts it more briefly, but less elegantly - "nothing attempted, nothing gained."
Gervaise is still Bank's boss, and a good one. Annie Cabot is still a DI, still very abrasive, now seeing a fellow DI, but she and Banks are still the very best of friends. Annie's artist father Ray feels he is too old for his hippie group in Cornwall, and is in the Dales looking for a house. Alan has him as a house guest, and they get on well - although he doesn't share Bank's taste in music. DI Gerry Marsden is young, keen and should go far. DS Winsone is injured, but not seriously, in the churchyard shooting, and is on sick leave.
There are lots of welcome atmospheric Dales touches, and visits to Dales pubs. Alan even visits his old boss Gristhorpe - still alive, and still building drystone walls. This is a book about time moving on, backward looking to first loves, and what might have been, but full of promise for the future.
I thought this was a terrific book, spot on in so many ways. I really liked it !
Links to author index and home page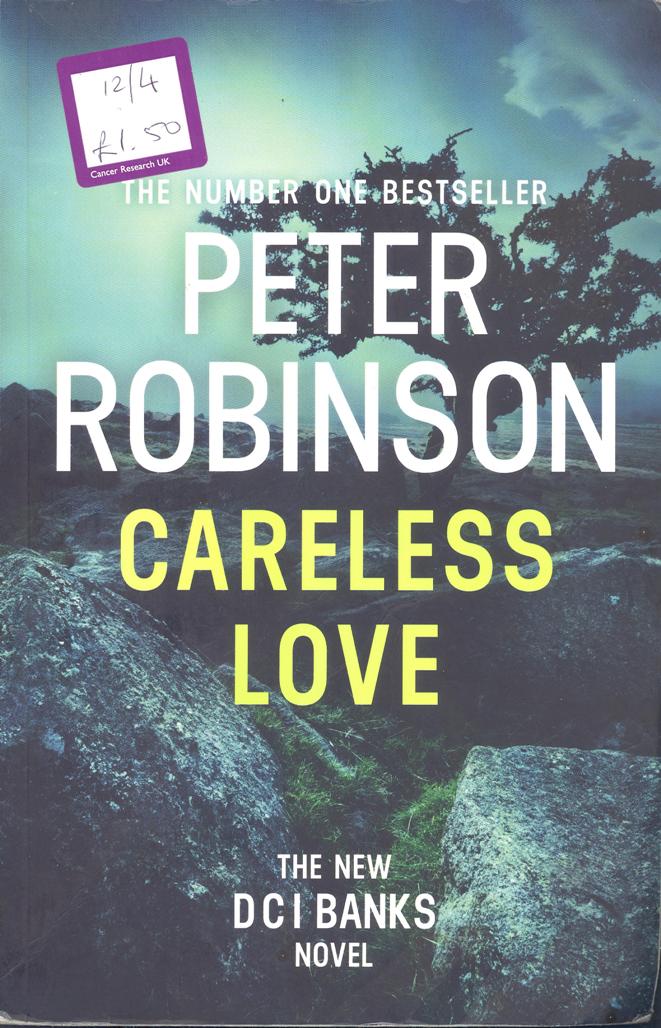 I read this book in May, 2019.
This is book number 26 in the excellent Alan Banks series set in Eastvale, Yorkshire. With all the financial cuts, Eastvale district CID are down to four - D Super. Alan Banks, DI Annie Cabot, DS Winsome Jackman, and DC Gerry Marsden. A male detective constable has just left to take up a teaching job, and should be replaced - but don't hold your breath says Bank's boss, D. Chief Super Gervaise.
Both Alan and Annie are close friends, are both are unattached, and have a long history. Who knows if / when they will settle down together - but not in this book. Alan doesn't mind his own company, but would like someone to share his isolated cottage set in the very picturesque Dales. Annie's dad Ray has recently moved in to his renovated cottage near by. He is in his seventies, and has been joined by his girlfriend Zelda - very beautiful, and younger than his daughter. Annie doesn't like Zelda - "she is young, and very beautiful, and will break my father's heart." Zelda, like Ray, is an artist, but Zelda has a special gift. She is a "super recogniser" (never forgets a face) and was sex trafficked in her past. She now works for a secret international organisation fighting sex traffickers. She tells Ray that she only looks at photos in files, but in reality she does a lot, lot more. In a sub-plot she sets up the next book (I think), because she has seen a picture of the forger Phil Keane, who deceived Annie for months, and tried to kill Alan by burning him alive. There will surely be more of this story in another book.
The book has a great opening. A car had crashed on the moors, and it was still there with a "police aware" sign on it. A rambler phoned to report something. "Yes, we know of the car" said the police, "that's why it has a police aware sign on it." The rambler replied, "Yes, but there is a dead woman in the pasenger seat!" Alan and Winsome investigate. The body is that of a young student, dressed as if she was off to a posh party. How did she get there, why was she put there, and how did she die ? A day later Annie and Gerry are also at a separate accident on the moors - a man in very expensive suit (i.e. definitely not dressed for rambling) is dead down a gully. How did he get there ?
Two separate incidents - you can bet they are related. And so the story unfolds, and it's a great puzzle. I loved the pace of the whole book. A lot happens, Alan's friend DCI Ken Blackstone becomes involved, consulting "Dirty Dick" is mentioned, but still we have plenty time to join Alan and Annie for a pint, or at a get together at Ray and Zelda's, or to join a poetry discussion between Alan and a former "girlfriend" the poet Linda Palmer. It's not slow paced, nor padded, is just perfectly paced for the great Yorkshire country setting, as time slips by, and Alan perhaps nears retirement. But hopefully there is a lot of life in the series yet.
Several young women die, and the book had opened with a perfect quote from the poem/ folk song "A Sprig Of Thyme".
"Come all ye fair and tender maids
That flourish in your prime.
Beware, beware, keep your garden fair
Let no man steal your thyme.
Let no man steal your thyme."

A sad song, and a sad story of what might have been but for the wrong decisions made. A good book, great characters, and a good writer. What's not to like ?
Links to author index and home page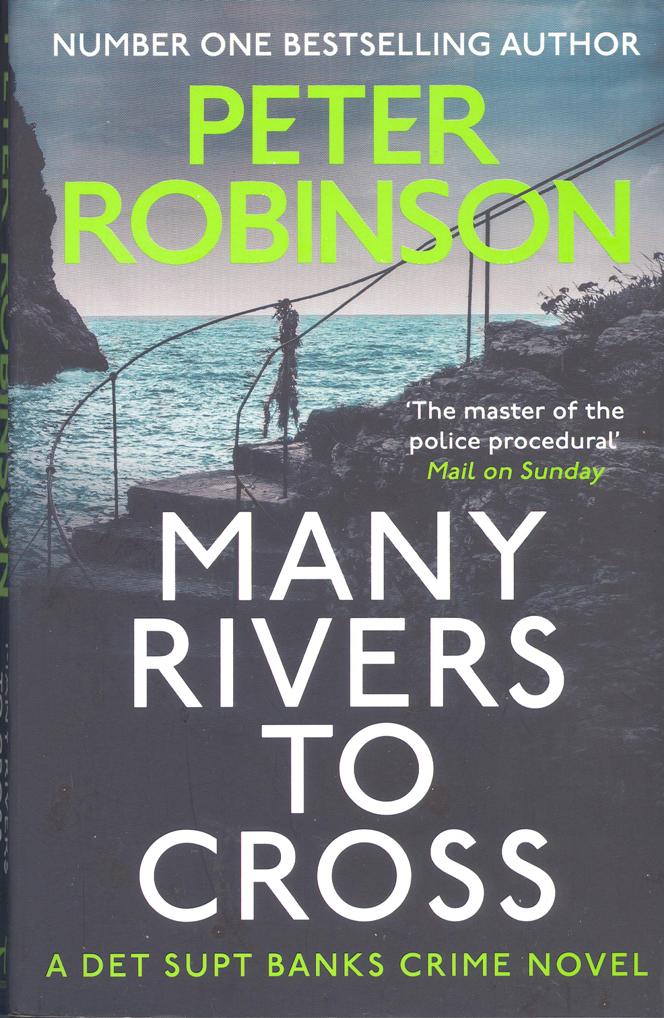 I read this book in Dec, 2020.
This is another excellent story (book 27) in the Eastvale, Yorkshire set Alan Banks series. There are all sorts of different strands to this story, and a lot of former characters appear. Detective Superintendent Alan Banks still works for Area Commander Gervaise, and ACC Ron McLaughlin. Alan has a great team working for him, DI Annie Cabbot, DS Winsone Jackman, and DC Gerry Masterson. Gerry is a Cambridge graduate, and a future high flyer. Stephan Nowak is the fine crime scene forensic specialist. But resources are tight - DS Jackman is on maternity leave with the baby due soon, and the only male in the team, DC Doug Wilson had left some while ago, and was never replaced. Peter Robinson observes that the "bobby on the beat" has long gone, and police patrol cars are going the same way. Like a lot of writers, the author has strong socialist leanings. He deplores Brexit, and tends to link UKIP with racism and hatred of foreigners. I guess he is entitled to his view, but I could have done with a bit more balance.
The main plot was set up in the previous book, and tells Zelda's story. Zelda is the much younger partner of Annie's dad Ray Cabbot. Ray, a gifted artist, is away in America. This gives Zelda time to do some private detective work in London - and she doesn't half stir up a terrible can of worms that will have consequences in future books. The other plots link with Zelda's story, and concern the Albanian mafia moving in to England, and taking over the county lines drug and sex trafficking business with gratuitous acts of savegery. But first let's catch up with Alan's private life. Alan has lots of friends and colleagues - we meet again Dirty Dick Burgess from the National Crime Agency in London, and Leeds based DCI Ken Blackstone. There is even a mention of Alan's old and long retired boss Super Gristhorpe, the doner of a bottle of fine malt. Alan takes his daughter Tracey and her fiance to a concert in Gateshead, and is still in touch with his successful son Brian who is in Adelaide with his group The Blue Lamps. Brian says that he and The Blue Lamps are about to split up - Brian hopes to move into production. Alan still loves his Porsche, but sadly now suffers from bouts of depression - like Winstone Churchill, his "black dog". He still keeps going but has no one special in his life. Perhaps things are about to change. An old friend DI Joanna McDonald of police Crime Intelligence turns up to give Alan some background on the drug scene - and at the very end of the book Alan and Joanna are to go out for a meal at the local, hideously expensive Michelin starred restaurant that features in this story. Also, as an aside, Brian sends his dad a top of the range guitar - learning to play this may give him another interest in life.
Now to Zelda's story. Zelda's "real" name is Nelia Melnic, but we also learn a different original Russian name. In previous books we met Phil Keane who deceived Annie and almost killed Alan, drugged and trapped and his cottage on fire. Keane escaped and the police are hunting for him. Zelda is an artist, but she has a special gift - she is a super recogniser, she never forgets a face. For a couple of days a month she works for an anti sex trafficking section of the NCA in London, puting names to faces in various intelligence photographs. When she sees a photograph of Phil Keane, she tells Alan. But she doesn't tell him that in following this up, she found a photo of Keane with her NCA police boss Trevor Hawkins, and with a terrible figure from her past, the bestial Goram Tadic. Goram and his twin brother Petar are Albanian mafia. It was Goram who was waiting to abduct a 17 year old Nelia when she was discharged from the orphanage where she grew up. Nelia was bundled in to the back of car, and suffered repeated anal rape as she was drived away to be sold as a sex slave. It was anal rape because they wanted to preserve her virginity which commands a high price at auction. Then followed years of abject horror, men and rape in a succession of hotel rooms, stripped naked and being pawed over other sex auctions. Goram was an animal. Eventually Nelia was sold to Darius, a Parisian pimp, and worked as a captive high class prostitute in Paris. There she met Emile, a French minister of state, who said he loved her and would rescue her. We don't know all the details, but Nelia did escape - did she have to kill Darius to do so ? The grateful French authorities gave Nelia a French passport. Zelda dreams of escaping the post Brexit England she no longer likes and living in France with Ray. But first she wants to find Goram Tadic, and get her revenge. Be careful of what you wish for.
Alan Banks and his team are investigating the death of a 13 year old boy whose body was found stuffed in a wheelie bin in the Hollyfield East Side estate. We later learn that the boy was Samir Boulad a Syrian whose family paid to have him smuggled in to the country. Samir was working as a drug distributor to get money to send for the rest of his family, but this could never be, because, unknown to Samir, his family was killed in a bomb strike after he left. Samir was to work out of a house on the estate owned by a drug addict pensioner Howard Stokes, but finds Stokes dead - a drug overdose, or murder ? DI Joanna MacDonald tells Alan that she is interested in a local big wig developer Connor Clive Blaydon, who gives to local charity and has friends in high places, but is mixed up with some very shady characters such as the Kerrigan brothers Tommy and Timmy, and worse there are sex parties, and drugs, and the Albanian mafia are in town.
Blaydon hopes to build a new shopping centre on the site of the now almost abandoned Hollyfield estate. There are lots of empty properties there owned by Blaydon - sites for pop up brothels. Blaydon has minders and an ex boxer, petty crook chauffeur Frankie. But Blaydon now is getting cosy with very dangerous individuals. Banks warns him he is way out of his league, but he won't be told - he likes to think of himself as a big league player. Further up from the Hollyfield is a park, and then above that, up the hill, a posh part of town. There poor little Sue Bartlett was sexually assaulted on her way home from a school dance. Her family thought the police were not doing enough and set up a neighbourhood watch scheme with their friends the Meyers. Chris Meyers and Jason Bartlett are two 18 year old school chums, both going to the same private school. Chris seems to be a bit of a racist.
So now we have all the ingredients, and the story unfolds. Zelda, in London, discovers her NCA boss has died in a chip pan fire. He wasn't the type to cook chips, and his death is being investigated. Joanna had warned Banks that there might be spy within the police - was Trevor Hawkins this spy ? Zelda is interviewed but doesn't trust the police and refuses to help. And so D. Chief Super Richard Burgess calls to see Alan and ask him to help. Zelda finds Phil Keane's girlfriend Faye Butler, and finds Keane now calls himself Hugh Foley. They used to meet in the Hotel Belgrade in London, and so eventually Zelda does track down her torturer Goram Tadic............
I can't say much more without spoiling the story. Of course, Alan Banks and his team solve the Samir murder, but there are twists and turns, numerous deaths, and the solution is found only after a change of direction. As I said before, Zelda has opened a can of worms, and it seems the Albanian mafia may be on her trail. Ray is back from America. Has Zelda put his life in danger? Will she need to confide in Alan to get him police protection ? And of course, will Alan learn to play the guitar, how will Alan's date with Joanna go, and is there no future possibility for a rekindled Annie and Alan relationship ? Read on.
Links to author index and home page