Visits to the West End Theatre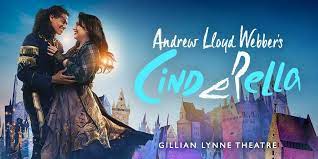 The good news was that we were back in a West End theatre after an absence of over 2 years due to the Covid turmoil. The bad news was that we had hoped to see a better show. We chose Cinderella partly to support Andrew Lloyd Webber who had done so much to save and promote live theatre, and also thinking we couldn't go far wrong with a Lloyd Webber musical. This one though, was just too "woke", not to our taste, and obviously we were not the target audience. Being a matinee, and with the Cinderella title, there were lots of children there, but some of the content was rude, smutty, and unnecessary.
A half price theatre ticket promotion took us to this production - "Cinderella, the Musical". We did find a block of 3 good £20 matinee tickets for the front row, side of the dress circle, but were not allowed to book only two of them as this would leave a single seat. Because it was a special birthday treat, we persevered and another block of 3 full price £59.50 seats for the same performance. Surprise, surprise, we were allowed to book only two of them. What was all that about ? The show was on at the Gillian Lynne Theatre, in Drury Lane. It's a modern theatre with steeply racked seating, and we had a perfect view from our seats, B52, B53, in the second row, right in the middle of the dress circle. I suppose, because of the title, all seats had booster cushions - we just put ours under the seat. To avoid a possible crowded tube, we travelled in by train, Broxbourne to Liverpool Street, and then the No 11 bus, getting off a couple of stops after the Royal Courts of Justice. We then crossed the road, had a fair walk up Drury Lane, and found the theatre on the right at no 166. Unfortunately, it was raining heavily.
The show opened with the voice of Andrew Lloyd Weber setting the scene, and welcoming us to Belleville. The story was a tweak on the familiar Cinderella story. Prince Charming was missing, presumed dead, and Bad Cinderella was the town delinquent. A statue to the prince was being unveiled by the Queen, but unfortunately Bad Cinderella had got there first, and defaced it with rather crude grafitti. Belleville relied on the tourist trade, but without charismatic Prince Charming, had no star attraction. The Queen announced they would have a wedding, and her other son, Prince Sebastian would marry someone from the realm, to be chosen at a Grand Ball, in a few days time. Sebastion was a nice enough chap, but almost the opposite of Prince Charming. He was small, insignificant, and lacked charisma, and spirit. However, since childhood, he had been chums with dumpy, unattractive Bad Cinderella. Eventually they decided they were in love, but that would not stop Sebastian being married off. Cinderella had a bad stepmother, and two dippy stepsisters. She also met a godmother, who would make her "beautiful", but wanted payment - Cinderella's prize possession, a locket her father had given her mother. Apparently she was transformed, but she looked the same to me. Hopeless Sebastion didn't recognise the late arrival at the ball as his chum Cinderella. Now I won't give a spoiler and say how Sebastion avoided marriage, and of course, we did have a happy ending.
Georgina Onuorah played Cinderella at the matinee, and Prince Sebastian was played by Ivano Turco, I think. Both sang and danced well. The rest of the cast was good too - as you would expect of a West End show. The live orchestra was excellent but out of sight. The set too was clever. I liked the rotating stage and for the Ball, part of the front stalls rotated too, so we had theatre in the round, and the Ball looked like a circus ring. But, the tunes were OK rather than memorable. All were belted out with few moments of stillness. Usually I leave a Lloyd Webber musical whistling a smash hit - but not here. The show did seem to go on and on. And so many politically correct "woke" boxes were ticked that it became annoying. We could have done with more subtlety.
In brief, not the smash hit we hoped for - let's say 5 out of 10, 2.5 stars. But of course, it's all matter of personal taste.
Links to West End Show index and home page