Visits to National Trust Properties
My wife and I got joint 2013 annual membership to the National Trust as a Christmas 2012 present from Jamie, Jacqui, and Lachlan.

I am always puzzling what to add to my web site, so I thought, why not write something about the National trust places that we visit. We have visited lots of NT places in England and Scotland through the years, just turning up and paying at the door, but this is the first time we have been members.
The Abbey part of the name is a real misnomer. Yes, there was an abbey on the site, possibly as long ago as the 12th century, but the medieval priory on the site at the start of the 20th century was remodelled into a 20th century country house. It is now a fair sized, beautifully furnished house, set in lovely gardens and parkland, with very pleasant walks, and on the site there is a water wheeled powered working mill (Lode Mill). You can see round the mill, buy freshly milled flour there, and walk along the adjacent river.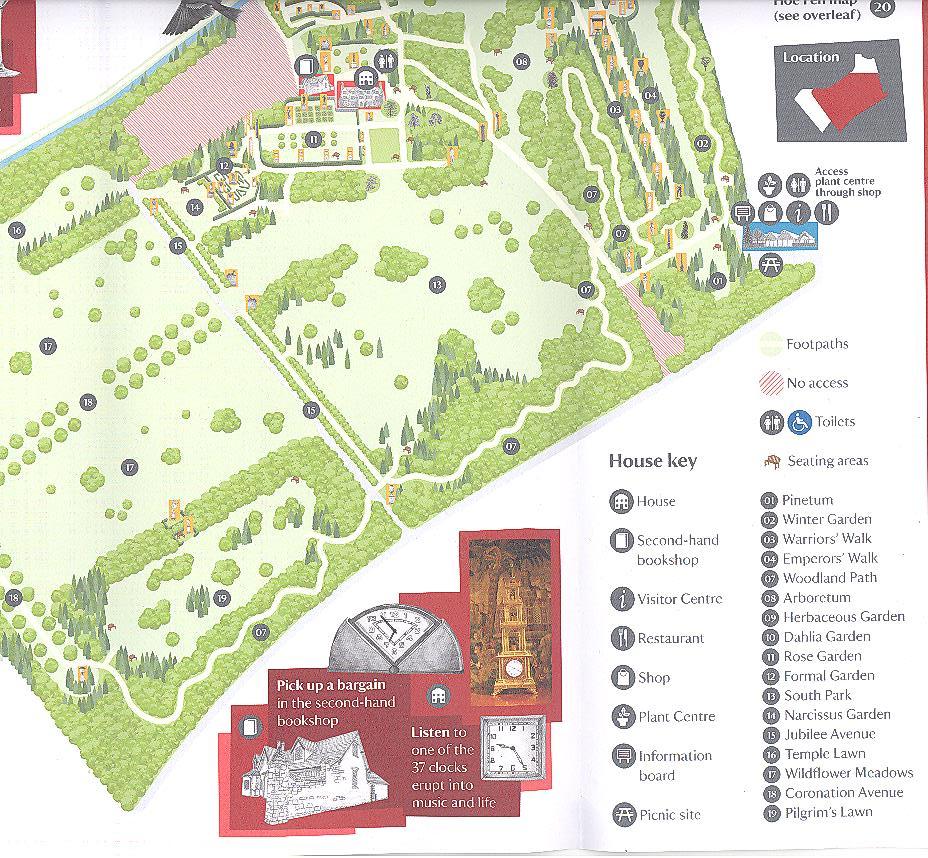 I thought this was definitely one of the best NT properties that we had visited to date. The house was built in the 1920's by Lord Fairhaven, the son a of a wealthy American oil family. He and his brother loved horse racing, owned a stud nearby, and the two brothers lived together in the house. They had an arrangement that the first brother to get married would move out, and he did, living in a property nearer the stud. The family finally moved out completely in 1966 when Lord Fairhaven died, and left the property to the NT.
The place is very well furnished and most of the walls are covered with paintings. There is a grand, and very impressive library , stuffed full of neatly arranged books. Lord Fairhaven loved to collect clocks. They are some very ornate ones on view, but the one I really loved was a roller ball clock (designed by Congreve ? I think). A metal ball rolls left to right along and down a zig-zag groove on a sloping metal plate, and when the ball reaches the foot of the plate, the mechanism clicks, and the plate changes from sloping left to right to sloping right to left, the ball is now at the top of the slope, and starts off downwards once again, but this time, right to left, and so on...
Lord Fairhaven's wife was an American, and the place was very up to date in the 1930's with ever to many bathrooms - some of the bedrooms are en suite ! Most of the Royals have stayed there (it's horse racing territory after all) - eg the Queen, the old Queen Mum, Charles, Margaret, etc. All their signatures are scratched on to a window pane - in the library, I think.
There is a large, fairly priced cafe / restaurant situated beside the entrance. It was £1.85 for a pot of Assam tea which came with an extra jug of hot water, and £1.75 for a fair sized fruit or cheese and herb scone.
There is a good sized second hand book shop on the site, and of course a shop with an outdoors garden section is to be found just near the exit.
The place is very child friendly, with a table of toys, crayons, etc in the restaurant, activity packs to be filled in, plastic steps in the toilets for them to stand on, and of course, the lovely gardens for the kids to run around in and explore. There was also an old fashioned ice cream kiosk beside the house entrance.
It's a place we would visit again with our grand children.
National trust visit 4 of 2013.
Our £44 NT annual membership saved us :- £10.40 each this location, £40.30 cumulative for year to date.
Links to National Trust Properties index and home page


When we are on holiday in Aberdeen we like to get out and about, and one of the places we visit is Montrose, on the east coast of Scotland. From there we usually carry on to visit Kirriemuir, and whilst there in 2013, we thought we would use our NTS recriprocal membership to revisit J M Barrie's birthplace. We had visited there before, many years ago. Since then, the NTS have taken over the neighbouring cottage to add to the available space.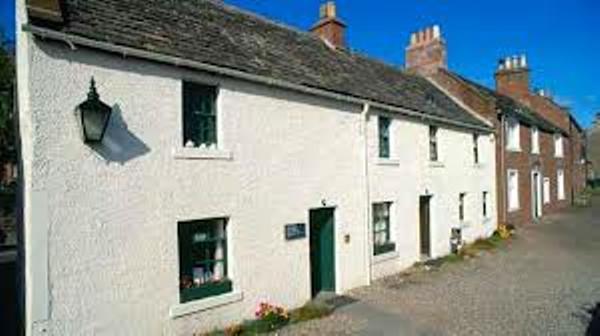 It's all done reasonably well, but I could have done with a bit more information about Barrie's life story. There are lots of bits and pieces given, but it doesn't really give a complete picture. I thought it could and should have been done a lot better.
Barrie lived 1860 to 1937, and spent his early childhood in this cottege in Kirriemuir. It's quite a sad story really, and this is well enough told. His brother David died, and his mum was heart broken. She was lying in bed in a darkened room, cuddling David's christening robe, and Barrie tip toed in . "Is that you ?" asked his mum. Barrie knew that she meant his brother, and so had to disappoint her and reply "No, it's only me." He left the room, and sat at the top of the stairs, sobbing his heart out! What a sad story ! David, of course, remained the same age for ever more - he never grew older, just like Peter Pan.
Kirriemuir, in Barrie's books , was Thrums. His dad was a weaver on a hand loom set up in the downstairs room. The ends of the threads used for weaving were called thrums.
It is a very small cottage - that is the point of it, really, Barrie's humble origins. So I guess the lack of space restricts what can be done and said. There is also the need to preserve the place as it was in Barrie's time. So I guess my earlier criticism of the place is a bit unfair. It's not intended to tell the whole story. But all that said, I still think Barrie's life story is a fascinating one - and it's misssing.
National trust visit 12 of 2013.
Our £44 NT annual membership saved us :- £6.50 each this location, £116.60 cumulative for year to date.
Links to National Trust Properties index and home page


Buckland Abbey, Gardens and Estate is an NT property some 40 miles from Teignmouth where we usually stay when we visit our daughter and family in Devon. Now it is mostly a museum dedicated to the memory of St Francis Drake who lived here in the 16th century.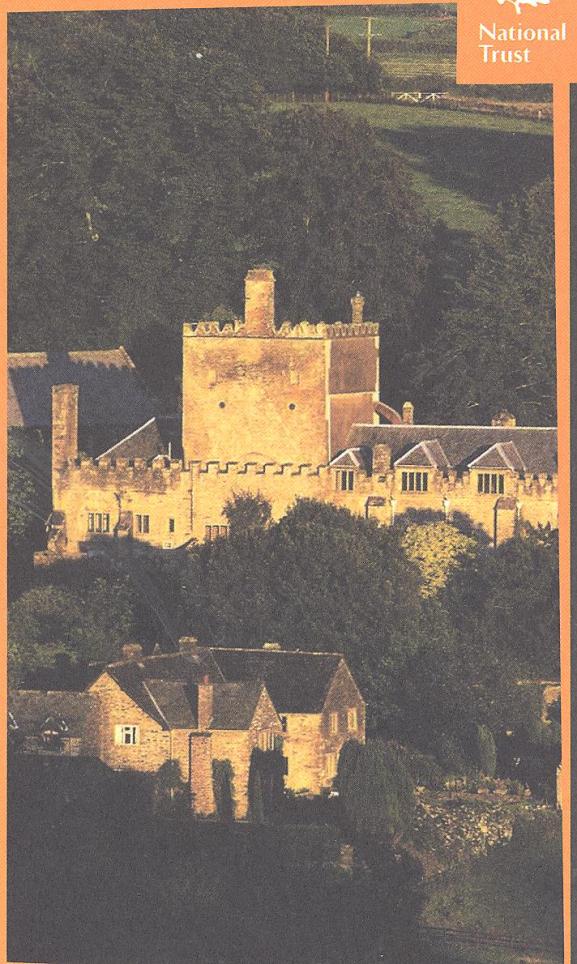 Cistertian monks built the Abbey in 1278 as an offshoot of an Abbey on the Isle of Wight. It had an incredible Great Barn, and the monks farmed the vast estate. Later Henry VIII dissolved the monastries, and Sir Richard Grenville bought the place. He knocked a few walls down, but mostly preserved much of the abbey when he had a residential house built on the site. Sir Francis Drake (c 1540 to 1596) looted Spanish ships (hero or pirate, or both ? ), came home a very rich man, and bought Buckland Abbey from Grenville. The Drake family then lived there until 1938. There was then a fire in one of the wings, and the NT acquired the property in the 1940's.
Today, it is a lovely place to visit, but it is a different set up from the usual NT format. The house is now mostly a museum dedicated the Sir Francis Drake. The museum aspect is well done, and very informative and interesting - but I was amazed that there was nothing about the Drake family members who came after Sir Francis. There is nothing about the history of the place after 1596 ! There is a video presentation about the life of Sir Francis, and the upper floor of the building is set out as the inside of an Elizabethan galleon. And naturally, there are lots of models of the Drakes ship -the Golden Hind.
Sir Francis was a staunch protestant who disliked the catholics, and fought the Spanish, helping to defeat the Spanish Armada in 1588. He must have turned in his grave (or lead coffin, as he was buried at sea ) when one of the final Drakes in the 1900's converted to Catholicism. She renovated part of the Abbey, and had it built into a chapel. The Great Hall is still as it was in the time of Sir Francis, and even the same tiles are on the floor !
There are good gardens in the grounds, especially the Cider House garden. Do look out for the Great Barn - still there as good as ever. There is a restaurant, NT shop, and a second hand book shop. We paid £6.55 for two scones, a tea and a filter coffee, which I thought was fair value for the location. Later, two bowls of soup, two rolls, croutons, a tea and a coffee cost £12.15 - not quite such good value, I thought, but acceptable.
The place did have some child friendly touches - dressing up, a trail to follow, and a few books and toys in the restaurant. I think they are bulding a play area outside, which is a great idea.
All in all, a good day out, and fair value at £9.50 - but I still think that somewhere they should have said something about what happened in the years 1600 to 1938. Even if the following Drakes didn't do anything adventurous, there is still 300 odd years of social history unreported. It's a blank which I thought was simply wierd!
National trust visit 8 of 2013.
Our £44 NT annual membership saved us :- £9.50 each this location, £83.10 cumulative for year to date.
Links to National Trust Properties index and home page


We often stay in Teignmouth, Devon, visiting our grand daughters Chloe and Alice, and their mum and dad of course, who all live in Newton Abbot. Castle Drogo is 28 miles from Teignmouth, in the Exeter direction. We allowed our Sat Nav to take us there, and so went along the M5 for part of the way, then turned left. This then turned into a poor route, involving lots of miles on single track narrow country lanes with few passing places. A better way would have been to go via Bovey Tracey, and so keep to major roads with only a short bit of narrow road at the very end approach to Castle Drogo.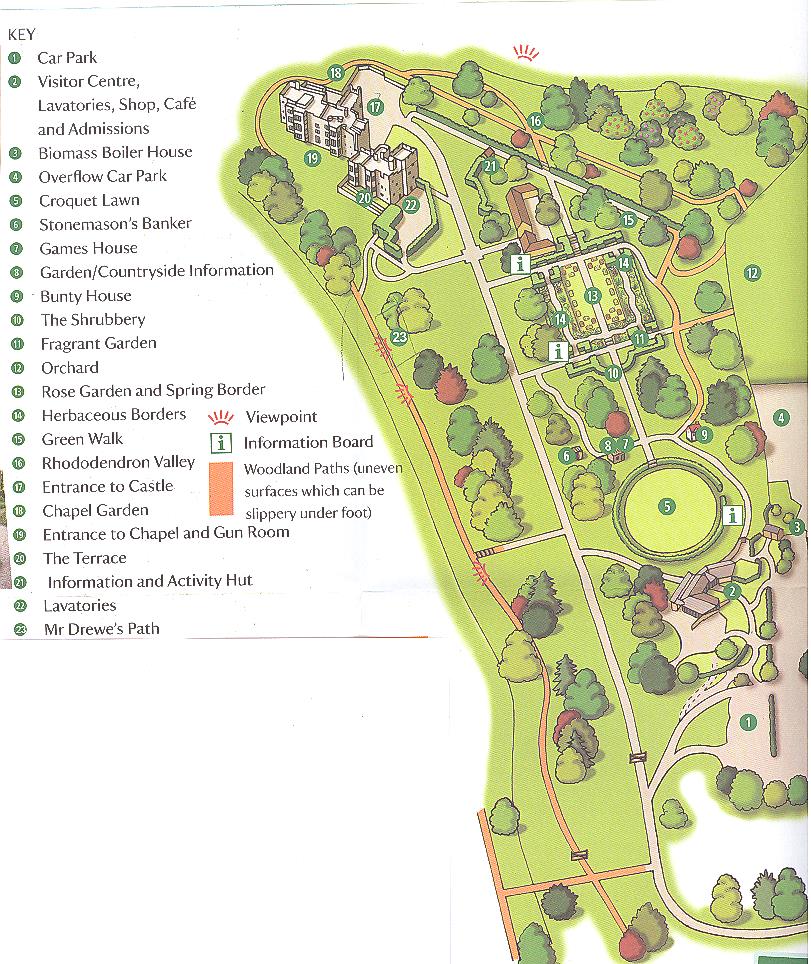 We saw a programme on the local TV news saying that Castle Drogo was undergoing a £12 mil. renovation. We still visited, but were very disappointed to find that just about everything within the castle had been packed away. As NT members we didn't have to pay, but had we paid the £8.70 entrance fee each we might have been just a little tempted to ask for our money back. Our advice would be still to visit if it is a nice day - there are extensive grounds to visit - but otherwise it might be best to stay away for the next five years - ie to 2018 - until the renovation work is completed.
Castle Drogo was designed by the renowned architect Sir Edward Lutyens for a Mr Julius Drewe. Drewe made his fortune selling tea, and built up the Home and Colonial Group. He retired a millionaire in 1933 when a million was a lot of money, and then spent a life of luxury, travelling extensively. He thought he had family ties to the area (Drewsteignton - ie Drewe) and so bought land and had a medieval castle built in spectacular countryside overlooking the Teign valley. He insisted that the castle be built with a flat roof - against the advice of his architect. It leaked from day one ! The castle was completed in 1930. The £13 mil to be spent by the NT (2013 to 2018) mostly involves laying a new membrane roof - removing all the stones above roof height, laying the membrane, and then replacing all the above roof stones. Why on earth go for a flat roof in wet Britain ?
The castle did appear to have extensive grounds, but it was a cold March day, and there wasn't much to see in the gardens, so we didn't do much exploring.
The cafe was good, value for money, and good friendly service, but the service was a bit slow. I had a good pot of tea, and a hot cross bun cost only 95p. I agreed to have the bun toasted, and then had quite a long wait to get it back. A cheddar cheese platter for lunch cost £4.95, and had so much cheese that I had to take half away with me in a doggie bag !
But all that you see in the castle is bare walls, the structure of the castle, and lots of packing cases. Surely almost everything didn't have to be packed away. I thought some of the lower rooms could have been left furnished. So all in all, I was a bit disappointed.
National trust visit 2 of 2013.
Our £44 NT annual membership saved us :- £8.70 each this location, £22.70 cumulative for year to date.
Links to National Trust Properties index and home page


We were on holiday in Teignmouth, Devon, in July 2013, and had previously identified Cotehele House ( pronounced Coat - eel) as a possible place to visit. On Monday, 15th July, it was a gorgeous day, so off we set to go to PL12 6TA the scenic route over Dartmoor, some 50 miles away. We had opted to avoid toll roads on the Sat Nav ( wondering where the toll road might be ?), but it was only when we crossed the river Tamar, and were welcomed into a different county, that we found out that Cotehele House was in Cornwall, not Devon.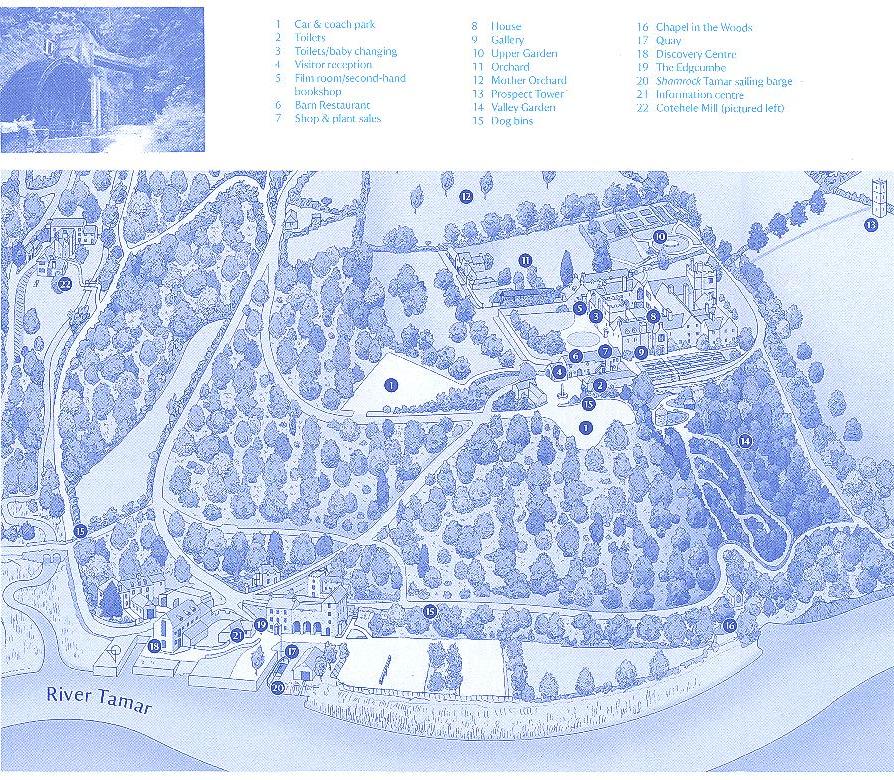 The approach to Cotehele House was along some very narrow lanes - we had to reverse several times - and when we eventually got there, we discovered we had lost a wheel hub cap (£ 20 for a replacement!). It's a rotten journey to get there, but the actual place when you do get there is a real NT gem. There was a house on the site in the 1350's, but the present house was built mostly in 1485. The house was built on the side of a hill, and as extra floors were added through the years, each could claim to be on a new ground floor. It seems like a series of mezzanine floors, stairs everywhere, bedrooms at the foot, then a living room, then bedrooms above that again. There are all sorts of little nooks and crannies. All the walls are covered in tapestries, and where the tapestry covered a door or a cupboard, the tapestry is simply slit to allow the door still to function, but it is not always obvious where these hidden doors are.
The Edgcumbe family lived there for ages, but around the 1600's they had a larger, grander house built - Edgcumbe House - some distance away , with better access to the sea, and so it would have been easier for them to get to London by boat, or to escape to France if necessary. The family moved to Edgcumbe House ( which was built all on one level), and used Cotehele as a "weekend" cottage, or perhaps for the use of visiting royalty, etc. Cotehele House was given to the National Trust in 1947. When Edgcumbe House was destroyed by fire in an incendiary attack aimed at Plymouth in the 1940's, some of the family moved back into a wing of Cotehele.
The Cotehele Estate is some 1,200 acres, and there are lots of walks down the hill to the Tamar where there is a quay, and a restaurant / former pub. It is a 15 minute walk down through lovely gardens, but it takes more that 15 minutes to climb back up the hill again. An alternative to to drive down the hill, and park in another car park at the bottom. Sometimes there is a courtesy mini bus running to take people back up the hill - but not when we were there.
There is a second hand bookshop, an NT shop, 2 restaurants, and lots of estate and gardens to explore.
I am sure children would like the place, but it's not especially geared up for them - i.e. not many toys to play with, nor things aimed specifically at children
In the restaurant at the top of the hill, a tea, large mug of coffee, and a slice of shortbread cost less than £5, fair value I thought. They did give us an NT loyalty card - buy 9 hot drinks, and get one free. We would have filled this card long ago if we had been given it before - perhaps its just for participating NT properties, and this is the first such place we had visited ? We had lunch in the other restaurant down by the Tamar - not quite such good value we thought, but OK.
The Quay was well worth a visit, but it was so hot, we decided to give the Mill a miss. All in all, a good day out, apart from the difficult narrow lane access. There was a toll on the Tamar Bridge to leave Cornwall, but not to enter.
National trust visit 10 of 2013.
Our £44 NT annual membership saved us :- £10.00 each this location, £98.10 cumulative for year to date.
Links to National Trust Properties index and home page


We were on holiday in Aberdeen, and thought we would use our recriprocal membership of the National Trust of Scotland to see a few of the castles for which the area is famous. Apparently our recriprocal membership also includes Australia - so we are looking forward to using that later in 2013.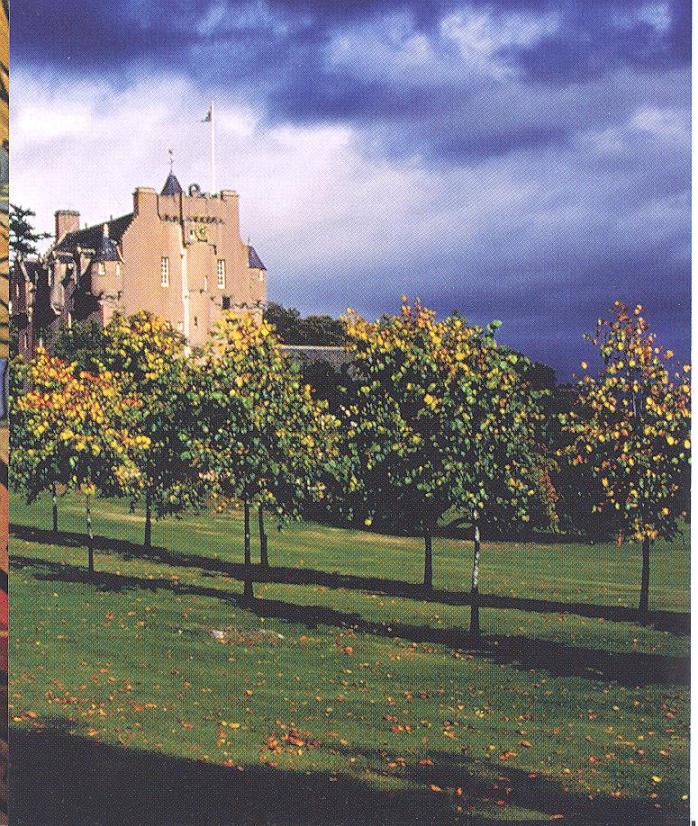 Crathes Castle is 14 miles inland from Aberdeen, along the North Deeside Road, some 3 miles short of Banchory. It had been raining overnight and early in the morning, but the weather cleared up and into a bright sunny day, so we were able to enjoy the gardens as well as visit the castle.
Crathes Castle was built in 1596 for the Burnett of Leys family, and the Burnetts lived here for some 400 years. The National Trust of Scotland took over the tower of the castle in 1951, with the Burnetts still living in the Victorian wing. But there was a terrible fire in 1966 which destroyed the two wings, (the main tower was saved), and so the family had to move out. They now live in property not too far from the castle, and still visit occasionally.
The fire destroyed a lot of the treasures - not much was left. But we still enjoyed looking round the castle - it didn't appear bare really.
We used the restaurant twice. A tea, coffee, and two large scones cost £6.50 - very good value, I thought. For lunch there was a choice of two soups - £3.70 including a chunk of bread. Again fair value, I thought. There was also a shop with the usual high quality, but expensive items.
We really enjoyed looking round the walled gardens which date back to 1609. The clipped Yew hedges were spectacular - they are clipped once a year, and treated to recover a chemical used to fight some cancers. There are permanant National Trust gardeners and volunteers, and all deserve praise for maintaining these beautiful gardens. I would say these were the best walled gardens we had seen to date, but perhaps excluding those at the Castle of Mey, made special by the Queen Mum association.
There were a lot of children walking around with clip boards, looking for hidden toy knights in each room. Each knight had a letter of the alphabet, and the children had to put the letters together to make a well known word. There was also a soft play area, but that was only open on Saturdays, which was a pity. There were extensive tree walks.
No photos were allowed. They now seem to be allowed in NT England properties. However, we were allowed to take pictures of the gardens and parkland from one of the windows at the top of the castle.
National trust visit 11 of 2013.
Our £44 NT annual membership saved us :- £12.00 each this location, £110.10 cumulative for year to date.
Links to National Trust Properties index and home page


Since our daughter and family moved to Devon, we tend to spend most of our holidays visiting there. Before that, we used to visit most parts of the country, and one of the places that we loved to visit was great Yarmouth and the Norfolk Broads. So, in May, 2013, just for a change, we found ourselves once again back in Yarmouth, on a week's holiday. Felbrigg hall is some 37 miles north of Gt Yarmouth, and about 3 miles from Cromer.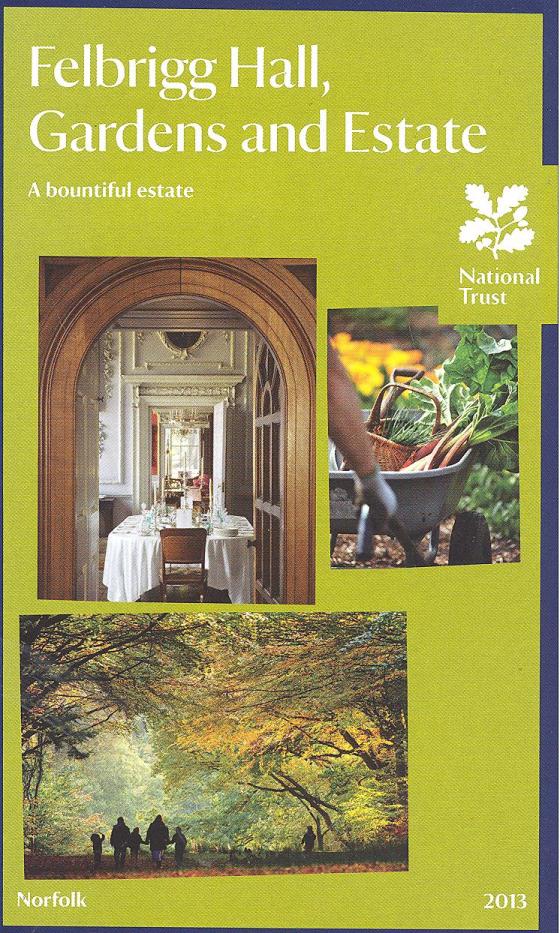 We found the place quite easily by post code and Sat Nav - although we later noticed that the brochure warned that the post code / Sat Nav combination did not work. I wonder why they said that when it worked all right for us ?
There are extensive grounds and woodland, and lots of walks. There is the usual cafe and a restaurant. Two scones, one fruit, one cheese, a pot of tea for one, and a large mug of filter coffee cost £6.70 - a fair price, I thought for large home baked scones. At lunch time, there was a big queue in the cafe, so we went to the restaurant where a large bowl of soup and a roll cost £4.95 - the same price as in the cafe.
Felbrigg Hall dates in parts from 1620, and it was owned by the Windham family from then until about the 1960's - but there was a blip when one of the Windham family went insane and lost all their money. A Norwich merchant then bought the house ( the Cremer-Cremers and the Ketton-Cremers) but confusingly, the new lot were also known as the Windhams. I thought this story was a bit like Trigger's broom in "Only Fools and Horses." Of course you can have the same Windham family in residence for centuries if a new lot change their name to Windham !
We noticed that Lady Sophia Hervey married one of the Windhams. We rememebered the Herveys from our earlier visit to Ickworth (near Bury St Edmunds).
The house is a typical NT property - lots of very elegant grand rooms with matching furniture, and paintings and artifacts galore - souvenirs of grand tours. When a room was refurbished in the past, the Windhams simply moved all the old furniture out into the corridor where it remained. When the NT acquired the property in the 1960's the whole place was stuffed with furniture and all sorts of strange things were crammed into every drawer and cupboard. It took the NT years simply to catalogue everything. Or am I missing something here ?
Outside there was a wonderful walled garden with excellent displays, all well labelled. Some of it was let out as allotments. There was an area with nettles for the butterflies, and lots of bee hives. Visitors were warned to keep well clear of the bees - sound advice I would have thought. I thought it was one of the best NT gardens that I had seen.
I thought the place was reasonably child friendly, and there were games set out on the lawns for the children to play with. All in all, then, well worth a visit.
National trust visit 7 of 2013.
Our £44 NT annual membership saved us :- £10.00 each this location, £73.60 cumulative for year to date.
Links to National Trust Properties index and home page


We were on holiday in Aberdeen, and it was a nice day weather wise, so we travelled the 25 miles NW of Aberdeen to visit Fyvie Castle.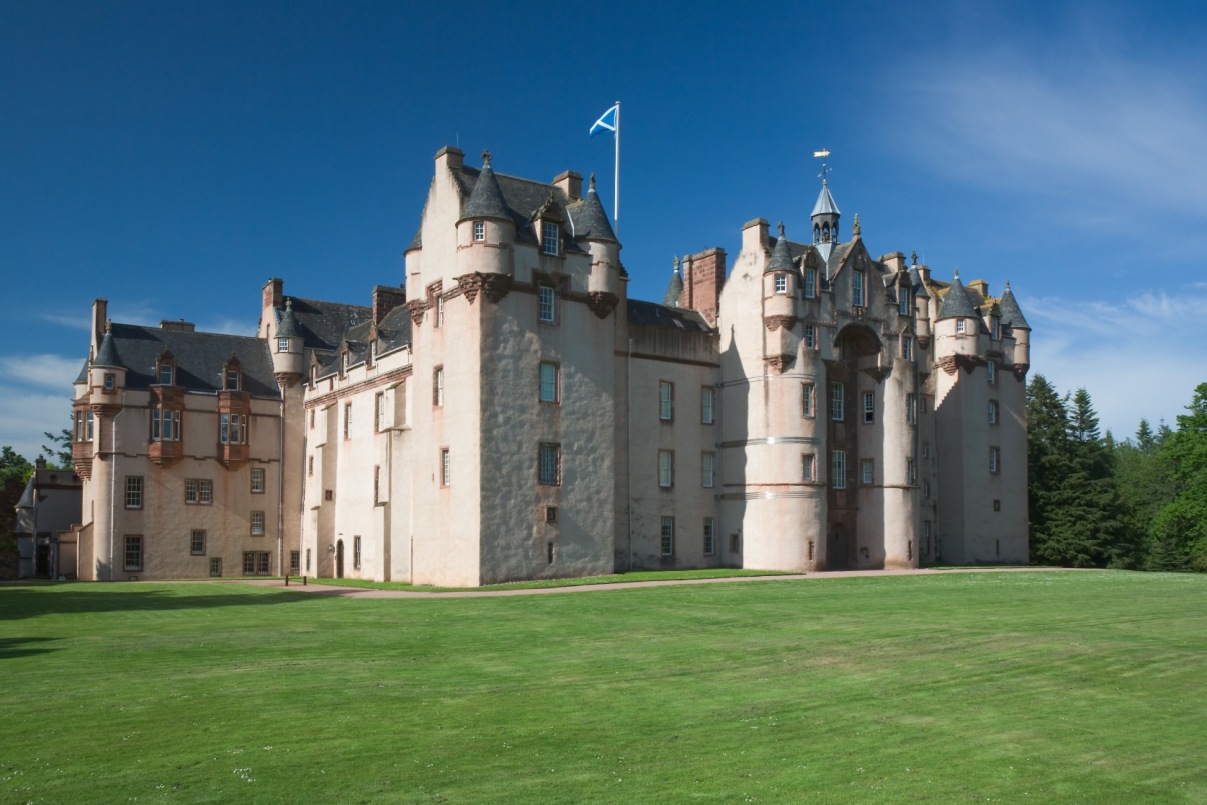 The castle has 800 years of history, and has been owned by five families - the Prestons, Meldrums (the town of Old Meldrum is near), Setons, Gordons, and the Leiths. The Leiths can trace their ancestory back to the Prestons, so that is a nice bit of symmetry.
It is a lovely, friendly castle with a huge spiral stone staircase, and lots of floors, and very well furnished rooms - and many paintings, some by very famous painters. I could have done with a bit more information about the history of the house. There were guides, but no printed cards to read as we wandered from room to room. There could also have better signage outside.
It was reasonably child friendly - they had a sheet to complete, and had to find the green lady dolly hidden in each room. The green lady was the ghost of the first wife of one of the owners, whom he locked in one of the towers, and starved to death when she failed to provide him with a male heir. Hard times indeed !
There were some lovely views out of the windows. The tea rooom was small, but not at all busy when we visited. Tea, coffee, and two scones would have been an acceptable £6.90, but they charged us 90p for two small jars of jam, so the bill was £7.80. I thought it was mean to charge extra for the jam. The scones were freshly baked and delicious. For lunch, soup and a small roll cost £3.95 which I thought was very fair. The walled garden was not as spectacular as the Crathes one, but still worth a visit. It grew vegetables and soft fruit which you could pick, and leave the money in an honesty bucket. When we visited there were masses of black currents, but no one to pick them. What a waste. If they were in my garden, I would have had them picked !
It was a good day out, but I would recommend Crathes over Fyvie for the better gardens. But the Fyvie Castle contents beat those of Crathes.
The National trust of Scotland bought the castle in 1984.
National trust visit 13 of 2013.
Our £44 NT annual membership saved us :- £12.00 each this location, £128.60 cumulative for year to date.
Links to National Trust Properties index and home page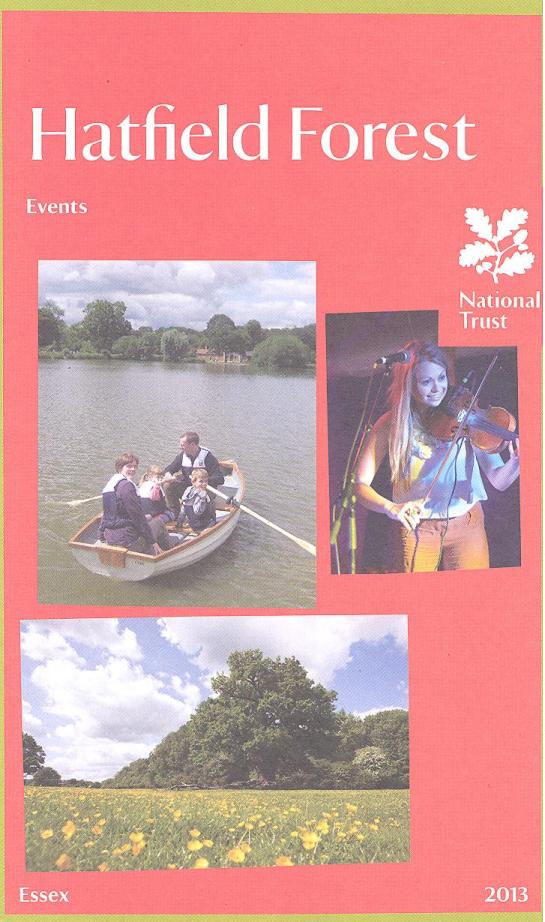 We have visited Hatfield Forest many times through the years - it's only about 10 miles from where we live, and if it's a nice day and we have visitors its a good place to take them for a stroll through the ancient woodlands, round the lake, and perhaps then have a tea or an ice cream at the stall beside the Shell House.
Terry and Maddy were over from Brisbane, and it was a fairly good Monday afternoon, so we took them there, and for the first time parked free (using our NT anual membership) in the car park, saving £5. Lots of cars park outside the car park on the grass verge of the road - and that is where we would usually park too.
There is usually something on every month.
National trust visit 9 of 2013.
Our £44 NT annual membership saved us :- £5.00 total this location, £88.10 cumulative for year to date.
Links to National Trust Properties index and home page


I "borrowed" this photo from their web site - hope no one minds !

High Cross House is about 17 miles from Teignmouth, Devon - a place we often stay when we visit our daughter and her family. The House is very near Totnes.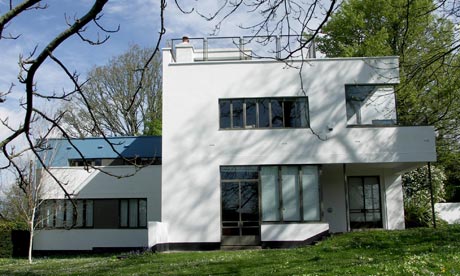 Like Castle Drogo, this house was completed in c 1932 - so neither is particularly old, in fact not even as old as our own house (1900). It was built as an example of modern architecture (the Modernism movement) for a Mr Curry, the then headmaster of the progressive nearby Dartington Hall school. He thought that the children at the school should be surrounded by challenging design, and pupils were invited to visit him there, and to enter via the side "patio" windows - less intimidating than knocking at the front door.
High Cross House was designed by the architect William Lescape who moved to America, and designed modern skyscrapers. Everything in the house, all the fittings, furniture and cupboards, etc, were designed by the arctitect to create an overall balance, and a feeling of space and openness. Working from America, the architect didn't appear to appreciate the vagaries of the local British weather. The house had a flat roof, and was painted white. It used extensive full wall metal frame Crittal windows (not double glazed). In short, the house was always high maintenance, and expensive to heat. I'm not sure I agree that pleasing the eye rather than pleasing the pocket is good design - but these were different times, and apart from anything else, we don't require servants quarters any more. I guess if you can afford servants you can afford high running costs.
The house is now used as an exhibition centre, and it's good in this role, even though it is a bit off the beaten track. You really need a car to get there. I didn't think it was particularly child friendly, but there was a grand piano there, which pianists were invited to play. I wonder if that would include aspiring child panists ? However, I was later told that my two grand daughters, Chloe and Alice enjoyed their visit there.
It is a big house by modern standards, but small by National Trust standards. You can see just about everything in an hour.
We were pleasantly surprised to find that they did have a small cafe in one of the upper rooms. We both enjoyed excellent leak and potato soup, with crusty bread, for £4.50 each - fair value for money.
I thought it was a fairly interesting place to visit, but perhaps not a place to return to time and again.
National trust visit 3 of 2013.
Our £44 NT annual membership saved us :- £7.20 each this location, £29.90 cumulative for year to date.
Links to National Trust Properties index and home page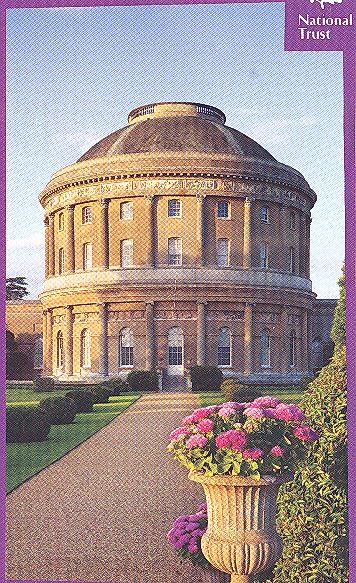 I "borrowed" this photo from their mini brochure - hope no one minds !
Ickworth House and Rotunda is about 4 miles from Bury St Edmunds, and about 53 miles from where we live. I had asked friends who were in the National trust for recommended local NT properties, and quite a few had recommended Ickworth. "It's got very good food", they said. Perhaps I was expecting something exceptional, and so was disappointed. Don't let me put you off visiting. I enjoyed our visit, and thought it was a lovely place, with beautiful grounds, but I preferred Anglesey Abbey. And I thought that the food at Anglesey Abbey was just as good, but better value.
Ickworth was the home of the Hervey family who later became the Earl and Marchioness of Bath. They bought an old property along with extensive grounds, demolished the old property, and built the Rotunda to house and show off the Earl's treasures - the result of extensive travelling. There is an impressive library, and books galore throughout the house. There are also lots and lots of family portraits. The Hervey family had many eccentrics, and their stories are to be read on displays throughout the house.
The basement to the Rotunda houses the servants quarters, and the kitchens. Displays advised that by the 1930's service was dying out, and the house could never get enough maids, nor keep them. But equally in the 1930's, no local, knocking at the door asking for employment was turned away - the family thought it was their duty to provide local employment. In return, the wives and daughters of these estate workers were expected to lend a hand when asked - eg for a shooting party or whatever.
Two wings were added to the Rotunda to show symmetry. One of these was just an empty shell for ages.
We had a not very generous pot of tea for two, and scones and butter - expensive I thought at £7.50, and jam would have been extra. It should have been about £6.70 or less. So we had a late lunch in Bury St Edmunds instead of lunching at Ickworth. A bowl of soup would have been £4.95. There was no mention of crusty bread, but perhaps that came with the soup, perhaps not.
The place was reasonably child friendly, with tables to sit at, board games, hats to try on, and an upright piano to play.
When we visited, the kitchens had an historical re-enactment, with volunteers acting as maids and servants, but in "ghost" mode. They heard and spoke to each other, but ignored the visitors who were not of their time. It was all done very well, top marks for that, I thought.
It was a sunny day, so we enjoyed looking round the grounds. The Italianate garden, one of the first in England, was immaculate. The walled garden was some distance away, and when we got there, it was just a wide expense of brown , cleared soil, with nothing growing. The family church, situated in the grounds, was in the final stages of an English Heritage renovation project, and so was closed to the public.
A good place, well worth a visit if the Rotunda is open, but not exceptional.
National trust visit 5 of 2013.
Our £44 NT annual membership saved us :- £13.50 each this location, £53.80 cumulative for year to date.
Links to National Trust Properties index and home page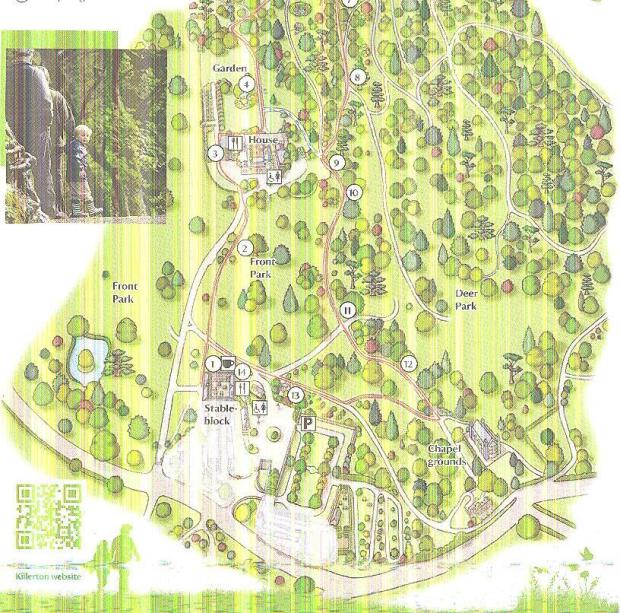 Killerton House is near Exeter in Devon, and is some 23 miles from Teignmouth. We were there for a week's holiday in Devon, revisiting Kirsty,Andrew, Chloe and Alice, and decided to make further use of our anual NT membership.
It was a rainy, misty day when we visited, and so we concentrated on the house, to say indoors. We had visited Killerton a few years previously with Kirsty, Andrew, Chloe and Alice when the NT had an open day - so we knew that the place was reasonably child friendly, as the girls had enjoyed their visit, especially the dressing up in Victorian costumes. There were also hidden toy mice in each room for children to find, and add to their list. If they managed to find all the mice, they got a sticker. There is a local story of treasure hidden in the grounds, and guarded by a friendly dragon, so perhaps hidden dragons rather than hidden mice might have been more appropriate.
The house has an interesting history, and has been in the Acland family from 1622 to 1944 when it was gifted to the National Trust - and later opened to the public in 1978. In the 1600's, the Aclands were on the Royalist side in the Civil War, and were fined heavily for supporting the king. They had to move from a near bye property into Killerton. Later they tried to build an imposing house on the site, but fell out with their architect, and employed another to build a temporary house within a year. It was this that was added to through the years by successive generations of Aclands. The house was at it's peak in the 19th century.
The family were always politically active, and were Liberal MP's father and son. About 1940, the then Acland had pronounced far left leanings - he helped to found the British Communist Party (The Common Wealth Party). He beleived that all land should be in common ownership, and announced to his wife that he was to sell Killerton to fund the new party. His wife pointed out that the estate was more than just land - it was a community of people for whom they were responsible. So the estate was given to the National Trust as a compromise, and to keep the estate intact.
Downstairs, the house is set up as a comfortable country house - you can sit in the soft chairs, take books from the bookshelves in the imposing library, and if you have the skill, play the piano or organ. Definitely visitor friendly. But upstairs, everything was given over to a costume display - so there were no old bedrooms, no old toilets, and no old kitchens to look at, and I felt cheated. It was only half an old property, half a modern exhibition. I would much prefer to have found that all the house had been preserved as it used to be. That said, funds are not unlimited, and I guess the NT must compromise where it has to.
The cafe and restaurant were quiet when we visited. Tea, coffee, and two small scones cost £6.25 - OK, if the scones had been bigger - I always feel cheated when I only get a small scone. Lots of places supply big scones for the same price! For lunch, soup for me and a sandwich for Christine, tea and a coffee cost £12.20, reasonably fair, I thought. Strangely both cups of tea that I had tasted slightly "fishy" - I have no idea what caused that.
There were impressive gardens and parkland outside, a chapel, and a bear house - one of the Aclands had a pet bear called Tom. But it wasn't the best of weather, so we just had a quick look at the nearest garden. There is also a shop, a second hand book shop, and a plant shop.
All in all it was a slightly disappointing visit. Could that have been because we had visited there before, so our visit wasn't a new experience ? It was only a half preserved house, and there were not enough information boards in each room. But I guess the NT do their best with scarce resources, and I can't expect every place to be the same. Maybe with 14 visits this year to date, I have over done it.
National trust visit 14 of 2013.
Our £44 NT annual membership saved us :- £8.70 each this location, £137.30 cumulative for year to date.
Links to National Trust Properties index and home page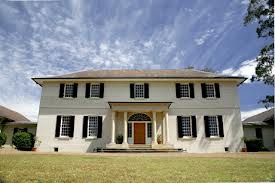 We were in Sydney, Australia in November, 2013, and had failed to use our recriprocal membership of the NT of Australia to get into Government House in Sydney - it's only open at weekends, and then entry is free - so we decided to try again in Parramatta, slightly further inland. The early settlers had landed in Sydney in 1788, and tried to plant crops near the shore on a site that is now the famous Sydney Botanic Gardens. But the soil was too sandy and salty, and the crops failed. So the Governor and his crew went some 10 miles inland, up the Parramatta river, and found a very fertile area where luckily the crops flourished, famine and disaster was averted, and the early settlers were fed.
The approach to the Old Governor's House is a short walk through beautiful parkland, and on the top of a grassy, well tended hill, you find a very modern looking Georgian house. It seems too clean, and too modern to date in parts from the 1790's. We found the entrance round the side, and were greeted with a very familiar NT noticeboard proclaiming "House, Museum, Restaurant, Tea room", so in we went.
Entrance to the house was by way of a roughly one hour long guided tour, and we had an excellent guide who told us not only of the history of the house, but about early Australian history, and about the 10 governors. He explained that all that the early settlers had available was what they had brought with them in the expeditionery force which landed in 1788. There were only about 9 horses, so wagons had to be pulled by teams of six or four convicts. Early convicts were mostly manually skilled labourers, but occasionally someone would turn up with a professional skill, and he would be promoted to head brickmaker, or head clockmaker, or head architect. Otherwise they had to make do and adapt.
The Governor's House seems to be fronted by four stone pillars which the new architect designed. But no one knew how to make stone pillers, so they used tree trunks coated with a lime paste mortar so that end result looked remarkably like a solid stone piller. In the entrance hall, the wooden floor is painted into black and white squares, to give the appearance of tiles, an imposing "marble" fireplace is painted wood looking remarkably like marble, etc, etc. All is not what it seems.
Otherwise the place was run by a butler and a cook - just like an English country house. The place looked quite plain compared to a UK NT property - plain walls, no tapestries, few paintings, few window drapes, etc. But this was in keeping with the need to keep the place cool.
The early settlers sort of tried to get on with the local tribe of aborigines, but it was a real clash of cultures. The aborigines roamed free, and helped themselves to wild fruit to live. They never "owned" the land, they roamed the land. The new settlers divided up the land, built fences, planted fruit trees, and objected to or even shot aborigines who seemed to be thieves when they helped themselves to the fruit to eat. The punishment for shooting an aborigine was the same as for shooting a white man - hanging - but as I said it was clash of cultures. Aborigines were invited to attend feasts, but had to behave on white man's terms. Aspects of the history are shamefull - e.g. the lost generation of abducted aborigine children. But these were different times.
Of course we had to try the tea room. It was more an upmarket restaurant with linen tablecloths and napkins, than a tea room. A tea and a coffee but nothing to eat cost c £7.50, cf about £5 to £6 elsewhere. But service was friendly, and I got a huge pot of good tea.
Overall, it was very, very interesting, everyone was very friendly and knowledgeable, and it made a change from a visit to a UK NT propery. Parramatta itself had some interesting old buildings, but these were lost within a modern setting, but it was a nice place to visit, and access by train was easy.
The visit to this propery with probably be our last NT visit for a while as our annual membership lapses soon, and we will probably leave it a while before possibly renewing some time in the future. We have seen most of the NT properties where we live, where we visit in Devon, and even a few near Aberdeen. We have almost run out near by new places to visit.
National trust visit 15 of 2013.
Our £44 NT annual membership saved us :- £5.40 each this location, £142.70 cumulative for year to date.
Links to National Trust Properties index and home page


Again, I have "borrowed" this photo from their brochure - hope no one minds !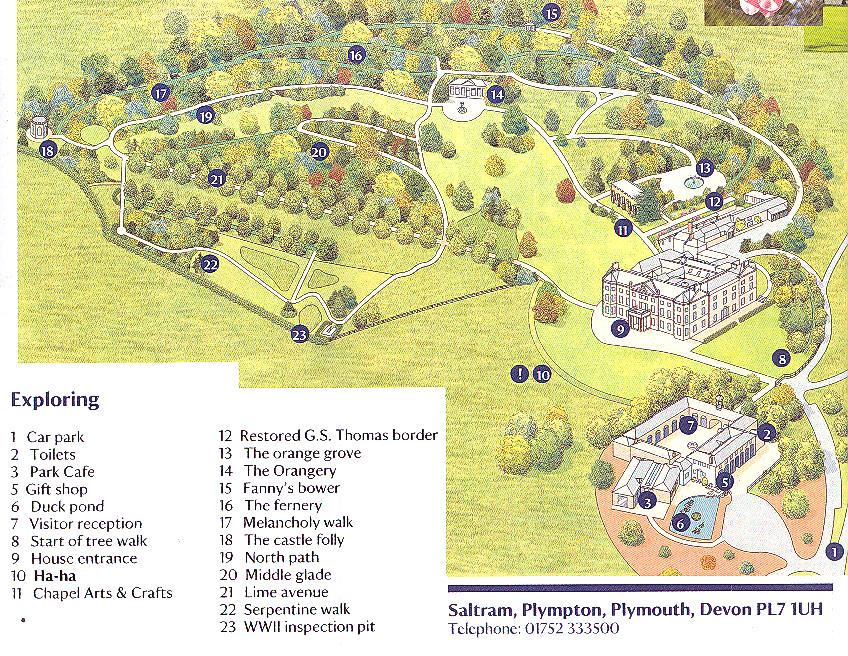 Saltram House is an NT property on the outskirts of Plymouth, some 40 miles from Teignmouth, where we stay when we visit family in Devon. The place took a lot of finding. Following our Sat Nav to the post code took us along a lane past a gypsy camp, to a locked gate. We could have walked from there, but there was no place to park, nor vehicle access. We asked some ramblers for guidance, and kindly they advised that the correct thing to do is to head for Plympton, and then go to Saltram House.
I was quite impressed by the restaurant - £5.75 for tea, coffee, and two scones. Later for lunch, we had two jacket potatoes with slices of chicken, and Devon Chutney for a very reasonable £4.95 each.
There are pleasant gardens, and parkland walks, a second hand bookshop with an honesty box, and of course the obligatory NT shop. Saltram House was converted from a farm house to a mansion in the 17th century, and was acquired by the Parker family in 1712 who had bought it for the land, but then gone on to build a large house. They moved in in 1734. The NT acquired the house in the 1950's - the last member of the the family who lived in the house, in apartments in the west wing, died in 1999.
There is a spectacular grand living room, designed by Adams, plus the usual other grand rooms, kitchens, and a very well stocked library. The place is crammed full of paintings, on all the walls in all the rooms. There are elegant stairs at the end of an impressive entrance hall.
The place is reasonably child friendly, with a "spot the wooden mouse" game to play in each room. Tick all the boxes on a form, and you get a sticker. There are also dressing up clothes.
The house was a bit late in opening, twelve noon on the day that we visited, but the restaurant opens earlier, as does the shop. We enjoyed our visit, but it's not a place to visit and revisit - apart perhaps from repeat visits to the grounds.
National trust visit 6 of 2013.
Our £44 NT annual membership saved us :- £9.70 each this location, £63.60 cumulative for year to date.
Links to National Trust Properties index and home page


Wimpole Hall is a National Trust grand country house, situated just over 8 miles south west of Cambridge, off the A63. It is reasonably local for us, about 37 miles from our house. It is the largest house in Cambridgeshire, and sits in it's own estate of 3,000 acres. The following plan shows the layout :-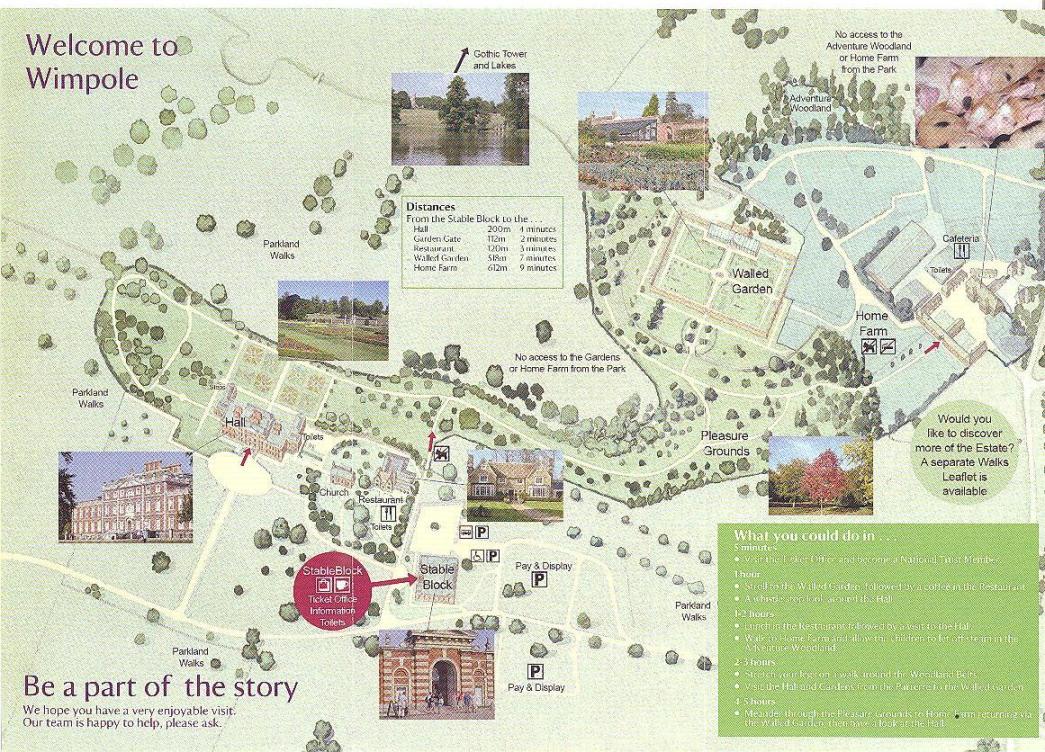 The Hall dates from 1640, but there had been a mansion house on the site since about 1400. The propery and estate was acquired by the National Trust in 1976.
We visited on a chilly Saturday at the start of February - 9th Feb, 2013 - so concentrated on indoor things to do and see. This was our first visit to a National Trust property since we became members at the very start of 2013. If we had had to pay at the door, it would have cost £14 each for entry - so that is £14 of value from our membership so far this year. If we aim to visit one property a month, we should get value for our annual membership.
It certainly is a big impessive house, with lots and lots of rooms, over three floors - reception rooms, dining rooms, bedrooms, servants quarters, library, ballroom, etc, etc. We showed our membership card at the ticket office in the stable block, and got a sticker for our jackets. We had a quick look at the shops in the stable block, and then had a cup of tea at the restaurant, and then visited the Hall next, just wandering from room to room and following the direction arrows. The route was well laid out, and there were very helpful guides in just about every room to explain where we were, give a little background, and answer any questions.
In the library of about 10,000 books (so the notice said) there was display about a restoration project for about 400 of these books which had become damaged when water penetrated the building. The insurance pay out was c £359,000, and this was being put towards the cost of several years of painstaking restoration work. As an aside, I wonder if this was the best use of scarce resources, considering there were 9,600 other books just sitting on shelves in front of us. How often would these be consulted, I wonder ? Don't get me wrong, I am all for conservation, usually, but perhaps not in this case. On the other hand, I don't really know the value nor history of the damaged books.
The Hall has an interesting history, and had been used as a grand home by a succession of families since 1640. Lots of famous architects and landscape gardeners (eg Capabilty Brown) had all added their contributions through the years. There are lakes, wood land, a tower folly, and even a working farm - entry to which was an extra cost, even to NT members. Unusually for the NT, it took on the surrounding estate when it acquired Wimpole Hall in 1976, when it was given an endowment by Elsie Bambridge, one of the last independent owners. In the old days, the "big" houses had surrounding lands and farms to supply them with produce. And here this link is preserved, with the attached farm supplying produce for the restaurant and farm shops - and eggs, etc for the local shops.
Elsie Bambridge, mentioned above, was Rudyard Kipling's daughter - she inherited his fortune, and royalties, and used the wealth first to restore the Hall, buying back furniture and items sold through the years, and then to give an endowment to the National Trust in 1976 to ensure it's future. I was impressed with an old gas chandelier in the ballroom.
I didn't think the place was particulary child friendly. They did provide older children who could read with clip boards, on which they could answer various questions and puzzles as they wandered from room to room, and all the guidees were definitely very child friendly, but I've been in other places where its all been done so much better - an old piano which children can play, toys dotted about in odd corners, a period costume dressing up room, etc. There was none of this here - which I thought was a bit old fashioned of them, and a trick missed.
We visited the site restaurant twice - once in the morning for tea or coffe, and two scones for £6.80, a bit pricey - and for lunch, two bowls of vegetable soup, crusty bread, a tea and a coffee for £11.20. It was clean, and good quality - slightly on the expensive side, but not excessively so.
We might visit again when it is warmer - to see more of the estate. We did visit the walled garden, but there was not much growing in early February. The greenhouse and potting sheds were locked, but there were some items for sale beside an honesty box.
National trust visit 1 of 2013.
Our £44 NT annual membership saved us :- £14 each this location, £14 cumulative for year to date.
Links to National Trust Properties index and home page