Iain's Leisure Reading
In these write ups, I usually start off with a little about the author, but this book is by the author telling his life story - i.e. no author introduction necessary. However I can write something about the author that I have never been abvle to say before. I know Martin Pistorious, as he lives across the road from us and I sometimes see him out and about in his wheelchair. His is an inspiring story.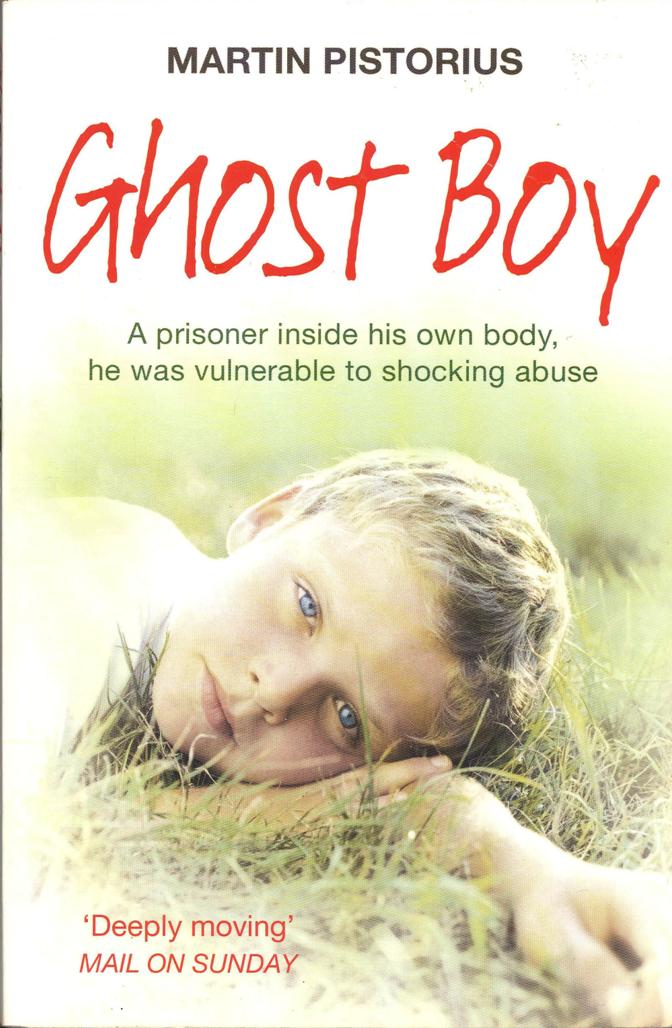 I read this book in February, 2022.
I thoroughly recommend this book for two reasons. Firstly, it is an inspiration, the true story of Martin Pistorious, locked away in an unresponsive body, but aware, and not able to let anyone know - trapped as a "Ghost Boy". Secondly, we actually know Martin - he is a neighbour who lives across the road. We first met Martin at a mini street party to celebrate VE DAy. I was chatting to some neighbours across the road, noticed a man in a wheel chair, and went over to say hello and introduce myself. Silence ! Then he took out his mobile phone, and started tapping away at it. How strange, I thought. But then the phone spoke to me, and I realised this was someone who had lost the power of speech. We "chatted" for a few minutes, and then I moved away to speak to other neighbours. Much later, another neighbour told me that Martin had a remarkable history, and later still I heard of this book. I sometimes see Martin, out in his wheelchair. A few years ago, he had a baby boy on his knee, then his son was a toddler on reins beside the wheelchair, and now he is a three year old, an enthusiastic player of the tambourine accompanying Christmas street carols.
Martin was born in Johannesberg, South Africa, in 1975. His mother is called Joan, his father Rodney, and he has a younger sister Kim, and a brother David, and there is Pookie, the dog. In 1988, at the age of 12, he was struck by a mysterious but devastating neuralogical illness, where he lost contol of his body. Fingers curled, limbs twitched out of control, and he could not support his body weight. Worse, he had started to lose his memory, he could not speak, and his mind started to switch off. He was fully out of it 1.5 years later - fully switched off. But after a few more years his mind started to wake up again, and 4 years later he was fully aware again - he heard his carers discussing his 16th birthday - but he was unable to let anyone know he was awake again. And so for the next 9 years, this terrible existence persisted, until a new, part time carer, Virna, turned up, suspected he might be aware, found out more about the condition at a lecture, failed to convince anyone at the care home, but told Martin's parents. They arranged for him to be assessed in 2001. In 2003 he has progressed to using a computer to communicate with a "robot" voice - he has discovered that he has a gift, skill, ease for computer use. In 2004 he is working 4 days a week, and learning to build web sites. He is much in demand in academic circles as the student who has put theory into practice. In 2007, he is one of only two "non functioning speech" (what a terrible expression ) students to graduate from Uni, and he meets the president of South Africa - President Mbeki. In 2008, in a family web chat with his sister Kim who is working in the UK, he meets her fellow social worker friend Joanna, and Martin (32) and Joanna (33) hit it off. She becomes the love of his life, and the story has a happy ending when they marry in 2009 - he had even proposed in a hot air balloon. The book concludes with Martin and Joanna living in a small flat in the UK, with Martin doing web design, and being a devoted house husband.
The above, then is the bare time line, but please do read the book for Martin's searingly honest description of what it all felt like. Initially Martin was in a care home through the day, parked in front of a TV showing mind numbing young childrens's TV programmes all day. Martin slowly learns to tell what time of day it is, by watching sunshine creep round the room, and making a mental note when ever anyone mentioned what time it was. Thus he worked out 10:00 am was morning drink, 11:30 am lunch (yoghurt), 3:00 pm afternoon drink, and 5:00 pm time to be collected by dad, and go home.
His illnss placed a terrible strain on the family. Experts kept telling his mum and dad that full time care would be best for Martin. Stubbornly, and thankfully, his dad resisted, but his mum was swayed by other loyalties too - i.e. Kim and David deserved childhood attention too. His parents were in despair, and, depressed, his mum even thought of suicide. When she knew he was aware, his mum became his fierce champion. Martin is immensely grateful to care worker Virna, who realised he had a functioning mind, and did something about it. Martin fell in love with Virna, and was disappointed when she said she only wanted friendship, but nothing more.
Martin talks of his three Furies - Frustration, Fear, and Lonliness. He observes shared love in others and longs for such a thing in his life. His grandfather and grandmother had been in love for 60 years. But Martin has missed out on his teenage years, and does not know how to interact with girls, and interpret what is being said. He consistently makes mistakes, and ends up disappointed. And so, when he finally meets Joanna and they exchange email addresses, he does nothing - fearing another rejection. But Joanna was made of sterner stuff - she emailed Martin.
Martin's story touches upon just about every emotion. There is humour when, stuck in front of kid's TV all day, he jokes that things are about to get worse when the Teletubbies appear a year later. There is horror when Martin finally tells us why he hates the occasional stays in his other care home in the country. There, a horrible, cruel , foul mouthed woman "carer" taunts him, hurts him, and goes on to physical sexual abuse, treating him as an inanimate thing for her gratification. Martin talks of his father's unshakeable devotion that never wavered. He tells of the arrival of his new pet dog, an unsuitable, boisterous, 8 month old golden labrador called Kojak, that causes mayhem, pulls over his wheelchair, destroys the garden, etc, etc - but makes Martin's world a happier place! He tells of accepting that he will always need help, and of the brilliant people who have extended it. There is pride in teaching himself so much - to become a sought after speaker addressing international audiences of thousands to talk about AAC - augmentative, alternative communnication. Martin tells of a priceless gift of imagination through which he could escape care home tedium to mind adventures. Martin tells of the inspiration he gets when Irene Bryen, a visiting professor from Philadelphia gives them a speech - have a dream and work out what you have to do to achieve it. He tells of the independence his electric wheelchair gives him - a donation from the local rotary club. Martin sometimes gets angry when he is treated as a child, or heard, but not listened to, or overlooked. But he always suppresses this anger for fear of driving people away, for alone, he might re-enter the bleak "ghost boy" years.
There is a lovely bitter / sweet ending - his parting from mum and dad , who have attended to his every need, and now he is off to the UK with Joanna. They discover boxes of toys of an eight year old Martin, once his favourite things in the whole world, and even a letter he wrote to Father Christmas. Martin remembers nothing of this time, but he sees the tears in his mum's eyes. She remembers the young boy she lost, and he never returned.
This is such an uplifting story that even has a happy ending - do read it.
Links to author index and home page