Iain's Leisure Reading
Richard Osman is a very well known English TV presenter, producer, comedian, writer and now author - perhaps best known for presenting the TV quiz show Pointless, along with his co-host Alexander Armstrong. He was born in 1970 in Billericay, Essex, the son of Brenda Wright and David Osman. Brenda is a teacher, but the father walked out of the family when Richard was 9. Richard's elder brother is Mat Osman, bass guitarist of the rock group Suede. Richard attended Warden Park School in the Sussex village of Cuckfield, and there got his first broadcasting experience, contributing on Sunday evenings to an open access music show on BBC Radio Sussex. He later went on to study Politics and Sociology at Trinity College, Cambridge, from 1989 to 1992. A contemporary was his Pointless friend and co-host Alexander Armstrong. He began his career as a TV producer with Channel 4, and numerous panel and other shows, quizes and varied appearances quickly followed, off camera and on - as presenter, producer, or executive director. Now he is anywhere and everywhere, almost a national treasure. Pointless launched in 2009 - Richard is the "pointless" friend of his co-host Alexander Armstrong. All this is in spite of an eye impairing condition (nystagmus) that makes it difficult to read an autocue - he often resorts to learning scripts by heart.
Richard and his wife divorced amicably in 2007, but unlike his own father, he has remained in close touch with his two children Ruby and Sonny, 18 and 20 (as I write this in 2021).
Richard turned published author in 2020 with "The Thursday Murder Club," after Viking Press, a subsidiary of Penguin Random House acquired the rights to Osman's debut novel - reportedly for a seven figure sum in a 2019 publisher auction. There are talks about a TV adaptation of the novels, and Steven Spielberg has obtained the film rights. The Thursday Murder Club is group of pensioners in the up market retirement village of Coopers Chase meeting to investigate initially cold crime cases and now "live" murders.
I read this book in May, 2021.
"The Thursday Murder Club" is book one in a series of crime novels - a stunning, fastest ever selling debut novel written by TV celebrity and presenter, and now author, Richard Osman. It is set in an upmarket retirement village of Coopers Chase in the Kentish Weald, near Fairhaven. The Murder Club consists of 4 main pensioners, each pushing eighty, with time on their hands and each wanting to keep their minds active. They are Elizabeth, Joyce, Ron and Ibrahim. Elizabeth is the leader, very, very clever, and persuasive, but with a background not yet disclosed to us. There are hints that she may be an ex diplomat, possibly ex secret service, she still seems to have access to an extensive world wide list of contacts and agents, and can call in favours and get whatever information she needs. She even talks of fieldcraft and knows the best ways to kill someone. She is married to Stephen, her third husband, a retired art expert. Sadly, he is showing the first signs of memory loss, but she is covering up for him, and giving him appropriate medication. Strangely, although she is an able chess player, Stephen can still beat her, and elegantly. Elizabeth sets herself daily memory tests to check for any impairment she might suffer - each day she writes a question of the day in her diary, but to be answered two weeks in the future. Joyce Medowcroft is a former nurse, a recent recruit to replace Penny Gray, an ex Kent police inspector now a victim to dementia and in a terminal coma in the adjacent Willows nursing home. The Club had been investigating the death by stabbing of Annie Madley, apparently at the hands of a mysterious burglar, and discovered by her boyfriend. The Club suspect the boyfriend did it. They had asked Joyce how long it would take Annie to bleed to death. Joyce had been married to Gerry, but is now a widow, and would like some new company - she has formidable cake baking skills and has eyes on Bernard Cottle, a fellow resident at Coopers Chase. Joyce has a daughter Joanna, working in financial investment in the City. Ron Ritchie was a well known union leader and rabble rouser, and he is still trouble. His son is Jason Ritchie, a famous ex boxing champion, with a shady, criminal past, but now going straight and much in demand as a media celebrity. Ibrahim Arif, is a retired psychiatrist and the Clubs spread sheet using fact checker. Penny Gray's husband John, sits by her bed side all day long - he is retired vet.
There are two main, very interresting police characters. PC Donna De Freitas is ex Met - she fled London to escape from a doomed relationship - and is currently doing menial office tasks, but she wants to be part of the murder investigation squad. DCI Chris Hudson is in charge of this squad. He is now middle aged, and does not look after himself, nor his diet. He gets out of breath climbing stairs but Donna likes him, is trying to take him in hand, and drag him from his century into the current one. Donna pretends to have a phobia of lifts so that Chris has to walk up the stairs with her. Chris is not sure if he is alone, or lonely - but he would like a life partner / wife. We meet Donna when she calls at Coopers Chase to give a standard talk to the residents but they change the subject, and introduce her to the Thursday Murder Club. Later the Club, by trickery and cunning, will enlist Chris and Donna into their Club as sources of information. They trick their way into seeing Donna at Fairhaven police station, and do a deal - if we get you on the police murder squad within the hour, will you share information with us. Meanwhile, DCI Hudson is trying to interview Ron, and contact his son Jason, but Ron says he lacks confidence and could only speak to that nice constable they all met, Donna - "Is she a member of your team ? " "Yes" says Chris, Donna is in, and the Club get their contact.
Now to the crime part of the story. Coopers Chase is built on the site of an old monastry, then Nun's retreat. It's ancient chapel is still in use, and the Nun's are buried in the old graveyard of eternal rest. This graveyard is an important part of the story. Coopers Chase is owned Ian Ventham, not a very nice character. He was in partnership with a local bulder / hoodlum, Tony Curran who had committed murder but it could not be proved. Ian is greedy and wants to ditch Tony, and replace him with a cheaper Polish builder, Bogdan Koslowski. He also wants to knock down the old chapel and build 8 flats there - and a similar story for the graveyard. But there is a buried secret at this graveyard, and several people want this secret to remain hidden. Tony Curran is found dead, knocked senseless with a heavy spanner. An old photo is left at the scene as a clue of sorts - it shows Tony, Bobby Tanner (then local muscle) and Jason Ritchie sitting at a table piled high with probably drug money. Also, who took the picture ? Later we will hear the photographer was Cypriot Gianni Guntaz, who disppeared years ago. Who killed Curran ? DCI Chris Hudson is on the case, but the Thursday Club have their first live case, and swing into action. Next Ian Ventham gets Bogdan to start digging up the graveyard, but the Coopers Chase residents protest, and an Irish priest, Father Matthew Mackie turns up. He definitely does not want the graveyard disturbed. The residents stage a sit down strike to block the bulldozers' advance. The police attend, and in the confusion Ian Ventham falls to the ground. He has been killed with a Fentanyl injection, but who in the crowd did it ? This is murder two to be tackled by DCI Hudson (and the Thursday Murder Club, who set aside their who killed Annie Madley cold case).
Bogdan had started digging manually in the old graveyard and uncovered some bones - two bodies in one grave, only one in a coffin, one buried on top. Whose bones were these? Significantly, the grave was that of Nun Maggie Farrell, and eventually we hear her achingly sad story. Bogdan buried the bones again to get time to think, and with his boss Ian Ventham dead, eventually sought advice from Elizabeth ( and met and got on well with her husband Stephen). I think I have now said enough - I never want to spoil any of these stories for anyone still to read the book. The story of course now takes off, and there is a lot more to discover. But let me make some comments. It's a complicated, well written tale with lots of red herrings, and not all we are told turns out to be true. Various suspects come and go with often touching eventual personal stories and alibis. Osman can write movingly when required. Throughout it all, there is a lot of humour, and a sense of goodness and justice that guides the story. Even at the end, there is a twist. The theme is what we do for love, and to protect those we love, and maybe, one murder leads to another.
In conclusion, although I didn't like Richard Osman's excessive use of very short chapters - I wanted the story to flow faster and unfold in larger chunks - all in all, I liked the story and agree it's a terrific debut novel. It also even manages a feel good ending for DCI Chris Hudson who ends up with a new girlfriend. What next, I wonder - we must read on ?
Links to author index and home page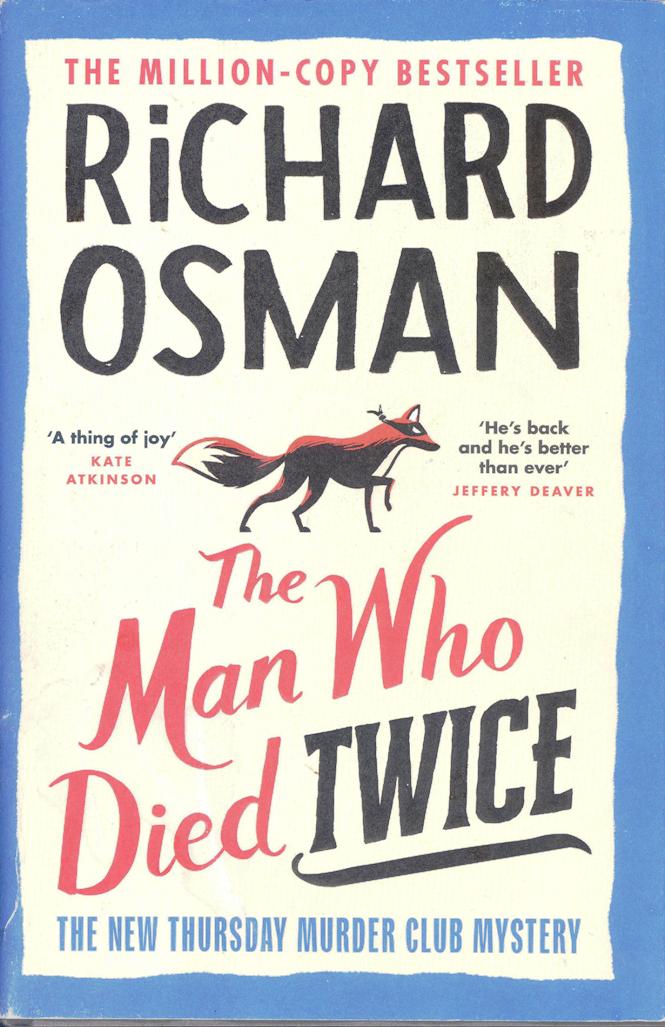 I read this book in Jan, 2022.
If the test of a good writer is not in the writing of a first novel, but in the writing of the second, Richard Osman passes the test with flying colours. "The Thursday Murder Club", was marvellous and stunningly successful, but I thought book two, "The Man Who Died Twice" is even better ! What a cracker of a series this is going to be. I love a skilfully constructed book. We open with what we think is the "man who died twice" - an unidentified / unidentifiable man washed up on a muddy bank of the Thames, appropriated and renamed Marcus Carmichael by a team leader of MI5, the British Secret Service - Elizabeth, one of the 4 pensioner Thursday Murder Club in an earlier life - and given a very public burial. But then a great surprise. The tale has been told, and the book closes - with the real man who died twice, one of many. Actually, at the very, very beginning of the book is a despondent Sylvia Finch about whom death "clings like a mist." Mysteriously she both hopes to be clear of this, but hopes not. Almost as an epilogue Sylvia reappears at the finale of the book - an indirect Thursday Murder club beneficionery when bad money is put to good use.
Lets introduce most of the cast. We are back in Cooper's Chase Retirement Home, near Fairhaven, in the company of the Thursday Murder Club - mysterious (in book 1) Elizabeth, ex nurse Joyce Meddowcroft, ex trade union rabble rouser Ron Ritchie, and ex psychiatrist Ibrahim Arif. Joyce still mourns the death of husband Gerry, and has a daughter Joanna. Ron has a daughter as well as a son, and her marriage may be in danger. Ron's grandson Kendrick visits for a weekend, and, put to work by the pensioner gang, his keen eyesight spots a clue they all missed. Ibrahim has been playing it safe all his life, but he now determines to be bolder and get out and about. Soon we have confirmed what we all suspected from book one - Elizabeth is indeed not only ex Secret Service, but was a legend there, and it's Dame Elizabeth. Two co-opted members of the Thursday Club are DCI Chris Hudson, and PC Donna de Freitas of the local police. Chris is being reformed to a gym going, healthy diet ex slob. Donna introduced DCI Chris to her teacher mum Patrice and they have fallen in love. No love interest yet for Donna. She is ex Met - a very lonely coloured lady with no friends in a strange town. She has been sleeping around for human contact, but a chat with ex psychiatrist Ibrahim points to a better way forward. Two new Secret Service characters are Sue Reardon, a clever, sharp modern version of Elizabeth, and Lance James, ex SBS. Three new crooks are Martin Lomax, an international money launderer, banker for master criminals, Frank Andrade Jr, one of his NY mafia clients, and local drug dealer and villain Connie Johnson. Bogdan Jankowski, project manager at the Coopers Chase expansion takes a starring role in this story. He still plays chess with Elizabeth's dementia suffering husband Stephen. Bogdan has many surprising talents which prove invaluable to the Thursday Murder Club.
There is a major murder / missing diamonds / spy plot to solve, and numerous sub plots. All sorts of simple incidents turn out to be linked, and things do get very complicated. But we encounter the complications very slowly thanks to the author's use of very short chapters, lots and lots of balls are kept in the air at the same time, and we never lose our way. There is plenty humour, but sadness too - Elizabeth's husband Stephen is on a one way street sinking into dementia, and a mother has to identify the dead body of her daughter. Richard Osman handles each with skill. How did he become such a good writer so quickly? I was going to write that true to it's spy story connections "nothing is as it seems," and Elizabeth is very skilled at seeing alternative explanations, but sometimes things are just as they seem, and it's often less complicated Joyce that solves the puzzle.
The major story starts simply and then gets complicated. Elizabeth gets a letter from Marcus Carmichael - the dead man on the muddy bank of the Thames. He has moved into a neighbouring building, and wants her to visit him, but who is he ? Elizabeth visits, Marcus knows Elizabeth, and she knows him from her earlier life. He is not only a fellow spy, but her ex-husband Douglas. As part of an investigation into international money laundering, he and fellow agent Lance James had broken into Martin Lomax's country mansion. Douglas had pocketed a bag of diamonds (£25 mil. worth) owned by NY mafia boss Frank Andrade Jr which banker Lomax had been holding as a deal deposit. The mafia and Lomax want the diamonds back, and are on to Douglas, who is under MI5 protection. Elizabeth drew attention to herself with all the information requests she had been making in book one, and now MI5 want a favour in return. She must baby sit Douglas hiding out in Coopers Chase. Douglas also has an MI5 minder - Poppy whom we met in an earlier chapter as the hopeless new waitress in Cooper's Chase restaurant. There is a murder, and then a double murder but are the dead people who they seem to be, or did one survive and plan to escape with the diamonds. Truly a worthy case for the Thursday Murder Club. To say more would spoil things, but complication piles upon complication, Sue Reardon and Lance James of MI5 appear - Elizabeth and Sue say the trust each other, but do they - and Frank Andrade flies in, and it all builds to a thrilling climax. What a brilliant plot, well done Richard Osman !
Lets touch upon some of the sub plots. DCI Chris and Donna have been staking out drug dealing villain Connie Johnson. She tries to scare them off and tells Chris she knows where Patrice lives. This does worry Chris, he admits whilst talking to the Thursday Murder Club. Leave it to us, we will sort it. How on earth can they sort such a thing ? Another sub plot unfolds when Ibrahim, trying to live life more fully, borrows Ron's car, drives alone into Fairhaven, and gets mugged and kicked in the head by a local teenager later identified as Ryan Baird. Nothing can be proved, and he has to be released after questioning by Chris and Donna. One of there own has been attacked, the Thursday Murder Club will take over. But Ibrahim is now too afraid to ever venture out of Coopers Chase. A problem for Joyce more than Elizabeth.
I liked the pensioner's banter, especially early discussions about the wisdom of Joyce getting a dog. Ibrahim had said it would be cruel to get a dog that would outlive them. Mostly ignoring the arguments, Elizabeth eventully suggests a simple solution - "get an older dog."
Somehow at the end, everything has been solved, diamonds found, justice prevails, and lonely hearts offered solutions. So it's a feel good story after all.
One minor criticism persists from book one - I wish Richard Osman would write longer chapters so that we can follow the action more smoothly. We are constantly fed a little bit of one story, then jump to a little bit of another story, and so on, and so on, until several chapters later we return to the first story again. It's sort of clever juggling so many things but it's very disjointed (says me). Read the book and see what you think. All that said though, I really liked and enjoyed the story. Roll on book three.
Links to author index and home page