Iain's Leisure Reading
.......
.......
.......
.......
.......
.......
.......
I came across a thick Ed McBain book in the sale basket of a charity shop - it only cost 49p - and recognised the author as a famous American writer of crime fiction. The book contained 7 complete stories - so I simply had to buy it, and give it a go.
Ed McBain (1926 to 2005) is one of the two main pen names of Salvatori Albert Lombino - S.A.Lombino. The other main pen name was Evan Hunter. He was one of the most prolific of award winning authors and published well over 150 books - roughly two a year. There were lots of other pen names - e.g. John Abbott, Curt Cannon, Hunt Collins, Ezra Hannon, Richard Marsten, possibly Dean Hudson (for some pornographic books), etc. He wrote a variety of books in different genres, and used separate pen names so that anyone buying a particular pen name would know what to expect. He published his first book in 1952 under the pen name of Evan Hunter, and liked this name so much he legally adopted it as his own name in 1952. He used the name Ed McBain for his crime fiction and under this name he wrote 55 books in the 87th Precinct series. In the second half of his writing career he dropped most of his pen names and just used Ed McBain or Evan Hunter.
S. A. Lombino was born and raised in New York City. He lived in East Harlem until he was 12, then the family moved to the Bronx. He went to Olinville Junior High, then Evander Childs High School. Later he attended Hunter College - hence the name Evan Hunter (and Hunt Collins). He was also an art student at Cooper Union, and served in the US navy in World War II. He had studied English and Psychology at College, and did a number of odd jobs - even teaching at Bronx Vocational High School for all of 17 days in 1950. He later wrote his novel "Blackboard Jungle" (as Evan Hunter) in 1954. Ed McBain, his best known pseudonym, was first used in "Cop Hater" (1956), book one of the 87th Precinct series. He wrote about one a year of this series, from 1958 to his death in 2005, but also continued to publish other books, eg the lawyer Mathew Hope series (1978 to 1998). He wrote autobiographies (two), plays, screenplays, teleplays, worked as an editor, and wrote film adaptations. As I said, a most prolific writer ! He married and divorced twice - Anita Melnick (1949), and Mary Finley (1973), and then married Dragica Dimitrijevic in 1997, and they stayed married until he died. He had three sons - Richard Hunter, Mark Hunter, and Ted Hunter. There was also a step daughter. Evan Hunter was a heavy smoker for many decades, and had three heart attacks, and then cancer finally got him in 2005.
The 87th Precinct books are set in the fictional city of Isola, which is also the name of it's central district. Isola is really New York - Isola district = Manhatten, Calms point = Brooklyn, Majesta = Queens, Riverhead = Bronx, and Bethtown = Staten Island. Lots of characters appear regularly in the 87th Precinct novels but the main character Detective 2nd grade Steve Capella was almost killed off in book three. He was the main character in book one, was away on honeymoon in book two, and was shot in book three - fatally originally, but the publisher persuaded Ed to change his mind.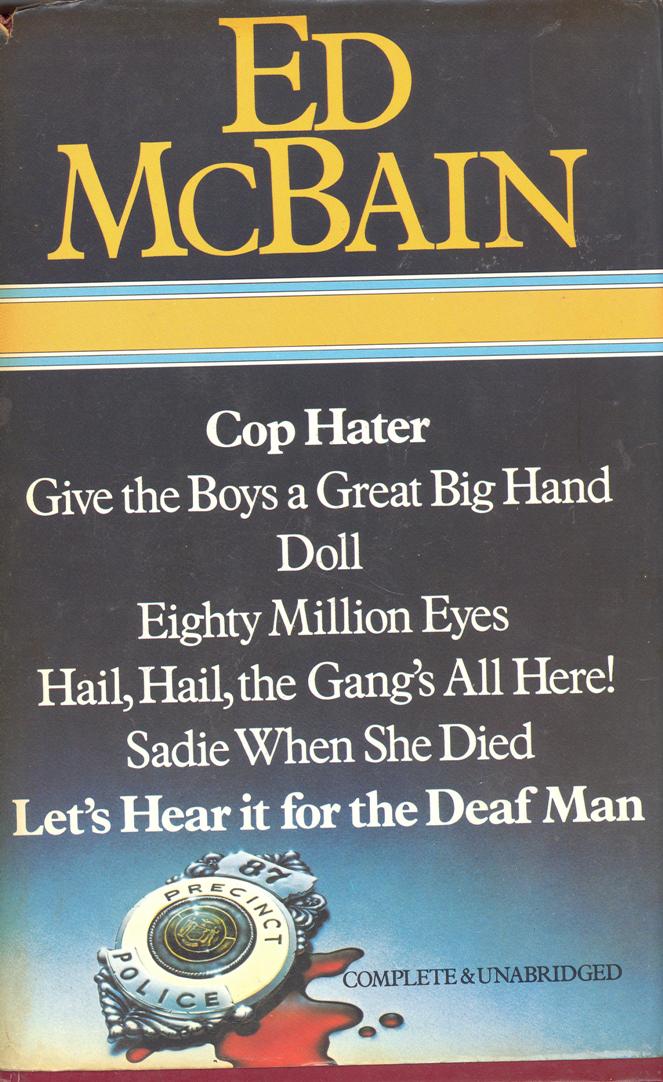 I read this book in March, 2021.
"Cop Hater is book one in the 87th Precinct series of police procedural crime novels, and we follow the day to day lives of police in a busy and difficult (rough) central district of a large American City - i.e. New York. We get to know how the cops go about their business, see the forms they fill in, the reports they read, and the techniques and tables the forensic experts use - e.g. to estimate height from footprint patterns. Quite a lot of the 1950s American police jargon and contemporary references were unintelligible to me, but, at only some 125 pages, it was a well written story with a good blend of action and personal lives background. There is also a bit of humour - or should I say humor - it's very American in tone. I liked the story about the man complaining that he didn't like peanut butter in some of his sandwiches. His friend sympathised - "you'd think your wife would know what her husband liked in his sandwiches". The punch line was the man made his own sandwiches ! I think this will never be one of my favourite series, but it was OK, and there is nothing wrong with being OK.
It's book one in a 55 book series, and so we start to meet lots of new characters. The main one is detective 2nd grade Steve Capella - 12 years a cop. His police partner at the opening is detective Hank Bush. Capella's boss is Lieutenant Peter Byrnes, a good and smart cop, and Captain Frick is commanding officer for the 87th Precinct. This has it's problem areas, has a population of about 90,000, served by about 16 overworked detectives working shifts. Steve Capella is courting a deaf and dumb girlfriend Theodora (Teddy) Franklin - he proposes, she accepts, and their marriage is a happy ending to this book. Hank Bush is married to Alice, a stunner and a bit of a tease - and this is a clue. David Foster is a coloured detective, Lynch is an acting lieutenant, Cliff Savage a tricky reporter, Kling a rookie cop, and Hal Willis a small detective at the minimum 5 foot 8 inches, but a skilled judo expert well able to take care of himself. Detectives are known as Bulls, and Roger Havilland is a Bull amongst Bulls - he used to be a popular team member, but changed mentally after being beaten up by a gang, and is now surly, argumentative, and unpopular.
The book opens with heat wave weather making life unbearable for everyone, and generally stirring up "short fuse" trouble. Detective Mike Reardon, getting ready for his midnight to 8 am shift, is happily married to May, and they have two children Mickey and Cathy. How cruel then that Reardon, on his way into work, is shot twice in the back of his head with a 0.45. Carella and Bush attend a reported shooting, and discover a dead colleague. It's now action stations - everyone is called in and Lieutenant Byrnes tells his detective "you all know what you are doing, go get the killer". Some say it's gang / drug related (the local gang is the Grovers, and don't like to be disrespected), some say it's a cop hater out for revenge possibly, some say it's mistaken identity. All lines of enquiry have to be followed up, and we share in how this is done. Days go by, and there is not only no break through, but there are other cop attacks (rookie cop Kling) and sadly two more killings - coloured detective David Foster, and finally Carella's buddy Hank Bush. Bush managed to shoot and wound his attacker, and must have known he was dying because he got and left a couple of leads when he grabbed his killer's hair out by the roots, and gouged his face with his fingernails. Forensics managed to reveal such a lot from these clues - and towards the end of the story a doctor reports a wounded patient in his surgery (who ran off) and is able to help with an artist's impresion.
I was surprised that an experienced detective like Steve Carella was taken in by the reporter Cliff Savage and believed their conversation would be "guaranteed, off the record" only to see it splashed across the papers the next morning. Steve had a feeling that it was not a cop killing, but perhaps the victims had something else in common, or some sort of similar explanation that Steve was following up privately. Carella's interview with Byrnes was not a pat on the back. There is a climax to the book when Savage puts Teddy's life in danger, and Steve rushes to save her, and into an ambush. How can a deaf and dumb woman warn him ? But happily it is all sorted in the end, the oppresive hot weather breaks, and Steve and Teddy get married.
Overall I thought it was all a bit hard going at times, but OK. I will see how the series progresses.
Links to author index and home page