Iain's Leisure Reading





Browsing in a charity shop, I came across an interesting book box set, the first ten books in Bernard Knight's Crowner (Coroner) John series. These were set in England, 1194 to 1196, the times of Richard the Lionheart, the Crusades, etc. The ten books only cost £3. "This looks very different" I thought, "let's give it a go."



Professor Bernard Knight was born in Cardiff in 1931, and first got work as a lab technician at Cardiff Royal Infirmary. He then studied medicine at the University of Wales, and graduated in 1954 with a BSc and Bachelor of Surgey. As part of his National Service, he was in the Royal Army Medical Corps from 1956 to 1959, specialising in pathology, and ending with the rank of captain. ( He remained with the Army Reserves until 1964 ). He lectured in forensic medicine at the University of London from 1959 to 1962, at Newcastle to 1968, and then returned to the University of Wales, ending up as Professor of Forensic Pathology in 1980. After a most distinguished career he retired in 1996, but remaining an emiritus professor at the University.

Bernard Knight served as a Home Office pathologist from 1965 to 1996, and conducted over 25,000 autopsies over these 31 years - including working on some high profile cases and the first use of DNA to confirm the identity of a body. He has been an author since 1963 - a crime novel - and has written over 30 books of varied genres - crime fiction, historical novels about Wales, medico- legal textbooks, scripts for radio and television, and has edited several learned medical journals. He also wrote under the pseudonym of Bernard Picton. As I said, a most distinguished career, and he was awarded a CBE in 1993. His historical 12th Century Crowner (Coroner) John books were written from 1998 to 2012 about the life of one of the earliest fictional coroners in England.








I started reading the Crowner John series in January, 2021.

When I started to read "The Sanctuary Seeker" I soon realised that we had not just the usual twin features of a book series - the ongoing private lives of the main characters, and a crime or mystery to solve - but also a stunning addition, an introduction to a time and place very, very different from our current 20th and 21st centuries. This is England in the 12th century, 130 odd years after the Norman Conquests, the time of Richard I, the Lionheart, of the Crusades, ( and of the fictional Robin Hood). And so I thought, instead of multiple book by book explanations, I would set the background scene at the start - and then refer back to this opening.

In the 12th Century, the Kings of England were essentially Norman, or French rulers with other crowns and with vast estates in Normandy. King Henry II, Henry Plantagenet, the old King Henry, was married to Queen Eleanor, and reigned from 1133 to 1189. Of their 8 children, 3 girls and 5 boys, two of the boys concern us here, Richard (born 1157) and his younger brother John. In 1189 Richard feared his younger brother John was to get the throne, and so Richard and Philip of France defeated old king Henry in battle in 1189. The old King died soon after, and Richard I, Richard Lionheart became King, 1189 to to his death in 1199. Richard seemed to prefer Normandy to England, and was seldom in the country. Away fighting the Third Crusade 1191 to 1192, his ship was wrecked on the return journey, and he was captured and held to a ransom of 150,000 marks ( a mark was about 2/3 rds of a pound). The loans to pay this had to be repaid, and so all sorts of taxes had to be levied. In 1176 old King Henry had set up a General Eyre, a meeting of judges, despatching justices to visit each county to impose law and order of a fashion, and to ensure tax gathering was not too leaky. Under this system, Richard appointed Crowners or coroners to be the kings representive in each county - to record and administer all matters legal, and check that fines actually reached the kings purses. Devon was to have 3 coroners but only two were appointed, and one died, leaving just Crowner John, our hero - a former Crusading Knight, Sir John de Wolfe. To complete the history lesson, John raised a rebellion against Richard's representitives, when Richard was away on a Crusade. Richard returned in 1194, and defeated John, but inexplicably pardoned him - "he is only a boy and doesn't know what he is doing" (he was 27 !). But the country was divided between supporters of John and those of Richard. Richard died in 1199, and John finally became King - 1199 to 1216. The Sheriff of Devon, Richard de Revelle, Crowner John's brother-in-law, had been a John supporter, whilst Crowner John was a fellow Crusader and a fervent Richard supporter. This explains much of the constant antagonism between the Sheriff and Crowner John.

Although Exeter was a large town with a population of 5,000, England was a very rural country with remote villages lead by a reeve, their headman. Travel was difficult, and few left the village in their lives. When a dead body was found, the reeve had lots of onerous duties to perform, eg raise "hue and cry" to look for any villains, notify the authorities - easier said than done, etc. By law any dead body was presumed to be that of a Norman, unless it could be proved that he was an Englishman. This then meant an amercement or fine on the village, typically of 10 marks. So it was better just to dump the body elsewhere. The fine was not paid until judgement by the King's Justices, when next they visited the area. There were lots of various courts, reeves's ones, manorial, mayorial, shire ones, Sheriff's etc, and miscreants including children as young as 12 could be hanged for what now seem trivial amounts - eg theft of an item over 12d in value. Some were to be jailed awaiting judgement by the King's Justices, but it cost the townsfolk half a penny per day to feed a prisoner, so many were allowed to escape, and the forests were full of robbers - never travel at night.

The church had great power and influence, it's own courts, and civil courts had no authority over church lands. Richard the Lionheart was abroad, and had left Archbishop Hubert Walter in charge. It was possible to claim sanctuary from the law when on church land, but this only gave 40 days protection, before either being handed over to the authorities, or opting to abjure - confess fully, leave penniless, and quit the country never to return during Richard's reign. In Exeter time in the Cathedral was measured by graduated candles or sand glasses, and the Cathedral bells rung to mark the hour. Inns were wonderful welcoming warm and dry places where a straw bed for the night could be had for 1d. Crowner John's clerk's wages were 4d per week. Public hangings were great and popular spectacles held in Exeter every Tuesday and Friday. Goods were then forfeited to the Crown. There is a smell of garbage everywhere.

The coroner system was new, and it was not clear where the exact split was between the older system county sheriff and the new coroner. The coroner was a check on the corruption of sheriffs, but also had to raise as much tax as possible towards King Richard's ransom. The coroner had the right and duty to attend all non ecclesiastical courts to record fines, etc, and so ensure they found their way to the King. The sheriff would usually try to grab what he could. To be a coroner you had to be a man of wealth (wealth = £20) and so few could apply. Crowner John, as a brave soldier who fought in the Crusades with the king, was well regarded in the country, but the sheriff had more influence in the county. Crowner John's appointment to King's coroner for Devon gave him a position and standing and so too to his social climbing wife. She had expected his coroner title to be a sinecure, but Crowner John took his duties very seriously and worked long hours. This did not endear himself to his wife, nor to her brother the sheriff. Crowner John is fictional but most of the main characters existed in history and the author has done extensive research. The gatehouse of Rougemount Castle in Exeter where Crowner John had an office can still be visited today.








Links to author index and home page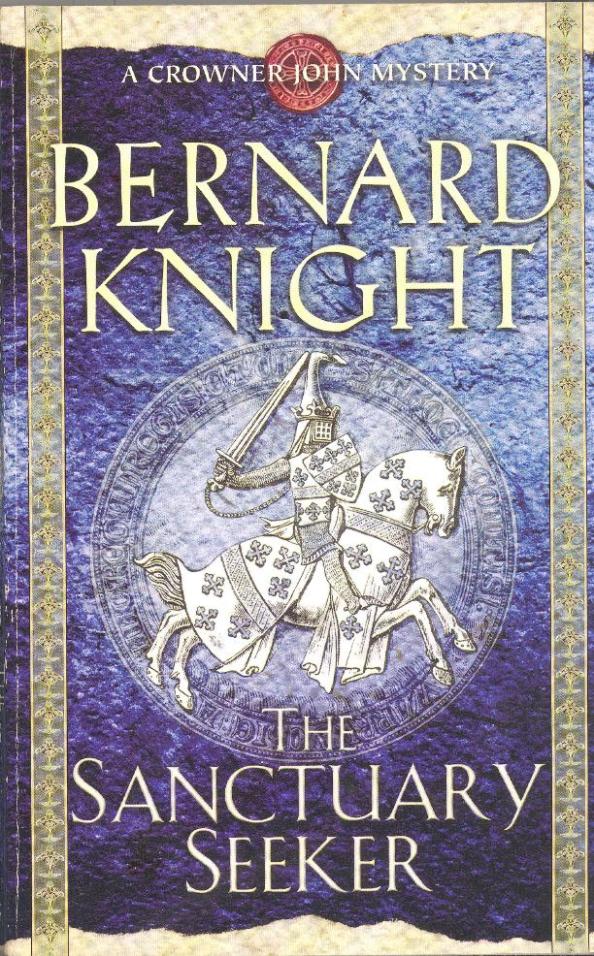 I read this book in January, 2021.
This is book one in Bernard Knight's Crowner John series, set in the England of 1194 to 1196. To save later repetitions I have written a fuller Background Notes section. Here, I will just deal with the main crime or mystery to be solved, and the background private lives of the main characters.
The book opens with Sir John de Wolfe,(40) Crowner John of Devon, on a miserable, rainsoaked horseback journey across Dartmoor. He has two companions - his bodyguard, a giant Cornishman Gwyn of Polruan, a fellow Crusader they had fought many a battle together, and his clerk, Thomas de Peyne, a pox marked, hunchback, defrocked cleric who recorded the proceedings in English for the lower courts, but in latin for the King's Justices Court. Most people were illiterate except the clergy. John too is illiterate, but is getting lessons from a deacon at the Cathedral. Thomas had misread the situation when instructing a 14 year old student. She screamed rape, and he was defrocked. Thomas was an excellent clerk, but nobody liked him, and Gwyn teased him constantly - in fact such was his misery that Thomas contemplated suicide, but still devout, he could not commit such a sin. John is married to Matilda - it was a sort of arranged marriage between the de Wolfe and socially superior de Revelle families. It's now a childless, loveless marriage. John and Matilda row incessantly. Matilda has a french maid, Lucille, and John a kitchen maid, Mary who sees to his needs - they have even slept together a couple of times. John has a loving and clever mistress in Nesta, (28) the widow inheriter of the Bush Inn. John openly stays some nights with Nesta at the Bush. He has thought of divorcing his nagging wife Matilda, but it would cause too much ill feeling and revenge seeking. Matilda openly despises John, but likes her postion as wife of the Devon Coroner. John's dog is called Brutus, and his horse Brun. Matilda's brother is Richard de Revelle, the sheriff, who steals the King's fines and hangs people to save bother and prisoner upkeep expenses.
Crowner John and companions are on their way to Widecombe where a body has been found. It seems to be that of an ex Crusader who was ambushed and stabbed in the dark. We later learn he is Hubert de Bonneville, back from abroad. His old father Lord Arnalph de Bonneville has great influence and friends in high places but is dying. Hubert's brother Gervaise runs the estate with his steward Baldwyn. There is also a younger brother Martyn. The dead body of Hubert's squire is later found, and the mystery is initially who were the dead Normans, and then who killed them - had they been only Saxon Englishmen their deaths would have been of less consequence - and then how can the murderers be punished. The story now unfolds, with much antagonism between John and the sheriff and a lot of politics and church interference and influence to be overcome. John can only do so much. They find an ex soldier Fitzhai who identifies Hubert - but the sheriff says Fitzhai is a suspect who must undergo trial by ordeal. He has to plunge his bare arm up to the shoulder in a cauldron of boiling water to retreive a stone at the foot, and bravely, innocent Fitzhai does this rather than be hanged. Against all the odds, John finds the murderer and sets up a trial, but after the sheriff dismisses the case it's Nesta who finds better evidence. The murderer later escapes, and claims sanctuary. It all then builds to a great climax, and we learn what it means to abjure. At the end John shows a little of his softer side and a sort of justice emerges - it appears most unlikely that the murderer will ever make it abroad safely.
I liked the story, and the main characters, and especially the 1194 setting. These were cruel times when life was difficult, harsh and cheap. There is a harrowing account of the mechanics of a double hanging where one to be hanged is a young boy. His agonising father has to run from the crowd to tug downwards on his son's twitching body to lessen his suffering. All in all, a good authentic seeming depiction of the times. It's got the makings of an interesting series.
Links to author index and home page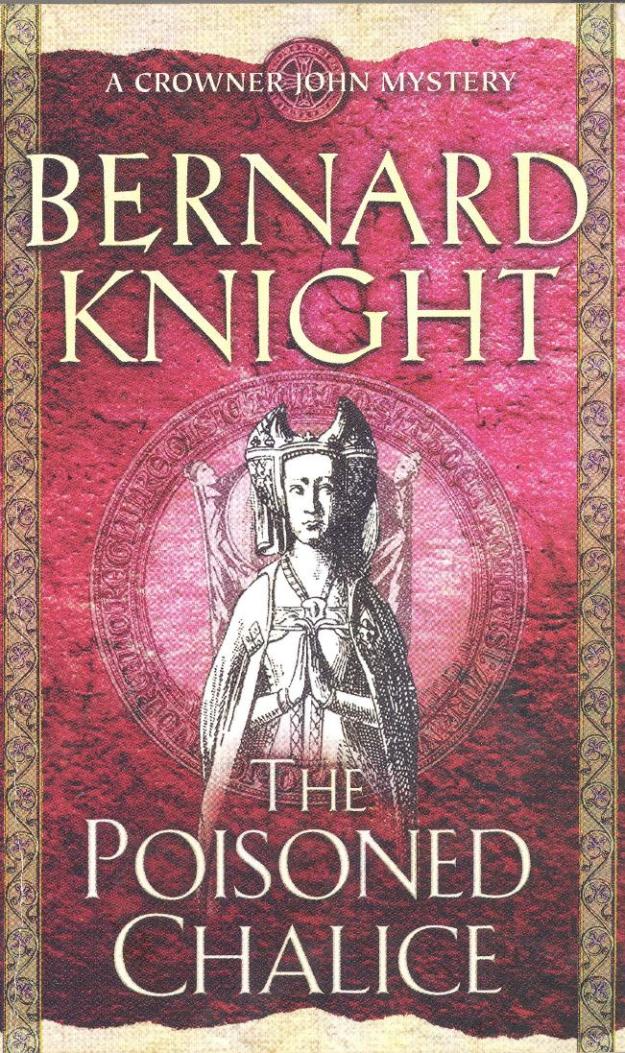 I read this book in March, 2021.
This is book two in Bernard Knight's Crowner John historical crime fiction series. It is England and it's 1194, some six weeks after the events of book one. To save repetitions I have written a fuller Background Notes section - a sort of mini history lesson. Crowner or Coroner Sir John de Wolfe is the King's law officer for Devon and responsible for investigating serious crimes, doing inquests, setting fines, and keeping records, ensuring the Kings's money raising taxes and fees do find their way to the King. The country is overtaxed, and poverty stalks the land. King Richard is never in England, and in 1194 he is in France, and not expected to return. Money has to be raised to pay for Richards's campaigns - the Crusades, loans to pay a ransom to free a captured Richard, the Irish Wars, and more fighting in France to try to recover territory lost by Richard's useless brother John when he tried to sieze the throne in Richard's absence. Now there is also a split in the country between John's supporters, and those who remained loyal to Richard.
Crowner John lives in Exeter with his wife Matilda (they married 16 years ago), a housekeeper Mary and Matilda's french maid Lucille. John and Matilda do not get on, but it is mutually convenient for them to say together. As was often the case it had been an arranged but loveless marriage to unite two families, and again as was very common John very openly sought comfort from a mistress - Nesta (28), who ran the Bush Tavern in Exeter. Everyone knows of Nesta, but few know of John's other mistress, Hilda in Dawlish. John has a giant of a bodyguard in the Cornishman Gwyn of Polruan, and a deposed cleric Thomas de Peyne as clerk. John's brother-in-law is the local sheriff Richard de Revelle and this presents a problem. The sheriff supported John, Crowner John was loyal to Richard. More seriously there are ongoing demarcation problems between the sheriff and the Coroner - who is responsible for enforcing what ? All powerful Hubert Walter, the Kings representitive in England, Justiciar and Archbishop of Canterbury is visiting Exeter at the end of the week to give a demarcation ruling. Unfortunately, the problems will persist.
It's a long story with lots of separate threads. I like symmetry in a book, and the big story both opens and closes with a shipwreck. Actually it opens with a prologue - someone called Adele is having secret sex with some unknown man. Three bodies have been discovered on the sea shore near the village of Paignton, and the sheriff asks John to deal with this. The information came from a hermit monk Wulfstan who lives in a cave near Paignton - now known as Kents Cavern. It turns out that the local villagers had killed some shipwreck survivors, and plundered their cargo - such cargo should be restored to the owner, or become Crown property. The head reeve of the village, Aelfric is arrested and eventually tried and jailed and the village fined 100 marks / about £66. The owner of the ship - Mary of the Seas - was Joseph of Topsham, and its cargo was wine for the wine merchant Eric Picot. As was very common, local priests enjoyed a good income from church lands (pensions), were absentee and lived near the cathedral, and appointed a junior priest (vicar) to do their duties. The Paignton village vicar was an alcoholic who lived in a hovel, but it was the clerk Thomas who had discovered the vicar drank plentiful french wine hidden in some church outbuildings. We now set up some other stories. Eric Picot is having an affair with Mabel, the wife of Crowner John's neighbour, the silversmith Godfrey Fitzobern. Joseph is the father of Edgar(21), apprentice to the leech / apothecary Nicholas in Exeter. Edgar, in turn, is engaged to beautiful 17 year old Christina Rifford, daughter of an Exeter portreeve.
Christina, unwisely, goes out by herself one evening to collect a silver gift given to her by Edgar, but is made to feel very uncomfortable at the silversmith's shop by Fitzobern, and his two leering workers Alfred and Garth. Christina is later attacked and raped - she was attacked from behind and cannot identify the rapist. Fitzobern, Alfred and Garth are obvious suspects and the sheriff is all for arresting Alfred and Garth, and questioning them. Questioning in those days meant torture and usually got a forced confession. Crowner John prefers to get the correct man. It is Nesta who tells John of Fitzobern's reputation as a ladies man - he is a more likely suspect. Again at Nesta's suggestion, John had called in a local nun, Dame Madge of Parsloe priory to see to poor Christina. Dame Madge is called in again later when the dead body of a woman of wealth is found - it's Adele of the prologue. John needs to know if this is a second rape. Dame Madge tells John that Adele was 5 months pregnant, and had died in an unsuccessful abortion attempt. Adele, the daughter of Roger de Courcey, had been engaged to Hugh Ferrars, son of a man of great local prominence, Lord Guy Ferrars. Hugh for Adele, and Edgar for Christina, want revenge and honour to be satisfied - and go after Fitzobern.
The story now really takes off. Fitzobern is attacked, and later on poisoned - but he survives, for now. A local witch like creature, Bearded Lucy, is questioned by Gwyn. She had been contacted by Adele reference the abortion, but had eventually redirected Adele elsewhere. Adele and Christina were not attacked by the same person. There is a sort of justice meted out in the end with a dying confession to John's clerk Thomas, and a murderer trying to escape on a boat to France (owned by Joseph of Topsham) but said boat was probably shipwrecked in a deadful storm that same night. We don't know if Edgar and Christina ever got together again.
I though it was a well told, well structured story, and a good evocation of life in 1194. We learn all sorts of things - no windows in Exeter have glass in them, and their linen covering and shutters fail to keep out the cold winds. There is no running water - if you are rich you have a garden with a well, or buy water from the water sellers. Dirt and poverty are everywhere and the smells ! As an aside too, Crowner John had managed to visit his family home / estate near Stoke-in Teignhead, run by his brother William - his 63 year old mother Elyd lives there, and John's younger sister Evelyn. In short, I find it all makes for a very interesting series.
Links to author index and home page