Iain's Leisure Reading





I saw an author I never expected to see in the crime fiction section, and thought "this I must read."



I like to say just a little about the various authors that I read, but often have to apologise when I have been unable to find out much about them. No problem here, though, as this is the famous A.A. Milne whose children's story books overshadowed all his other work - who hasn't hear of Winnie-the-Pooh, Christopher Robin, The Hundred Acre Wood etc, ? He was a poet, playwright, and author of numerous other books - fiction and non fiction - wrote for Punch and various other newspapers, wrote screen plays, etc, etc. However, he did write one Crime Mystery - The Red House - and this is why he appears here.

A.A.Milne was born in London in January, 1882. His initial schooling was at a small independent school run by his father. One of his teachers there was H.G.Wells ! He progressed to Westminster School, and then Trinity College, Cambridge, graduating with a BA in Mathematics in 1903. His contributions to the student magazine Granta got him noticed, and he became a contributor and later assistant editor to the famous Punch magazine. He played for two amateur cricket teams - fellow teammates included J.M.Barrie, Arthur Connan Doyle and P.G.Wodehouse. He served in the army during WW1, was injured in the Battle of the Somme, and later worked for Military Intelligence. He married Dorothy "Daphne" de Selincourt in 1913, and their son Christopher Robin was born in 1920. In 1925 the family bought and moved to a country home, Cotchford Farm, in Hartfield, East Sussex. He was a captain in the Home Guard during WW2, was invalided by a stroke and brain surgery in 1952, and he died four years later aged 74 in January, 1956.

From 1903 to 1925, as well as contributing to Punch, he published 18 plays, and three novels including the murder mystery "The Red House Mystery" in 1922. When his son was four Milne produced a collecrtion of children's poems "When We Were Very Young" which were illustrated by a Punch staff cartoonist E.H.Shepherd. A collection of short stories "A Gallery of Children" followed in 1925, and other stories became part of the Winne-The-Pooh books. Milne was an early screenwriter for the growing British film industry. In 1926 he recalled that when he told his agent he was to write a crime mystery, he was advised, as a Punch humourist, to write a humourous story. Then when he wanted to write a children's story, he was told to write another crime story, but two years later he was told not to write another crime story, but to satisfy the huge demand for his children's stories.

From 1926 to 1928 his fame grew as the author of the Pooh books about a boy named Christopher Robin after his son Christopher Robin Milne (1920-1996). The books featured various animals inspired by Christopher's stuffed toys. E. H. Shepard illustrated the books basing Winnie-the Pooh on his own son's teddy "Growler". Other animals appeared - Piglet, Eeyore, Kanga, Roo, Tigger (all Christopher's toys) - and later Milne's imagination produced Rabbit and Owl. The Hundred Acre Wood was based on the 500 acre Ashdown Forest in East Sussex where Milne took his son walking. People still visit Ashdown to look for many of the features from the book, the most famous being Pooh Bridge where Piglet invented Poohsticks. Christopher Robin's own toys were later displayed in a NY museum. Pooh first appeared in 1924 in Punch, then in the London Evening News on Christmas Eve 1925 - Winnie-the Pooh was published in 1926, and The House at Pooh Corner in 1928.

1929 onwards. Milne stopped writing children's books "amazed and disgusted" at the fame his son was exposed to. Milne and his wife later became estranged from their son who felt he had been exploited. A.A. Milne left the rights to the Pooh books to four beneficiaries- his family, The Royal Literary Fund, Westminster School, and the Garrick Club. Just after his death, Milne's wife sold the rights to Stephen Slesinger, and later, in turn, Slesinger's widow sold the rights the the Walt Disney Corporation. The Pooh books earned billions and still do.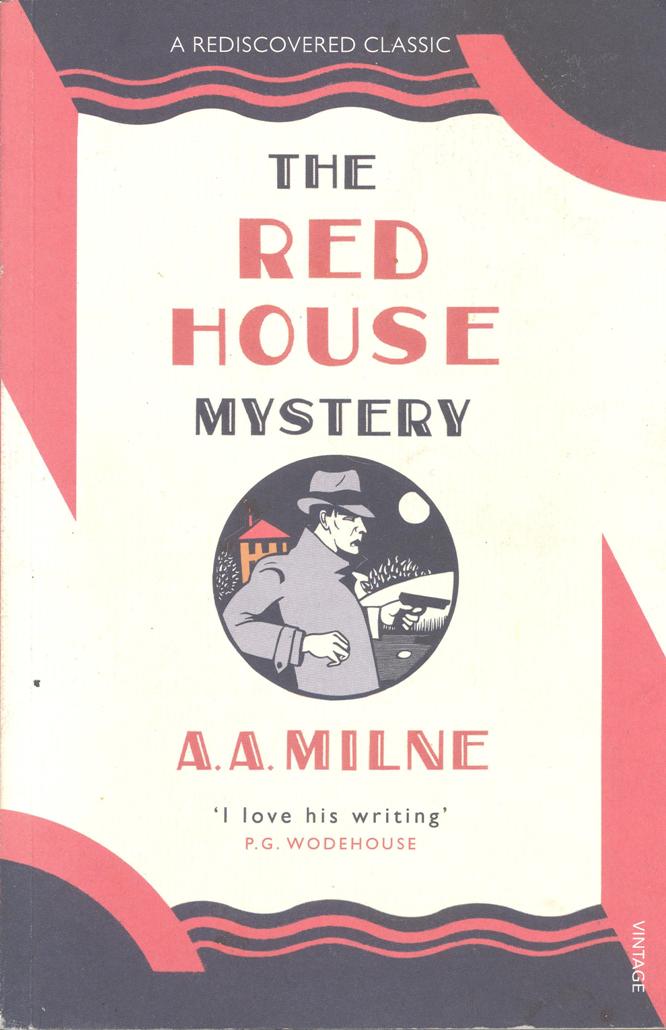 I read this book in September, 2020.
Although I usually stick to book series, I had to make an exception when I spotted the author's name. Yes, it's the same A.A.Milne who gave us Winnie-the Pooh, and childhood magic. He only wrote one crime mystery - I guess Winnie, Tigger, etc took over.
The Red House of this story is large country pile owned by Mr Mark Ablett, a 41 year old bachelor - but courting Miss Angela Norbury, of Jallards, a neighbouring property. It's a time of servants, extensive grounds, an old house with a secret passage, etc, etc. Mark has never had to earn his living. His father was a clergyman, one of whose parishioners became Mark's benefactor, had him educated including at Cambridge University, and left him a considerable fortune when she died. Mark's cousin Mathew Carey (28) works for Mark taking care of all the day to day chores, and running the estate. Mark is vain, and although Caley has to flatter his employer, they seem to get on well and Caley appears a devoted servant. Later, however, we learn that Mathew Caley too has fallen for the charms of stunning Miss Norbury.
The opening scene is set in two ways. Mark has various house guests, one of whom is Bill Beverley, who will later play Watson to a Holmes we have yet to meet. Mark announces that his rogue, estranged brother Robert is to visit on the next day at 3:00 pm. The brothers had not met in 15 years, indeed no one knew that Mark even had a brother. Rough, coarse Robert turns up - the opposite of daper Mark. He is shown in to a reception room, but Mark is not in the house and a maid is sent to fetch him. Next we hear an argument taking place presumably between the brothers, there is a shot, and Caley rushes to investigate. He is banging on a locked door shouting "let me in".
We now meet the Holmes of our tale. Anthony Gillingham (30) on a whim, has interrupted his train journey, booked into a local pub, and has decided to visit his good friend Bill Beverley. He arrives to find a right state of commotion, and hearing Caley banging on the locked door, rushes to assist. Caley and Anthony go outside the house, and round to the back - but why does Caley lead Anthony the long way round ? They force open the french windows, and find Robert Ablett shot dead and lying on the floor. There is no sign of Mark - he has escaped apparently, and is not to be found. The police are called, and Inspector Birch is in charge. It seems that the obvious happened - Mark shot his brother, possibly by mistake, saw things looked sticky, and fled.
Anthony Gillingham is not so sure that things are as they seem. He thinks there are too many unexplained anomalies, and decides to enlist Bills help, and investigate. Anthony turns out to be a gifted amateur detective - blessed with a photographic memory - and eventually, an alternative complicated / ingenious explanation emerges.
I thought it was a tale of it's period, reasonably well told , and I had not guessed how it was done until Anthony reveals all at the end. I think A.A. Milne was possibly wise to abandon crime fiction but he could have gone on to excel - we will never know. He certainly achieved fame and fortune in the Hundred Acre Wood with all it's memorable inhabitants.
As an aside, there was an introduction to this book written by A.A Milne himself, when he listed what he thought constituted good crime fiction. He likes detective stories written in plain good English, uses pure deduction and logic (no specialist scientific detectives who know more than the average reader). He likes a Watson who gets explanations so that we know what the detective is thinking, and he hates everything being explained in the last 5 minutes of the book. He said, based on this, he has probably written a book targeted at the one person who cannot read it.
Links to author index and home page