Iain's Leisure Reading
I normally start with a little about the authors of the book series that I read, but this series is unusual in that it is an autobiography, and Amanda Owen tells her own story - and a lot better than I ever could. But rather than say nothing, let me say just a little, and leave the rest to the books :
Amanda Owen was born in 1975 in Huddersfield. Her mum was a glamourous ex model who took young Amanda to a local photographer to get a photo portfolio - but the man was later charged with taking sleazy child photos from a hidden camera, and that was the end of Amanda's modelling. She did however work as sales assistant in a fashion shop. Amanda like most children didn't know what career she wanted to follow, but she did like animals. Possibly she might have become a vet, but she opted to be a shepherdess, and by fate called on an errand to Ravenseat, a remote hill farm in Swaledale. There, at 21, she met Clive Owen, 20 odd years her senior, but they gelled, fell in love, and from the start Amanda loved Ravenseat and the wild Yorkshire Moors. So began a remarkable partnership - tested by extremes of weather and the hard remote farming life.
Amanda and Clive have 9 children - Raven, Reuben, Annas, Violet, Miles, Edith, Sidney, Nancy and Clemmy. They have all appeared on TV several times in the Dales series, and recently The Yorkshire Farm.
In the Yorkshire Shepherdess books, Amanda tells her story from her view point, but there is an equally strong fellow character - the remarkable Clive Owen, a typical blunt Yorkshireman and breeder of fine Swaledale sheep.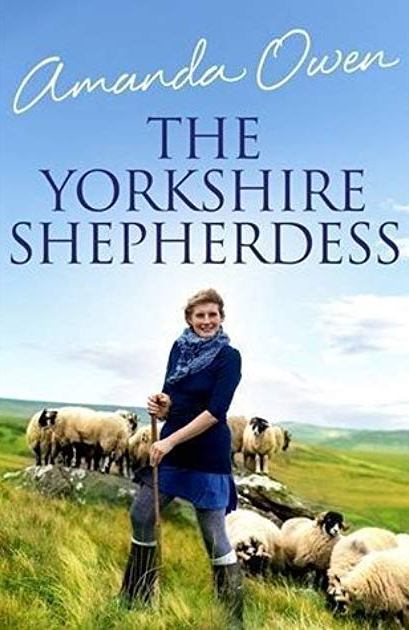 I read this book in Feb, 2019.
This is not the usual sort of book that I read, but I was on holiday in Australia, and had read all the books I had taken out from the UK (and a local library book too), and so I started on my wife Christine's books.
Of course I knew of Amanda Owen, The Yorkshire Shepherdess, from the BBC "The Dales" TV programme which we loved. There I was greatly impressed by the whole Owen family - mum and dad Amanda and Clive, and their nine children. The Owens are Swaledale sheep hill farmers on one of the remotest farms in the whole country, Ravenseat, in upper Swaledale, Yorkshire. I knew how they all pulled together, never seemed phased , and lived what seemed the idyllic country life. But my, it did seem a hard life sometimes in the cruellest of bitter, wind swept, winter weathers.
This book tells their story in print form. We start with Amanda, a tall schoolgirl, not knowing what she would do in life - but that it should be something to do with animals, and then specifically sheep. Amanda became a shepherdess - she tells her story well. She gains in experience with sheep, working short term contracts at various farms. One day she is asked to collect a tup (ram) from a friend of a friend. Amanda calls at Ravenseat, and falls in love with the place - an eventually with the farmer Clive Owen. Amanda is then 21, and Clive is 42, but they just gel, and complement each other perfectly.
We learn how ancient (centuries old) Ravenseat is, and how very remote, and how often it becomes cut off with winter blizzards. We also learn a lot of Yorkshire dialect - think of James Heriot territory - that seems stronger on the written page than on the TV series.
In this book we meet seven of their childen, all different. Raven is the oldest , and she wants to become a vet. She has plenty of hands on experience. Reuben is next - he is a natural mechanic. And so on for the next 5 - Annas, Violet, Miles, Edith, and Sidney. Each child's arrival was a drama. Ravenseat really, really is remote, and often roads are snow blocked. In childbirth, usually Amanda never has warning contractions - the babies just arrive suddenly, and usually in the back of an ambulance.
There is lot in the book about the seasonality of farming - jobs to be done by the season. Some jobs have to be done daily, like mucking out, feeding and watering the stock, and feeding and nurturing the family. Everyone in the family has their own tasks to perform - for the children, before the school taxi arrives.
We learn about hefting, where sheep have lived in a particular area of the moor for generations, and stick to that part of the moor. Ewes teach their lambs. There are no fences on the upper moorland. Similarly Clive, Amanda and the children seem hefted to Razenseat. Not everything is plain sailing. We learn of the devastation caused by the foot and mouth outbreak when healthy sheep had to be destroyed if living within a certain distance of an infection. Ravenseat lost most of their sheep, and could not use their compensation to restock, because incoming sheep would not be generations old hefted. All Ravensat sheep had to be retained to get the flock numbers up again, but preserve hefting. Keeping all the sheep meant no sheep to sell, and loss of annual income. And keeping all the sheep, not just the usual practice of keeping only the best sheep , meant a reduction in quality for a few years. There are of course other animals at Ravenseat - perhaps a couple of pigs, hens for the eggs, sometimes Longhorn cattle, sheepdogs , and Amanda's beloved and varied horses. Clive says if you are going to get an animal you may as well get a good one, as they all eat the same.
The children watch little TV, don't have holidays, have few toys (e.g.they get practical presents at Christmas) , but are kept warm, and fed, and are happy. They are given a happy childhood, look after each other, and learn to be self sufficient.
The book does not pretend to be great literature, but it tells a rich, feel good story full of humour, commonsense and good "old fashioned" values - where old fashioned is never a criticism.
We have our own modest connection with Australian sheep farming, and are "into sheep". The book is an easy read with no complicated plot lines to follow. For me it made a pleasant change, and I liked the story. I wish Amanda, Clive and their family well. For sheer hardwork, they deserve to prosper.
Links to author index and home page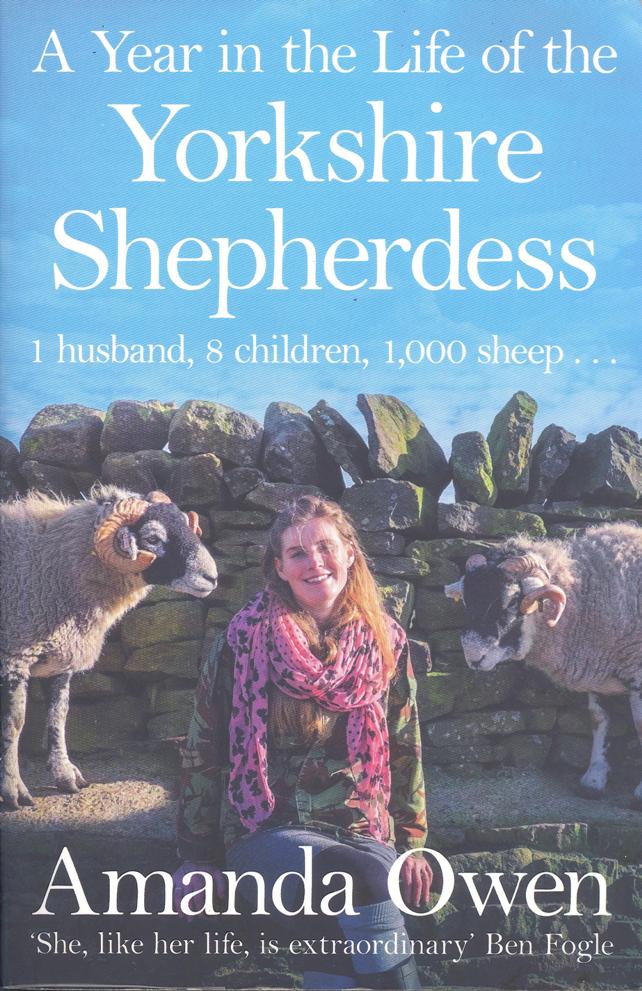 I read this book in Feb, 2019.
This is Amanda Owen's follow up book to her earlier "The Yorkshire Shepherdess," where we get further stories about life in Ravenseat - the remote Swaledale hill farm where Amanda and her husband Clive, and their nine children all live. It seemed to take me ages to read this book, which is not normally a good sign, but here it was more due to bad timing I guess, rather than anything wrong with the book. Briefly, I had run out reading material on holiday in Australia, and so had picked up two of my wife's books - i.e. two Yorkshire Shepherdess books. Really it would have been better to have postponed reading book two, rather than reading it immediatley after book one. On top of that I read the book on the flight home, and on returning home when I was jet lagged and not concentrating properly. So, all in all, this book didn't get the fairest of chances.
I thought it was a good second book, and not just the same material repackaged. The book has twelve chapters describing Ravenseat life in January, then February, and so on until the final chapter of December. Farming life is all about a continuing cycle as winter gives way to Spring. Winters are hard and harsh in upper Swaledale, and most of the animals are kept in barns or in fields near the farmhouse, but get their freedom again in the Spring. Summer is crop growing time - they grow 100 acres of grassland which has later to be harvested and stored away safely. This food is vital for the flocks during winter when the fields are buried under snow. And then Spring comes again, and the cycle repeats itself.
I thought there was a lot more practical farming content in this second book - and lots of detail about successful sheep rearing. They have about 2,000 sheep. Amanda talks of what starts on Bonfire night, and ends on April fool's day. If the rams mate with the ewes on 5th November, the lambs should appear on April, 1st. Roughly one tup or ram can service about 100 ewes in a field at a time - any more ewes and some may be missed. Usually the ewes are split into groups of about sixty. Great care is taken to avoid inbreeding and so the correct tup has to be used with the correct ewe. Before mating the tup has dye rubbed on his tummy, and then it can be easily seen which ewes have been serviced. The colour of the dye is changed week one, to week two, to week three - and so we know later on which sheep will lamb first. The sheep are later scanned to see if there are 0, 1, 2 or perhaps even 3 lambs being carried, and food rations adjusted according. Good record keeping is essential in preserving and improving stock quality - and this is done both electroniclly with scanned ear tags, and traditionally writing up stock books .
Amanda is a real candidate for the superwoman of the year title. She has nine children eventually (and Clive) to look after, and always seems either pregnant or breast feeding, but at the same time doing a full day's work caring for the stock, or caring for her horses, or making cream teas for hikers, or running a summer shepherd's hut holiday accommodation business. Farms are dangerous places, and with 9 children there is often some accident and ambulance call out. The ambulance takes about 40 mins to get to Ravenseat with favourable weather conditions.
The book is packed with all sorts of funny incidents. There is an unsuccessful family holiday in Blackpool where everyone misses the freedom and space of the wild Yorkshire moors, and their own horses are better than seaside donkeys. I liked the bit about Christmas at Ravenseat - arriving late at the nearest childrens village hall party to catch "Santa" donning his red trousers in the car park, and the excited children being wakened at midnight to try (always unsuccessfully) to sneak up on the horses in their stable to try to catch them on bended kneeling "in honour of He who was born in a stable."
The book is a little treasure trove full of day to day routine, and occasional treats - eg the boys playing in the Muker Silver Band, visits to the Appleby Horse Fair, old machinery rescued by Rueben, friendships renewed at stock sale markets, stock prizes to be competed for, etc, etc.
All in all, well worth a read. It's a great feel good book, a bit of an inspiration really, a family really connected to the land and doing things much as they have always been done on a centuries old farm. I wish them all the luck in the world. If there is to be another book in the series, I would love to read the children's take on life at Ravenseat.
Links to author index and home page