Iain's Leisure Reading
I always enjoy reading Michael Wright's weekly articles in the Saturday edition of the Daily Telegraph. He writes not just about his life in rural France, but he gives us such a lot to think about with his cast off comments about life generally, and I guess our place in such a big universe. So, when I chanced upon two books by Michael Wright in a charity shop, "C'est La Folie" and "Je t'aime a la Folie" I simply had to buy them, and I have really been looking forward to reading them.
I like to research each author that I am reading, but I haven't really found out all that much more about Michael than is given in the book introductions. Michael was born in 1966 in Surrey, and from an early age developed a love of mostly classical music, playing the piano for hours on end. His parents went abroad to work, but Michael was educated in the UK as a boarder at Windlesham Hall, then Sherborne. He went to Edinburgh Universtity where he graduated with a degree in English Literature. He then worked in London as a theatre critic, arts columnist and literary diarist. Time passed, and he seemed to have found himself in a rut working as a theatre critic, and writes that "I have seen Macbeth nine times, and haven't enjoyed it once. I think I may be poisoning my mind." But writing reviews seems to have been quite lucrative ( he could afford to own and fly his own bi-plane), and when he decided to give himself a shake and a challenge, he does have the funds to uproot himself and move to an old 15th century farm, a place definitely in need of some tender loving care. The farm is La Folie, near Jollibois in rural France. Jollibois seems to have been chosen almost at random - not too near England, but not too far away, a place with a local airstrip for his bi-plane.
In book one, Michael is still single - almost a lonely figure sometimes, wanting someone with whom to share his rural idyll. Book two is dedicated to Amelie and Mirabelle, his two charming children - so all comes right in the end. Michael has a great sense of humour.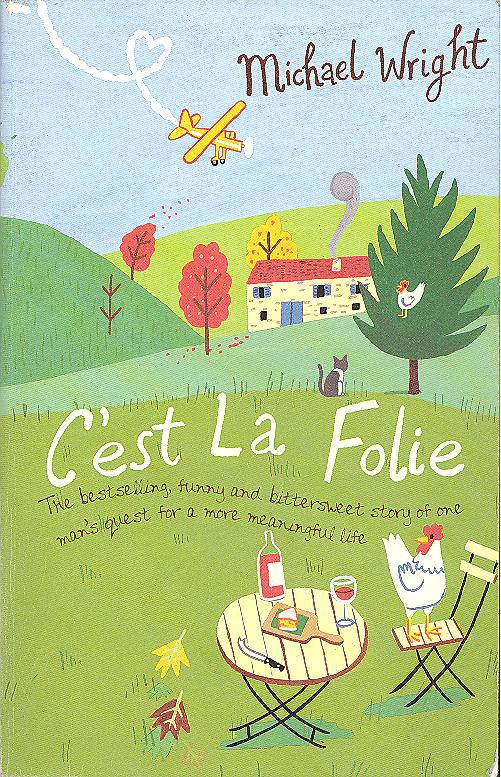 I read this book in May, 2012.
As I said in the introduction, I am a fan of Michael Wright from his weekly articles about life in rural France at La Folie, Jollibois - these appear in the Saturday edition of the Daily Telegraph. I know that Michael has a great sense of humour, but can also throw in some very thought provoking comments - so I knew that when I found two of his books in a charity shop, I was in for a treat, and so it has proved. I really enjoyed reading book one, "C'est La Folie"
Michael has got fed up with his life as a theatre critic in London, and has upped sticks, given himself quite a challenge, and has transported himself to very rural France - to restore an old 15th century farmhouse, La Folie, and to live off the land. Living off the land is a bit of an exaggeration perhaps, for luckily Michael has the wherewithall to finance this adventure. Yes, he keeps sheep, and hens, etc, but its obvious that if they all perished he would be very upset, but it would not be financial ruin. The book is not all jokes, which is what I like best about it. He also writes movingly about the financial plight of some of his neighbours - of a young shepherd who has taken over responsibility for the flock, and has aged terribly in a few months. He also writes of another shepherd whose ewes catch an infection, and all the lambs are still born. The shepherd is ruined, commits suicide, and leaves a young widow and two babies.
But whilst there are serious bits to the book, it's not a sad book - quite the reverse. Michael is a happy go lucky, can do sort of chap, and he writes wittily about all the scrapes he gets himself into. I'm sure that there is a lot of exaggeration and poetic license - but it's a very funny, good read. Michael is a well rounded educated man, and he blends in just enough tristesse / sadness to make us think, and nod our heads in agreement.
So yes, it's a story of a hapless Anglais in rural France finding so many things strange and alien. But it's also a book about friendship - and Michael does make some good friends.
The book starts with Michael's early days, and then his life in London, and then he is half in England, and half in France. I thought it all got a lot better when he had finally moved into La Folie, and started life in France in earnest. Michael makes lots of friends with his neighbours, through the local tennis club, through playing the organ at Mass in the local church, and through the local flying club, where eventually he houses his bi-plane. But sometimes he comes across as a somewhat lonely figure, speaking to his hens on a hillside in rural France. The scenery takes his breath away, but he regrets that he has no-one with whom to share the view.
I know from the Telegraph articles that eventually Michael is blessed with two young french daughters, Amelie and Mirabelle. That I guess is for the later book - "Je t'aime a La Folie." This book deals with the early days at La Folie, and at the end of the book, somehow, in spite of all the problems, Michael has transferred his plane and grand piano to Jollibois, and La Folie's restoration is well under way, even part completed. So I look forward to book two where I think we will meet his wife, and young daughters.
I did like the book - it's a good read. It gets better as it goes on, but we need the early part of the book to meet the young Michael. There are a few moments of reflection when old Michael thinks he sees the young Michael in the distance - and how sad is the part where he realises that young Michael is not waving hello, but goodbye.
As I said, just the right balance of humour and pathos.
Links to author index and home page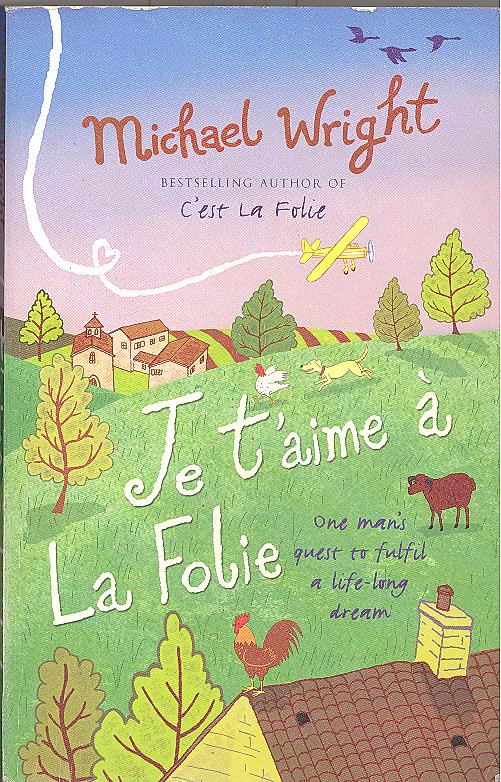 I read this book in April, 2012.
This is the second book in what I think must surely be at least a trilogy. It is the follow up to "C'est la Folie", where Michael has decanted himself, with his grand piano and ancient aeroplane, to reconnect with the land - he had bought an almost derelict farmhouse (La Folie) set on a hillside in deeply rural France. There he keeps a few sheep, some hens, and a cat for company.
I knew quite bit of Michael's story from his weekly columns in the Telegraph on a Saturday, and so I did know that he did get married, and was blessed with the two little french daughters, Amelie and Mirabelle to whom this book is dedicated. But book one had finished with Michael seeming a little bit of a lonely character, sitting alone on a hillside in France, with no one with whom to share the view. This book takes up the story, and I am sure I won't be spoiling it when I say that yes, Michael does find true love. This book is a love story - and as I don't normally read love stories, I can't understand why I liked it so much. But it is funny, witty, and elegant and sometimes sad. We meet some wonderful characters - Michael is lucky to have made some great friends. There is an appealing symmetry that shapes the story - it's not so much a series of co-incidences, but more life's pattern unfolding.
There are lots of sad parts to the book - life is not always sunny - but it is an uplifting story. The climax of the book is when Michael and Alice finally get married. Michael's best friend Jethro had crashed his plane, and had badly injured his girlfriend. It doesn't look as if Jethro will be able to attend the wedding - but when they are all together at the reception, there in the distance two lights appear in the stormy sky. It's a great tear jerker of an ending, especially when Alice whispers some good news in Michael's ear. I won't spoil it by saying what the good news is, but it wasn't a surprise for me, and surely you can guess. The news is one of the reasons why I think there must be a book three.
I really enjoyed reading the book. I liked book one, but I thought book two was a lot better. Perhaps Michael will want to protect their privacy and there may not be a further book, but I hope there will be and we get to meet and know Amelie and Mirabelle. As I write this (April, 2012), I know from Michael's latest column, that Amelie is now five.
Finally, I must add that I have learned quite a lot from these two books, and got some little clues about how life in rural France differs from life in the UK. In Jollibois, you greet someone with four kisses on the cheek. Michael had only been giving two kisses, and had been getting it wrong for two years. A little girl in the UK, picking the petals off a daisy, will say he loves me, he loves me not. Just two options. A little french girl will say "Il m'aime bien ... un peu.......biencoup ......a la folie .... pas du tout " In France there are five options. Where else will you learn such interesting facts?
Links to author index and home page