Iain's Recommended Book Series
I was introduced to the Erast Fandorin books of Boris Akunin by my son Jamie. He had read good reviews of the series, knew of my interest in crime fiction, and so had ordered and sent to me "The Winter Queen", book one in the series. These books are very different to the other books I had been reading. They are historical fiction, set in the days of Imperial Russia - "The Winter Queen" is set in 1876 !
Boris Akunin is the pen name of the Russian writer Grigory Shalvovich Chkhartishvili, who was born in 1956. He had a Georgian father and a Jewish mother, and has lived in Moscow almost all his life - he moved there in 1958 when he was two. After a good education, he joined the Moscow State University as an expert on Japan, worked as assistant to the editor of the "Foreign Literature" magazine, as editor-in-chief of a 20 volume Anthology of Japanese Literature and generally published literary reviews and criticisms, and translations from American, English and Japanese literature. He mostly gave up the academic life in 2000 to pursue a career as a writer of fiction.
He has written three series of novels under the pseudonym of Boris Akunin - The Adventures of Erast Fandorin", "The Adventures of Sister Pelagia" (a crime solving nun), and "The Adventures of the Master" (i.e. of Erast Fandorin's grandson Nicholas, a modern day British historian). It was only after the first books in the Fandorin series were published to critical acclaim that the identity of B. Akunin was revealed. He was nominated for the Smirnoff-Booker prize in 2000, and in 2003, "The Winter Queen" was short listed for the British Crime Writer's Daggar Award in Fiction.
Three Fandorin novels were made into big-budget Russian movies, and an English remake of "the Winter Queen" is set to be released in 2012.
Grigory Shalvovich Chkhartishvili is a prolific writer, and has published children's fiction (Nicholas Fandorin's 10 year old son goes time travelling), science fiction, spy novels, etc, etc. He has also published lots of non fiction work.
In interviews he has indicated that the Sister Pelugia and Nicholas Fandorin books are probably complete, but the Erast Fandorin series is not yet finsihed. Chkhartishvili also seems to be writing under a variety of other preudonyms - watch for new authors being promoted by one of Akunin's publishing houses, and a few years later Chkhartishvili might admit that this is indeed him. He seems to stick to historical books, but saves the B Akunin name those with a mystery component.
I usually get all my books from charity shops - I wonder if I'll find Erast Fandorin in such places ?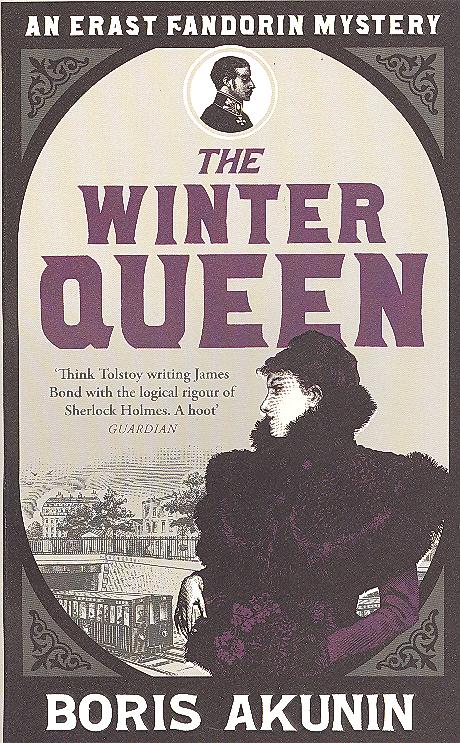 I read this book in February, 2012.
This is the first book in the Erast Fandorin series by Boris Akunin. It is set in Tsarist Russia of 1876, mostly in St Petersburg or Moscow, but Erast travels to London too. Usually I read of a new author in an article somewhere, research that author, decide to give it a go, and manage eventually to get book one in some charity shop. But in this case, I'd never heard of Erast Fandorin, nor Boris Akunin, and I doubt that I will find these books in charity shops. As I said in the author introduction, I got "The Winter Queen" sent to me as a present from my son Jamie.
I haven't read a lot of foreign crime fiction - Peter Robinson is a Canadian, but DCI Banks is Yorkshire based, and I don't think of this as foreign fiction. But I did like the Swedish Stieg Larsson trilogy, so I was curious to see what a Russian author would make of the subject.
The first observation is that this is a very different sort of book. It's written by a modern Russian writer, Boris Akunin, but it's set in the late 19th Century. The writing style is very distinctive - it reminded me of Charles Dickens. I'm not sure if this is Akunin's natural style, or if he has created a style to rhyme with the period about which he writes. The book opens with a table of 14 ranks - formally setting out levels of status and privilige in the then very rank conscious Russian society. Erast is a young man of good education whose well to do father had lost a fortune and died. So, Erast is an orphan. Strangely, he decided he wants to become a policeman, and he joins the local criminal investigation bureau as a lowly clerk
The story is a bit far fetched, almost old fashioned. It has a good opening, though - a young man commits suicide by playing Russian Roulette in a busy day time Moscow park. Erast reads of the suicide in his clerks position within the stifling bureaucracy of the department, and of other similar attempted suicides. Are these the repeat attempts of one person, or separate attempted suicides ? Erast thinks one thing, his boss the other, and so Erast is eventually allowed out to do some investigating. It's all very slow to start with, and you have to persevere with all the strange Russian names. I was starting to yawn at this stage, but then Chief Brilling appears, takes over and re-organises the department, and sees promise in the young Erast Fandorin.
The main story is escapist tosh, not very beleivable, a bit like an early James Bond without the gadgets, where a character or sect is intent on world domination. But I thought that the book was saved by the likeability of nice, gentle, impetuous, unworldly Erast Fandorin. He is the reason for reading the book, and yes, I'd like to read a bit more.
The story builds to a terrific, but terrible climax that I didn't see coming. I'd read that the book is "a parable on the death of hope and innocence", and wondered what they were going on about, until I reached the climax. I think the Erast Fandorin that we will meet in book two will be a very different character. Lot's of crime detectives have characters blighted by tragedy in early life. It will be fascinating to read on, and see how much of the old Erast survives.
It's good book overall. Ignore the slower parts, and keep reading.
Links to author index and home page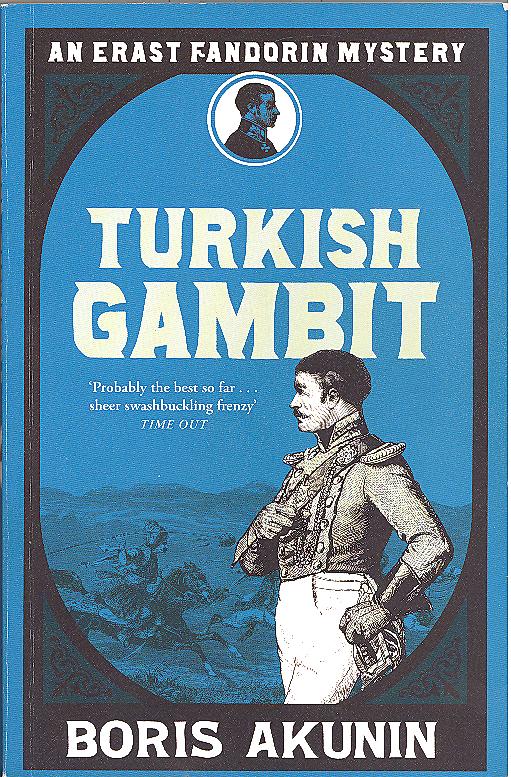 I read this book in August, 2012.
This is the second adventure of Erast Fandorin written by Boris Akunin. It's set in the days of the Russo-Turkish war of the 1870's. Although Erast is a detective of sorts, it's not really crime fiction.
These books are very different, and perhaps are something of an acquired taste. I enjoyed reading this book, but I'm not sure that I would recommend it to others. It's not a must read. That said, Boris Akunin is a good writer, and he does re-create the setting very well - I don't know how accurately, but it does seem to paint quite a realistic picture.
Erast Fandorin has aged terribly in appearance since book one. The events of the first book have taken their toll. But the hero of this book is not really Erast, but a heroine - Varvara Suvorova - a very modern (for the time) young lady. She is in an unusual relationship with her partner / friend / soon to be husband, Pyotr Yablukov. They are just what we would call house mates, really, sharing a two bedroom flat. Anyway, Pyotr is conscripted, and send to the front of Russia's war with Turkey. Varvara sets out to join him there, but is robbed of all her money and papers en route, and is rescued by Erast, whose assistant she becomes.
For most of the book, we see the war through Varvara's eyes. As the only woman on the front, Varvara's company is highly desirable, and she flirts with everyone. There is of necessity a lot of scene setting, and Erast remains mostly in the background. There is also a lot of criticism of historic Russia, which is riddled with too many ranks in society and the army, weighed down with stifling bureaucracy, with most leaders incompetent, and in short Russia appears a hopeless basket case.
It all seems a very strange place, a long time ago, happening to very strange people. Life is cheap. honour is all.
I like Erast. I thought he should have been given a lot more to do. The book is hardly about Erast at all, he just happens to be there at the time.
Strangely, the book is also a very slow moving love story. Varvara falls in love with Erast, but neither realises nor recognises this - and Erast is still broken hearted following the death of his young wife at the end of book one.
I'll read on, but only out of curiousity. Surely Erast will be back to form in the later books, and be given more to do. But you do get a terrific feel for the time and the place, and the politics of the 1870's.
Oh, what was the plot ? The Russian army's fight against the Turks was not going as well as it should have. The Turks were down, and the Russians should have finished it off. But then there were a series of Russian disasters. It was almost as if the Turks had prior knowledge of the Russian actions. So the mystery that Erast and his new assistant Varvara were called on to solve was this - was there a spy at Russian HQ, was it Varvara's boyfriend Pyotr or had he been set up, and if not Pyotr who was it ?
Links to author index and home page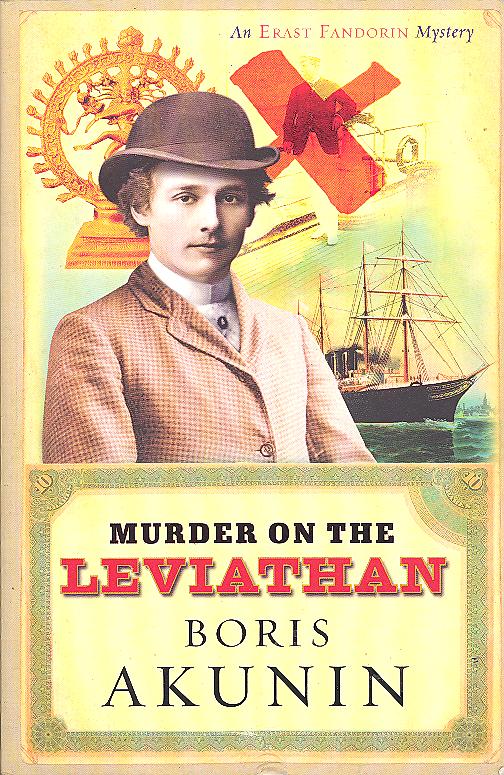 I read this book in January, 2013.
"Murder on the Leviathan" is book three in the series about the adventures of the Russian 19th century "detective" Erast Fandorin, written by the Russian author Boris Akunin, and translated by Andrew Bromfield.
At the very start of the book there are reproduced some critics' comments, and John Smith of "The Sunday Times " described this book as "pastiche of the highest order, absurd and yet completely gripping at the same time". It hadn't occurred to me that this was pastiche - I just thought Boris wrote in his own, old fashioned style copying perhaps Charles Dickens, just to be appropriate to the time.
Another critic compared the book to the work of Agatha Christie - and I can see what he was getting at. Instead of a cast of characters trapped together in a remote house on the moors, we have a list of characters collected together on the 19th century luxury steam and sail boat, the Leviathan. They are all on the ship's maiden voyage from the UK to Japan, a sub group of the first class passengers who share the same dining room. One of the collection is a murderer, and there are two detectives present - Inspector Gauche, of the French Constabulary, and our hero Erast Fandorin.
The book opens with news of a terrible multiple murder in Paris - 10 people killed by fatal injection, and Lord Littlebury bashed on the head, and his golden statue stollen apparently wrapped in an old scarf. Lord Littlebury clutched a golden pin in his hand - perhaps grabbed from his murderer. The golden pin was an a entry token to the first class facilities of the Leviathan's maiden voyage. So Inspector Gauche gets himself invited on to the cruise and sets about trying to find out which of the passengers has lost a golden pin / and may be a multiple murderer. By chance Erast Fandorin also joins the cruise - he is en route to Japan to get away from it all.
Possibly the book is a bit of an acquired taste. There are lots of rambling discussions about colonial Britain v France, from the view point of a Russian. It is also set in very different times, where ladies were expected to be conservative in dress and demeanour, and we are in the company of upper class snobs.
I enjoyed the book well enough, going along with the puzzle, and trying to work out whom the murderer might be from the various clues and red herrings. Gauche is not the finest nor ablest of detectives, and makes several errors, corrected by Erast who displays formidable "Sherlock Holmes" powers of observation and intelligence. Boris Akunin captures the feel of the period perfectly, and it's an interesting read.
Some book series I really get into, and can hardly wait to read the next book in the series to see what happens next. That is not quite the case with the Erast Fandorin adventures. Of course I will read book four in the series, and I'm sure I will enjoy it, but I'm quite happy to wait a while before doing so.
Links to author index and home page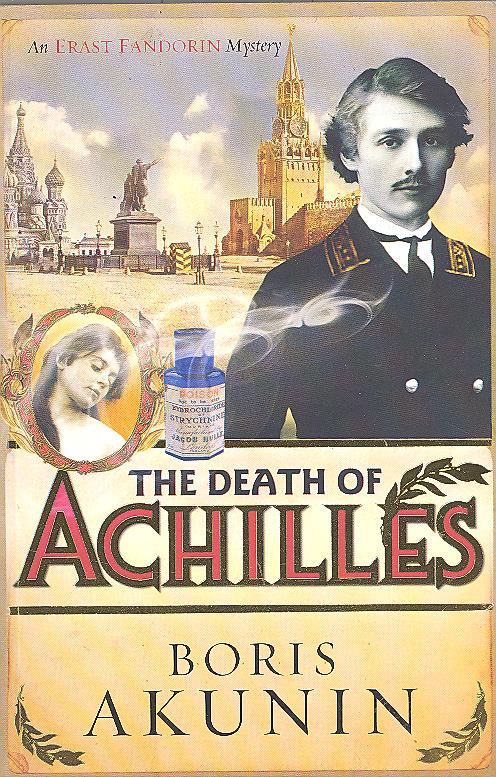 I read this book in September, 2013.
This is book four in the adventures of Erast Fandorin. Our hero has been to Japan, where he has picked up great skills at the martial arts. He now has a devoted Japanese man servant in tow (Masa) whose life he saved in Japan, and who is now devoted to serving Erast. They are back in Moscow after an absence for Erast of six years.
The Achilles of this story is the famous Russian General Sobelev, a friend of Erast's, who dies whilst making love to the beautiful Wanda. But of course, there is a lot more to the story. Who killed Sobelev, and why ? As usual, there are many layers to 1870's Russian Society, a lot of corruption, and almost no one can be trusted - except Masa, of course. I found it very difficult to follow who was who, and often found myself lost amongst the many strange sounding Russian names. I was definitely struggling about half way through, and close to losing interest when the story switched and we were introduced to Achimas - a sort of super assassin. Erast is knocking at a door inside of which Achimas is waiting for him. And then the story is suspended, and we learn Achimas's life history. And surprise, surprise, Achimas was the assassin of book 1, who killed Erast's wife.
I thought Achimas might live on from this book as an on going enemy, against whom Erast might battle over several books. But no, by the end of this book, the matter is resolved.
I do sort of enjoy reading these books, but it's a bit of an acquired taste. I'm not sure I would recommend them as must reads. The Railway Detective series covers about the same period of history - i.e. the 1850s, 1870s - but the Railway Detective books are mostly set in the UK with English names, and are a lot easier to follow.
But Erast Fandorin is a very likeable character, so yes, I'll read on and see what happens to him next, and where he might turn up. Perhaps poor Erast might even find a girlfriend in the next book, but, on the other hand, he never seems to set down roots anywhere.
Links to author index and home page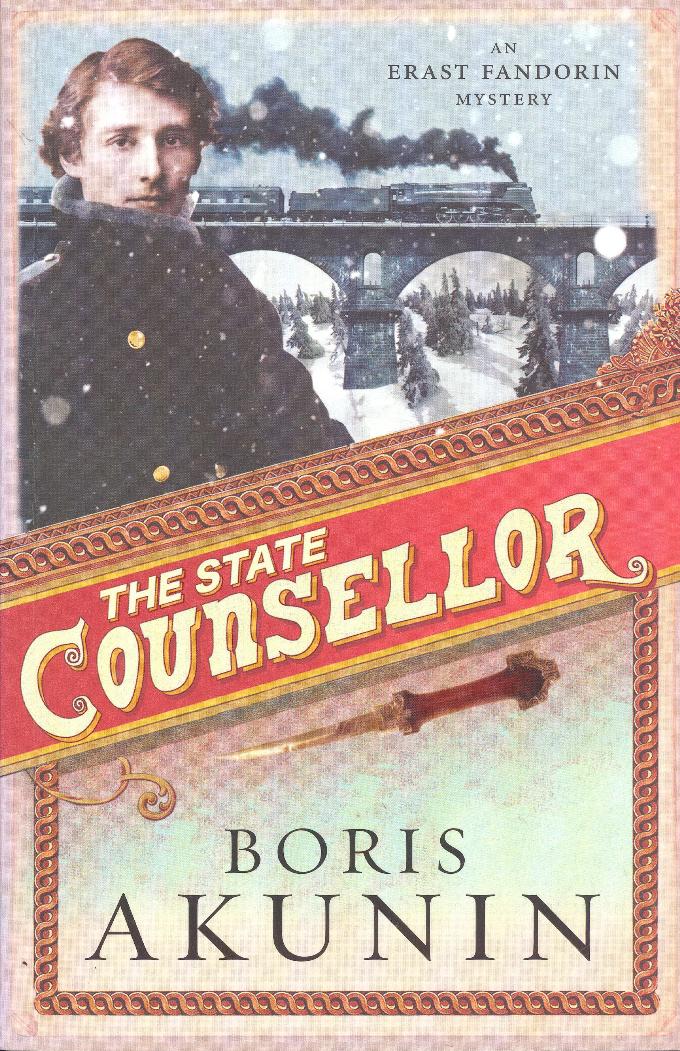 I read this book in February, 2018.
As I suspected when I first started reading this series, I have found it very difficult to find these books in charity shops. At the time of writing I had about 5 of these books on my "waiting to be read" shelf, but I wanted to read them in sequence, and I couldn't get hold of either book five or book six. I read book four five years ago, and rather than wait any longer, I have just read book seven - The State Counsellor.
It is late 19th century, and we find our hero Erast is now 35 years old, still has Masa as a faithful servant, but is now in the service of the Russian State as a State Counsellor - he is deputy to the Moscow Governor General responsible for special projects. As before we read about the terrible state of mother Russia in the Tsarist days before the Revolution. It is a state where few state employees see themselves as servants of the people - rather they are there for self advancement at all costs. No one can be trusted - all are conspiring against each other. The leaders believe in divide and rule - so law and order in Moscow is maintained by two separate competing organisations, the Gendarmes force and the Security force.
As before also I found it very difficult to follow exactly what was going on, and who was who with all these strange to me Russian names. I didn't really enjoy the first half of the book, but I quite liked the second half when the action got going, and there were some nice plot twists. Erast is as straight and honest as they come, and wants everything to be done in a lawful way. His immediate bosses want him to learn to be "flexible" - i.e. turn a blind eye, be corrupt. The book ends with Fandorin triumphant - he has been offered huge promotion, to be chief of police in Moscow, a huge salary, huge house, huge expense account. But Erast is disgusted with all the scheming, back stabbing, and corruption, and resigns his state employment - he prefers to walk away as an honest private man.
The book opens with the death by stabbing of the notorious Governor General of Siberia. He was on his way to Moscow where he was to be met by Erast who was in charge of his security whilst in Moscow. But an imposter pretending to be Erast Fandorin meets the General en route to Moscow, gets him alone, and kills him. Erast, back in Moscow, is arrested but is soon cleared. The General had been killed by a Mr Green of a feared and very successful Terrorist Group who always left their identity card at the scene. Erast was furious that his name had been sullied, and resolved to track down the terrorist group, and Mr Green. In Mr Green Erast has an opponent of almost equal ability. There was a suggestion that Green was Erast's twin, but that neither knew of each others existence. I am not sure if we are meant to take this literally - i.e. actual brothers. Perhaps there might have been clues in books 5 or 6 ? Erast gets very close to one of the revolutionaries - a young Jewish girl Esfir Avessalomovna Litvinova, a captivating beauty, but can she be trusted ? Similarly Mr Green gets very close to another revolutionary, a lady code named "Needle". It turns out Mr Green certainly could trust Needle who provides the climax to the book - a stunning retribution, an act of vengeance that I didn't see coming.
All in all, I like Erast Fandorin, and I like the social history lessons contained in these books. It is easy to see why a Russian Revolution could come about. But the books are difficult to get into, and I have to reread bits to try to follow what is happening. Finally I should mention the humour in these books - all in all quite an interesting combination.
Links to author index and home page